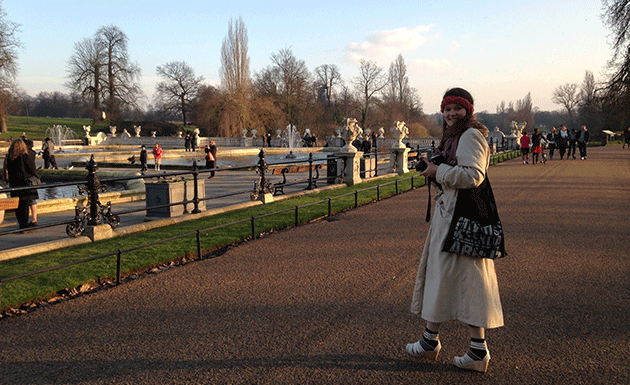 Fashion Week A/W 2013 in Regents Park, London
Marie Vahl is a young Greenlander who has followed her passion and is currently studying Fashion Management in London
By greenland today, Mia Chemnitz
07 MAJ 2014
Despite the increasing educational opportunities in Greenland, many young people have to leave their homeland to pursue their dreams education.
Marie Vahl, who is from Qaqortoq, a town in South Greenland, is currently studying at London College of Fashion in the UK.
– The best thing about this education is to get an insight to the evolution of fashion, and the curriculum is very broad, she says.
Sustainable Fashion
Marie is very passionate about the environment, and she is part the organization team of an event called Fashion Revolution. The event aims to raise awareness about the production of clothing, and the consequences it can bring.
Her big dream is to use her education to inspire fashion companies to improve their products to be environmental and social responsible.
Big city life vs. Greenland
The young South Greenlander enjoys the vibrant student life in London with cafes, book clubs and the social aspect of being many young students together..
– But when I feel a longing to go home to Greenland grow, when I start to forget my roots, then I know, that it is time to go home for a while, Marie says.
Marie Vahl as a graduate                                   Study trip to Paris in 2011                Fashion Night Out in Delhi where 
from gymnasium.                                                                                                              Marie Vahl was an exchange student
Homesick at Christmas
Marie goes home to Greenland once a year, and in addition she visits friends and family in Denmark several times a year.
– It's hard being away from my best friends, because they are spread over several countries. And Englishmen can not figure out how to celebrate Christmas – as we do at home, she smiles.
Grateful for the opportunity
– I think us Greenlanders should be very grateful, that we have the opportunity to study where we desire to do so.
When Marie graduates, it is her plan to travel around Asia.
Facts
Name: Marie Vahl
Age: 23 years
Hometown: Qaqortoq
PT: London
Studying: Fashion
Management
Marie Vahl is helping to raise awareness about sustainable fashion at this event.