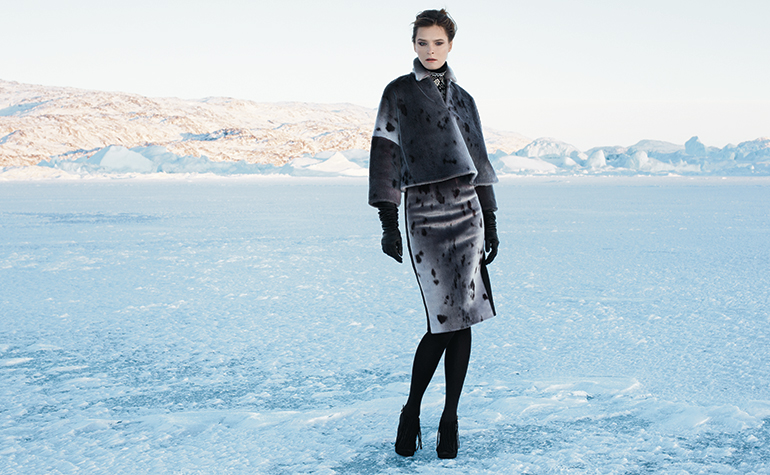 May you find inspiration in things you see around the world? Ice Crystal Princess Vol. II is a project on sustainable cultural heritage, inspiration and fashion when it is best
Text: greenland today, Photo: Peter Christian Christensen, Model: Carmen Kass
The Nordic Institute in Greenland is working on an exciting project called »Ice Crystal Princess Vol. II«. It was initiated to stimulate Greenland's – and the whole world's – present debate on protecting the rights of indigenous peoples with relation to e.g. fashion designers. Some people like the international attention it brings when their culture is used for inspiration, while others feel it threatens their cultural values.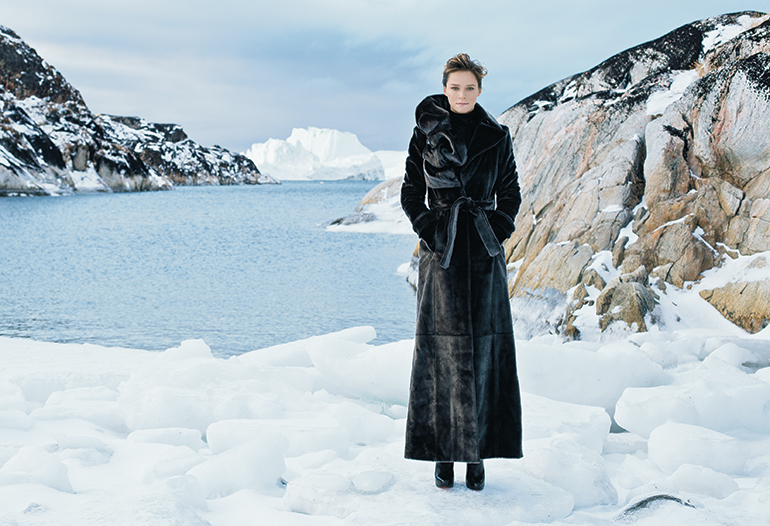 A fundamental element of the project is fashion designer Jørgen Simonsen's collection of gowns and furs inspired in part by Greenland's national costume. From January they have been on show at Greenland's National Museum in Nuuk, which has a large historical collection of national costumes. A panel debate was subsequently held in Greenland's culture centre, Katuaq. 100 people participated in an open debate about whether it was acceptable to be inspired by a cultural symbol such as Greenland's national costume. The debate clearly showed that Greenland had become a more modern country and a member of the global society. Only a few were directly opposed to the use of elements from the national costume, while many thought it was acceptable and even more took pride in the fact that the world could be inspired by something from Greenland.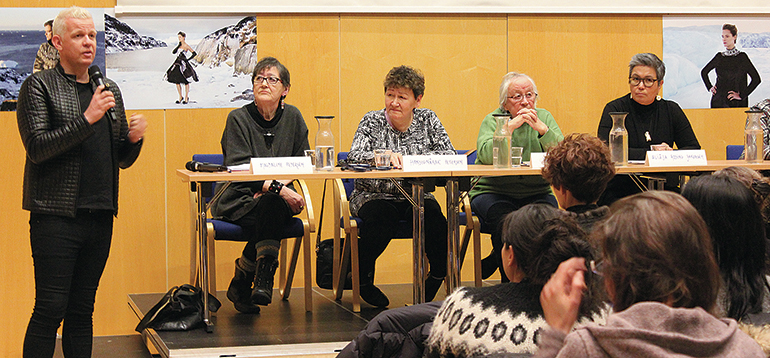 Associate professor at Greenland's University, Rossanguaq Rossen, gave a very interesting speech on the national costume, on which she had written her PhD thesis, and showed several examples of how the new has been inspired by the old throughout time. This included designer Peter Jensen's boots inspired by the national costume's kamiks and most recently Victorias Secret, as well as Greenlandic designers like Bibi Chemnitz, Isaksen Design, Nuuk Couture and RC Design.
The designer
In 1998, Danish fashion designer Jørgen Simonsen was hired as chief designer for the Versace fashion house in Paris. Among other things, he showed his sketches for a design he called »Ice Crystal Princess«. It later became part of Versace's first Haute Couture collection after the death of founder Gianni Versace and it was given a very positive reception by the fashion world.
Jørgen Simonsen says the collection was »inspired by« the national costumes.
– It was something that came from my imagination and my desire to express something creative more than 20 years ago, he says.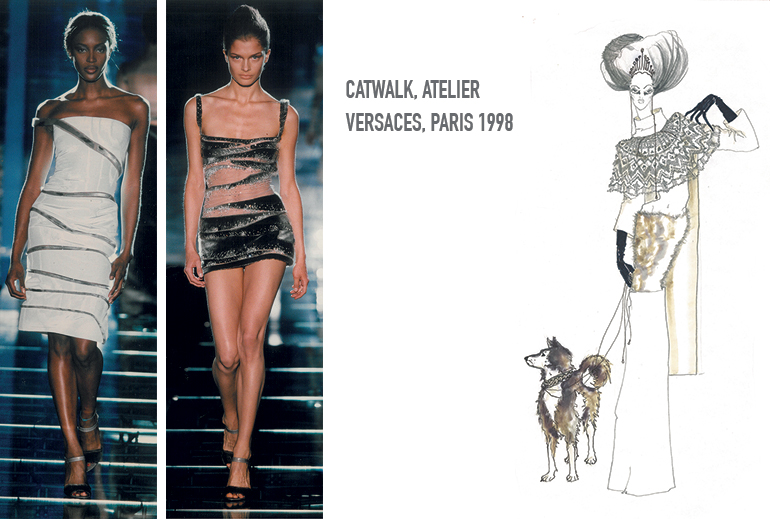 – My idea was to combine the national costume with the biker culture. It was not something I wanted to impose on anyone, or something I created to change anything. The collection was my »presentation«. It is fine, if that can inspire anyone.
– I had not visited Greenland until now and meeting the country, the culture and the people have exceeded my expectations a billion fold, says the designer.
– I have created five new designs for the new exhibition in collaboration with the National Costume School in Sisimiut and dressmakers in Nuuk and Istanbul.
– The collaboration with Greenlandic seamstresses around the new design at the exhibition has been wonderful. I am impressed they can sow with the Japanese beads that are only about a third of the size of those usually used in the national costume.
– I am also happy to finally visit the country which I had previously only visited in my imagination. It is like a dream come true, says Jørgen Simonsen.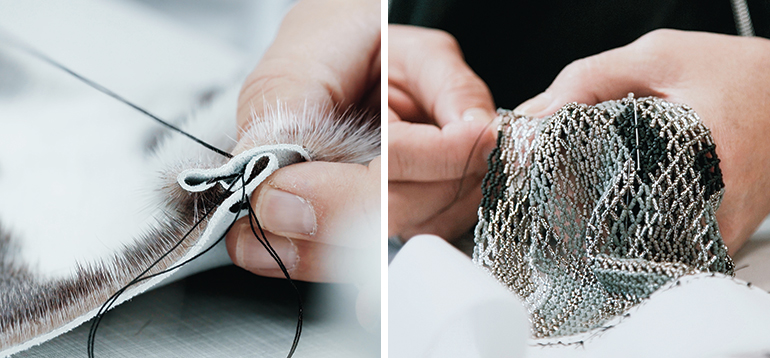 Photo: Niklas Croall                                                                            Photo: Ulannaq Ingemann
Global development
The Greenlandic national costume has not remained static throughout time. The bead collar was originally a short collar, but has now evolved into its present length. The flower embroidery is of roses and not of an indigenous Greenlandic flower. At some point in time, Greenlanders found inspiration from abroad, just as the cloth and beads are also imported.
A so-called »international charter« is being prepared to protect the rights of indigenous people in connection with e.g. fashion designers – an issue that is widely disputed.
Will protecting e.g. Greenlandic patterns be the same as stopping development?
Often, the patterns on the national costumes are new, created by nimblefingered family members with respect for tradition. And what about Greenland's own designers? May they use symbols and patterns in their designs, while designers from abroad may not?
On the whole, survival in the Arctic has been dependent upon the ability to adapt and develop. And this indicates that in future Greenland can take pride in contributing with inspiration to a globalised world, we all borrow a little from, be it art, fashion, food and so much more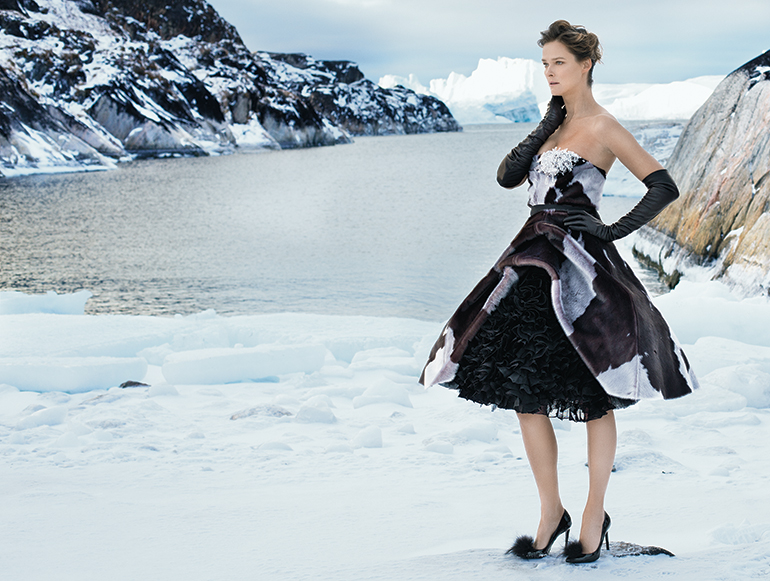 Designer
Jørgen Simonsen
Project & concept
Katja Vahl, Nordens Institut i Grønland
Lektor Rossanguaq Rossen
Designer Jørgen Simonsen
Makeup & hair
Natascha Pedersen
Facebook
nordensinstitutigroenland
www
napa.gl
On tour
Sisimiut, Strasbourg, Karasjok, Stockholm, Struer, København, Reykjavik, Torshavn, Helsinki, Paris.
The dates can be found on the website.
Model & Fashion photo
Carmen Kass
Peter Christian Christensen
Follow Greenland fashion on Facebook
GreenlandFashion