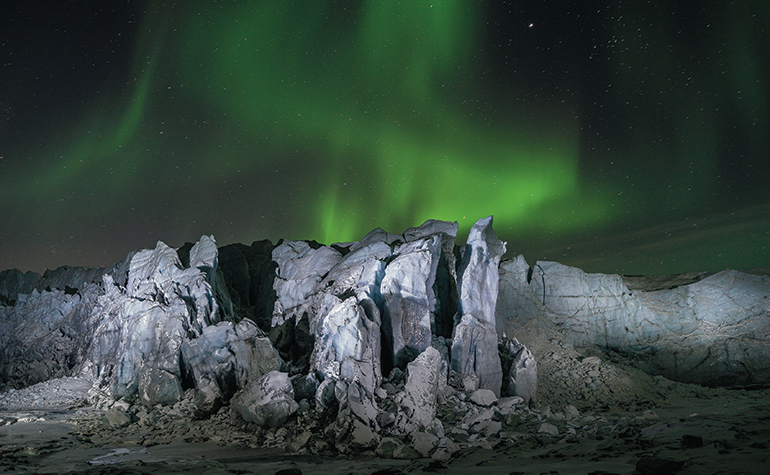 For thousands of years, people have navigated by the North Star. Now, a fantastic photo project will touch people's hearts and lead them on the right path
Text: Mads Nordlund, Photo: Sven Nieder & Nomi Baumgartl
With a magnificent photo exhibition, a book and a film, the project »Stella Polaris« – in Greenlandic »Ulloriarsuaq« – will make people see the stars and listen to their hearts.
– The world needs such leading stars, says photographer Sven Nieder who, together with his partner Laali Lyberth, is behind the project. The project is carried out together with photographer Nomi Baumgartl and film director Yatri Niehaus.
– Just look at the strange choices the world makes today. We want to touch people's hearts so they can make better choices.
– Climate changes are happening quickly, but many people still do not realize this. As someone who has travelled in Greenland since 2009, I can see the trees grow and the glaciers retreat. It's happening quickly.

From left: Sven Nieder, Nomi Baumgartl, Yatri Niehaus and Laali Lyberth.
Photo with light
– There is not just one picture of climate change. In many ways, it is an abstract concept. You can photograph ice that is melting, bad weather etc, but they are just snapshots of the moment, says Sven Nieder.
– All the ice that we have caught on camera has made unique pictures. You could say we have tried to preserve the beauty of the ice, to capture and conserve an impression that only existed there.
– We do not consider ourselves to be artists. The real artists are the Greenlandic people who have observed and lived with climate change for many years before it was given a name; without Greenland ever having an influence on the changes.
– This is why Greenlanders shine the light on the icebergs. They are the real artists. We call them ambassadors of the light, explains Laali Lyberth.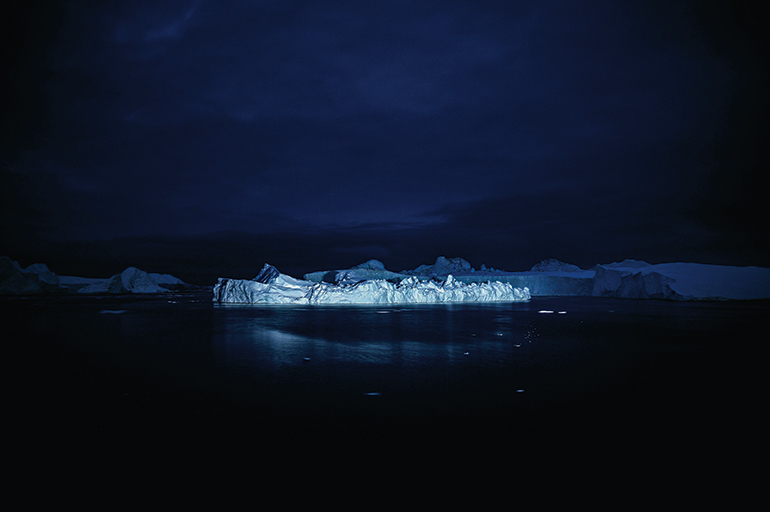 Photo: Nomi Baumgartl
No wagging finger
The book contains a series of photos from Greenland with texts written by the philosopher Prof. Dr. Christoph Schaden. And there is plenty to philosophize about. The first photos were called light-writing before they were named, because the light was used to »write« the motifs on different plates of e.g. glass and later, on so-called negatives.
We also know the sun's effect on everything that lives on Earth. No life without light. The sun's rays have a huge effect on mankind. And now on the ice.
– This is not a scientific book. It is an art book. The point is not to prove anything, or convince people to have a certain standpoint. We do not want to tell people what they should think, says Sven Nieder.
The book is printed with »Waterless printing« on the finest Fedrigoni Tatami and Arcoprint Milk paper. This provides unique colour saturation in the production of the 45 colour photos and 23 black and white photos.
In 2016 the book was nominated »Best Book« in Germany. It is something of a feat, to be nominated among thousands of publications annually.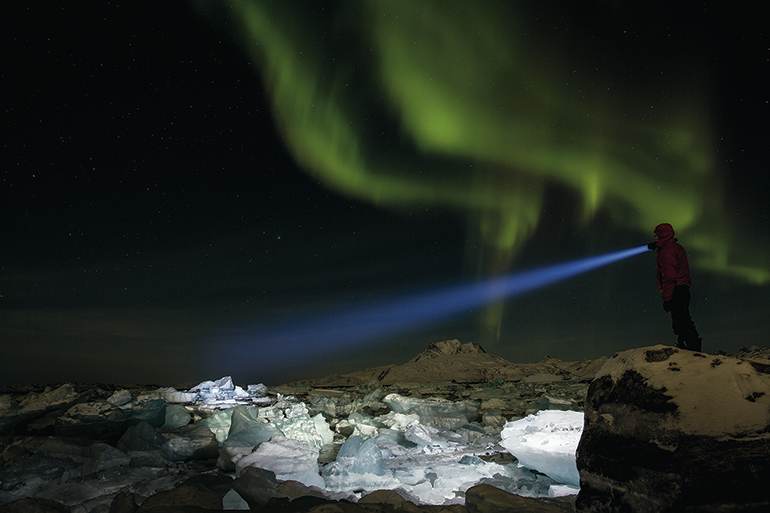 Photo: Sven Nieder
Film
– The film is a mixture of art, entertainment and documentary, says Sven Nieder.
– Many programmes have been made by people outside Greenland. But it is rare they ask people in Greenland, what they think about climate change.
– It is based on the Greenlanders themselves and was made in collaboration with children from the Red Cross children's home in Nuuk, the elderly from Sisimiut and Maniitsoq, dog sled drivers – and artists from all over Greenland.
– One of the participants – a young man – even thanked us for causing him to become interested in climate changes, because it was not something he had thought much about.
Starting in Nuuk
There is a lot of interest in the exhibition from places around the world. After the exhibition has been shown in America, Holland, Austria and Germany, it will finally come home to Greenland's Culture Centre, Katuaq, in Nuuk, where it opens on March 9th 2017.
The photographs are printed on real photo paper and they have been hung behind coated museum glass. This makes them very durable – they could last for several hundred years and at the same time, it makes the photos look three dimensional. It is a very difficult technical process to make these pictures in this way, but the results are quite unique. In all, 800 kilos of glass has been used in this exhibition.
Most of the pictures measure 1.8 metres x 1.2 metres and prices vary from DKK 6,000 to approx. DKK 140,000. All the pictures have a description and the name of the person who held the light.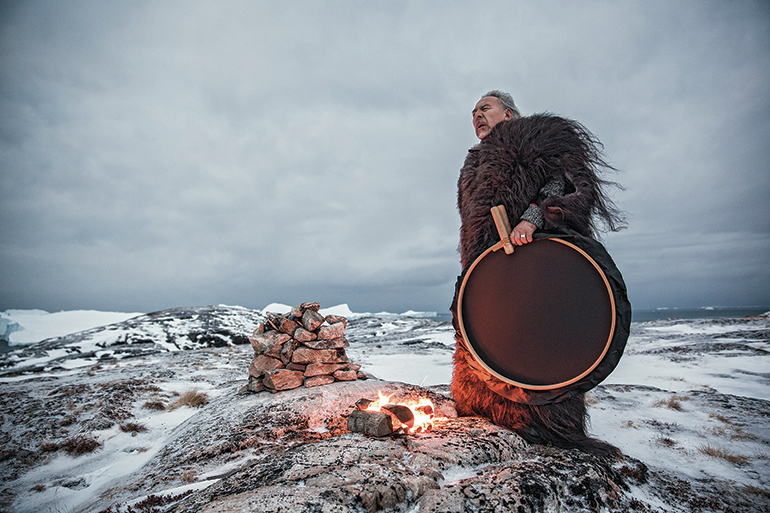 Photo: Sven Nieder
Only by melting the ice in the heart of Man does Man have a chance to change and begin using his knowledge wisely
Angaangaq Angakkorsuaq, mentor of the project, healer and Greenlandic shaman
Websites
stella-polaris.org
sven-nieder.de