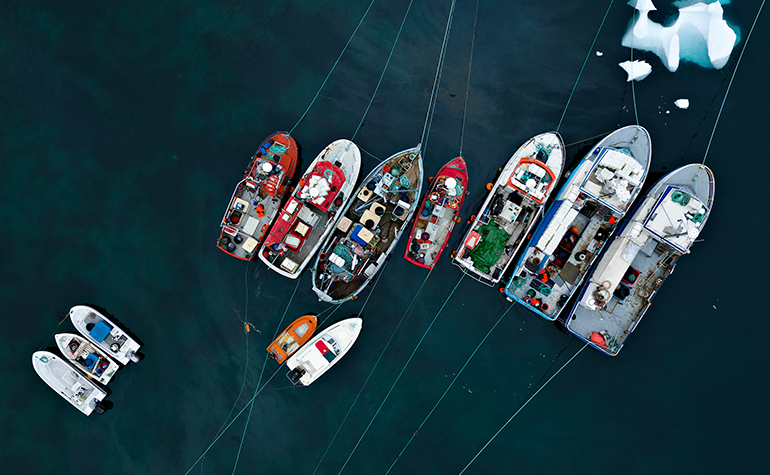 A unique photo exhibition from a different perspective
Text: greenland today, Photo: Stephan Fürnrohr, greenland today march 2017
The ice has long been a source of artistic inspiration for photographer Stephan Fürnrohr. He has repeatedly been drawn to visit the Arctic and Greenland, in particular.
– In one of the Earth's least densely populated regions, space seems to be both timeless and subject to constant change, says Stephan.
– As the Greenland ice sheet melts, we are beginning to experience manifold changes in the complex interaction between man and nature.

From vision to exhibition
Three years ago, Stephan developed the idea of photographing his motifs from above, using a drone to allow precise positioning and image composition. Drones hover in place for minutes at a time.
The project 90° Greenland set out to creatively explore the aerial perspective. Central to the concept of the photography series is that all images are taken in a 90° angle from zenith.
Images taken from this unique perspective and at much lower elevation than normal aerial photographs record fine details of the landscape, the ice and the communities.
The 90° perspective transforms the earth's surface into a canvas on which the images emerge from the interplay of shapes, lines and colours.
At first glance, the 90° perspective is unfamiliar, perhaps even confusing. However, the visual effect of the images is more intense. Each picture evokes contemplation and invites the viewer to embark on an exploration of the details.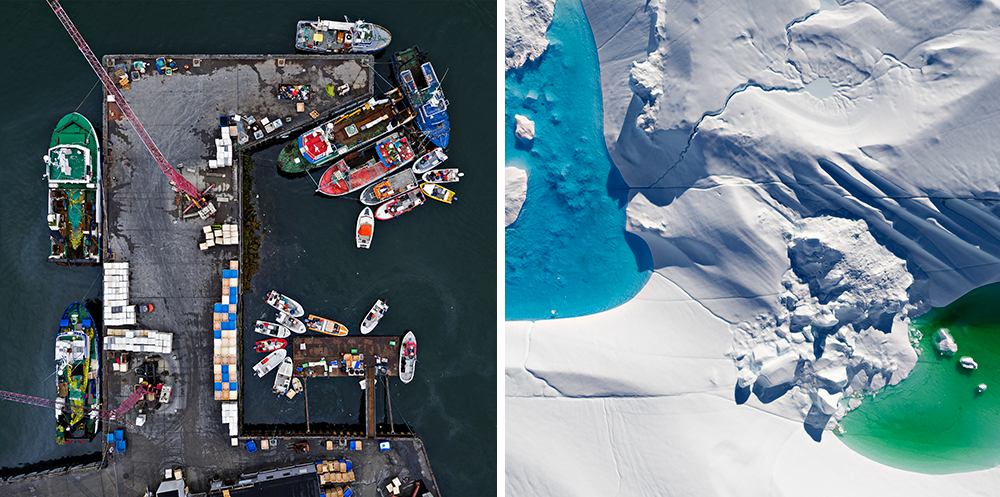 90° Greenland
An aerial photography project is a long and complex undertaking, Stephan explains.
– Many questions have to be answered in advance: What maximum range is required for the drone to guarantee the desired images? Can the drone and camera equipment be safely retrieved? Can one person transport the drone together with photographic equipment and other luggage to remote locations lacking modern infrastructure? Is there sufficient financial backing for the expedition?
After three years of research and preparation, 90° Greenland was successfully realized in the summer of 2016. The result is 50 photographs taken at 30 to 500 meters elevation.
– I was able to capture all the images I had planned and much, much more. The bird's eye view provided me with access to a profusion of unexpected motifs, says Stephan.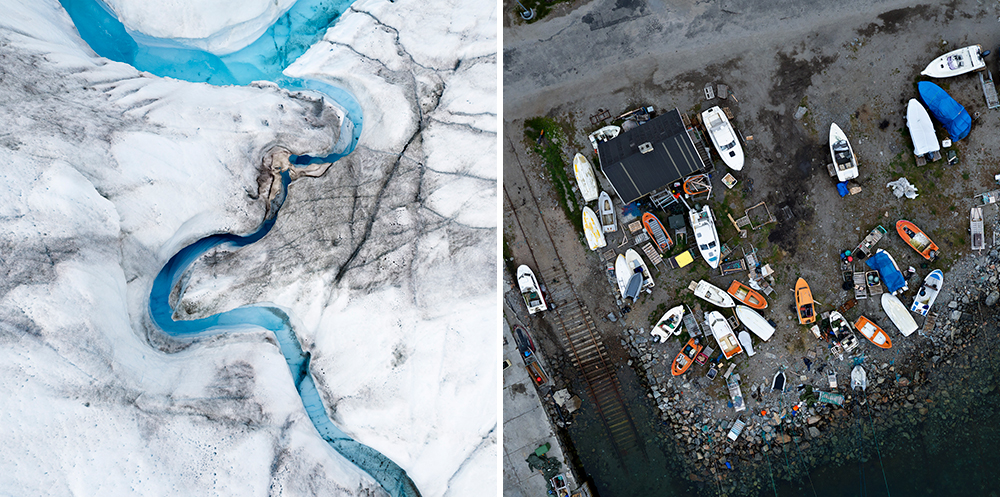 He has reproduced all his authentic photographs without post-production processing.
– The creative process takes place during planning and photographing, not at the computer in the studio.
The viewer sees what Stephan himself experienced. The beauty of the Arctic together with his expertise make digital manipulation unnecessary.
For the viewer of the exhibition, the perspective of the photos reveals impressively sculpted icebergs, melt water rivers, glaciers, moraines and fishing harbours. The perspective also gives viewers insights into the complex relationship between humans and nature in the changing Arctic.

Facebook
time.for.inspiration
Twitter
stephansd
About the photographer
Stephan Fürnrohr
Born 1972
German
Award-winning photographer
President of the Association of Wildlife Photographers in Germany (GDT)
Exhibitions nationally and internationally