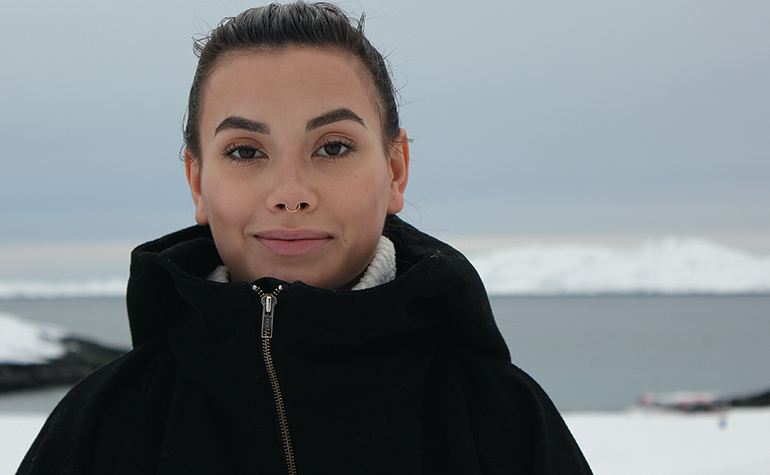 When Natascha Pedersen lays makeup it is not just work, but a way to express herself artistically 
Text: Mads Nordlund
26 year old Natascha Pedersen was born and bred in Nuuk, with a Danish father and a Thai mother. Natascha considers this cultural background to be a huge advantage in life and she has no doubt where she belongs.
– I am a Greenlander, born and bred here and I speak Greenlandic. Greenland is my home, she says.
– I had a wonderful childhood with plenty of friends here. Greenland is a very safe place to grow up.

Cultural trips
– After school I started to travel. My priority was to be better at English and I wanted more life experience. I think travel gives you much more of this than school does.
– First I was an exchange student in New Zealand for a year. Then I was in Australia where I studied English for six months. I can really relate to people in New Zealand and Australia, with their Aboriginals, who respect each other and who are proud of their culture.
– In 2015 I was invited as a makeup artist at a wedding in Mexico. They paid for my travel and accommodation and I became really good friends with the bride. I knew her slightly from Canada where I had worked with her.
– It was very exciting to visit Mexico and really nice to get to know the bride's big family. It was actually an Asian family from Canada that used Mexico as a wedding venue, where they gathered family and friends from Canada and Asia.
– I always try to discover what day-to-day life is like in the places I visit. It is probably something I learned on my travels, says Natascha, who has visited e.g. Thailand, Australia and, most recently, the USA several times.

Makeup artist
Natascha Pedersen trained to become a makeup artist in 2011 in Canada. She worked there for four years as a professional makeup artist for, among others, the film industry. In 2014 she returned to Nuuk and founded Natascha Pedersen Makeup.
– I am not a cosmetologist, who works with skin care, she explains.
– A makeup artist is an artist whose medium is people and it is different to everyday makeup. It is used in e.g. films, as body paint, special effects, Halloween and productions as well as for model photos and shows. It is therefore not ordinary makeup; it includes airbrush painting.
– I would like to be good at everything, also the artistic parts. There are some things I am better at, but I just need to practice more.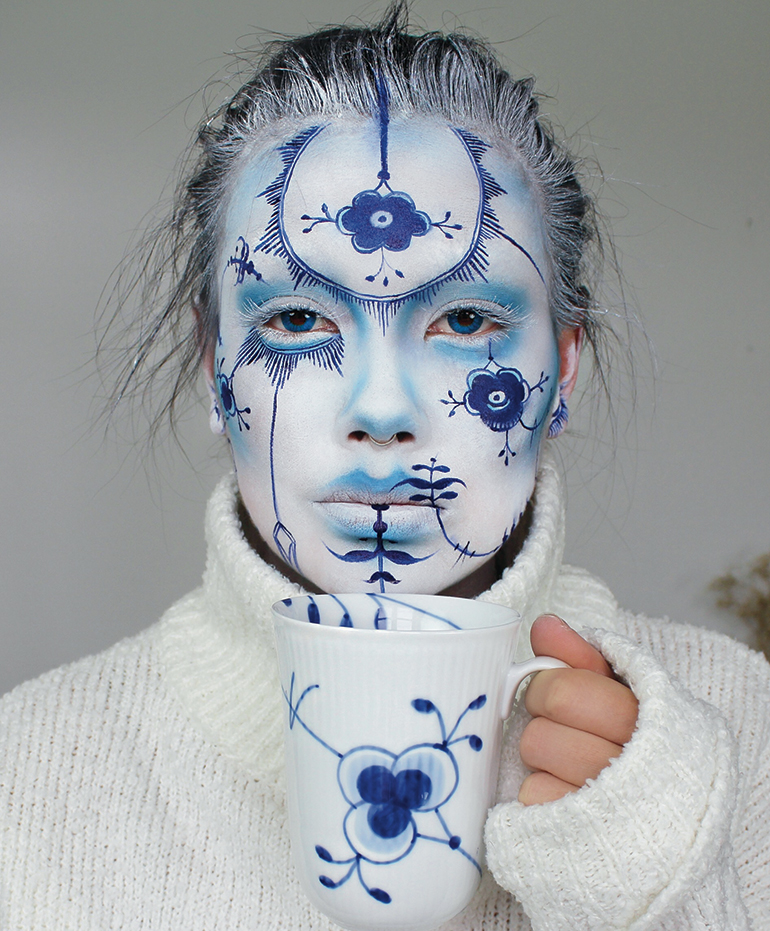 Online challenge
– My YouTube account and Instagram are not business. I use them to push myself into trying something new.
– Making films and clipping them together takes me out of my comfort zone. It is also a little bit lonely.
– I would like to work together with other creative people and complete projects that everyone is happy with. Just like in the film and model industries which rely a lot on good communication.
– On Instagram I mostly showed photos from »behind the scenes« to start with. Now, it is more editorial stuff about using the various techniques, creative expression and avant-garde makeup from e.g. Earth Day.
– Fashion wise, I prefer what is simple and practical. I have done makeup for several fashion shows in Nuuk in collaboration with e.g. Eskiman, IttuWoman, Nønne and Nuuk Couture.

Makeup with meaning
– I see myself as a »mild activist«. I do not get so involved in people's everyday problems. It is more environmental issues and animal rights that mean something to me.
– I think we as people we are high level consumers and that this will have consequences for the planet at some time. I would like to draw attention to the big problems in the world and not just our local problems here. Natascha has been a vegetarian since 2008 and almost vegan from 2014. This has been very difficult because vegetables are expensive in Greenland and it is hard to always get enough vitamins.
– I have a Buddha-tattoo to show respect for the cows and because I do not eat beef.

On the way to New York
– My work gives me a lot of pleasure. I think a lot of people feel that work is something that happens from nine to five and is not fun. I work almost round the clock, but I enjoy it. The only thing I can complain about is that there are not enough hours in the day.
– I am constantly trying to move my limits, to be better at what I do and to do more.
– Soon my sweetheart and I will be on our way to New York. Although we love living here, there are simply not enough challenges in what we do here. Work-wise, there are many more opportunities abroad and I have often been invited to events in the USA, Iceland and Scandinavia. And it is too expensive for me to be based in Greenland.
– In five years I would like to be at a stage of my work where I am able to travel round the world and come back often to visit Greenland. I would like to be even more professional and work for e.g. a fashion magazine, ends Natascha Pedersen.
Instagram
nataschap
Facebook
nataschapmakeup
YouTube
Natascha Pedersen