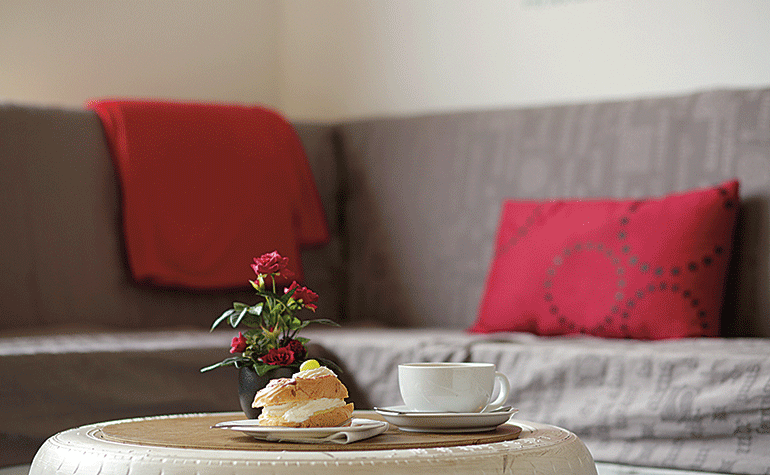 A cosy, family hotel with different types of accommodation
Text: greenland today, July 2015
In the spring of 2014 husband and wife Fridrik Magnusson and Kattie Nielsen took over Hotel Narsaq. It is centrally located in South Greenland in the beautiful town of Narsaq which has about 1,600 inhabitants. Narsaq means »the plain« and has its name from a great flat plain surrounded by fjords and mountains with the characteristic 685-metre high Mountain Qaqqarsuaq which towers up behind the town.
Hotel Narsaq has 11 rooms with an extra 16 rooms in a guest house and some apartments for short rentals. In the summer, they have a further 60 rooms at their disposal at the Inuili Catering School which are suitable for groups.
Kattie originally comes from Narsaq, while Fridrik comes from Reykjavik in Iceland. After living in London and subsequently starting a guest house, 
a travel agency and renting out apartments in Iceland, they wanted to live with their four children in Narsaq where Kattie has much of her family. It is Kattie's sister Bimbi who usually runs the hotel and restaurant. Depending on the season, there are between four and eight employees for the café, the restaurant and cleaning etc.

New initiatives
The café and restaurant have been renovated with new interiors and new menus. Greenlandic ingredients are used whenever possible since the hotel is located in an area with both reindeer and sheep stations, so there is always a supply of fresh meat and plenty of fresh fish.
Café Narsaq is the ideal place to meet the people who live in Narsaq, or to simply sit on the terrace and enjoy the view of the fjord.
Hotel Narsaq is starting a micro-brewery with the assistance of an Icelandic master brewer and an English master brewer who will teach the employees the art of brewing beer with local ingredients.
In addition, work is being carried out on a project called »South Greenland Connect« with regular boat connections and opportunities for charter trips.

Why Narsaq?
Narsaq is perfectly situated in South Greenland with a one-hour boat trip or a 15-minute flight to the International airport in Narsarsuaq. Furthermore, there is on average just a one hour boat trip from Narsaq to most of South Greenland's attractions.
South Greenland has many marvellous hiking routes and Kattie and Fridrik believe that the route from the International airport in Narsarsuaq to Narsaq is one of those that will become very popular in time. The couple also believe that for people who want to see more of Greenland, it would be perfect to disembark from Sarfaq Ittuk on the way to or from destinations like Ilulissat.
Otherwise, it is a great idea to spend the entire holiday at Hotel Narsaq, where you can relax and enjoy good food based on local ingredients. From here, there are plenty of opportunities for day trips and boat trips around South Greenland and for hikes in the backcountry.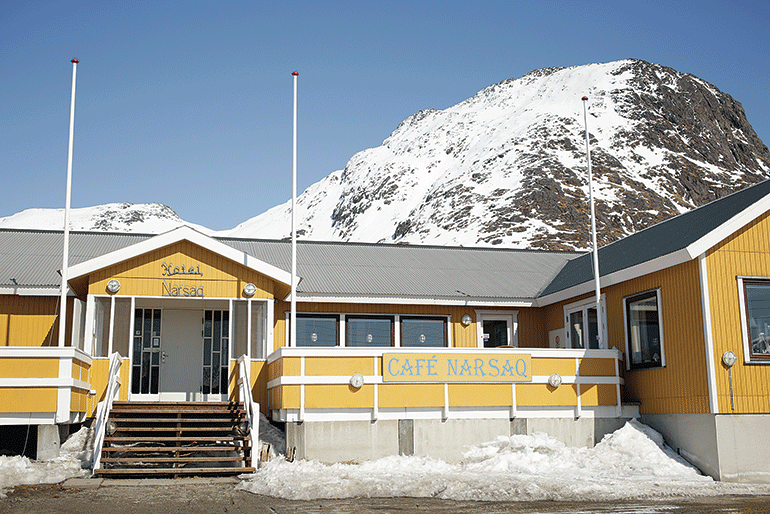 The future
More and more tourists are coming via Iceland and with Air Iceland's new, bigger aircraft that can carry 80 passengers, it takes only two hours to fly from Iceland to South Greenland.
Many people live their entire lives in cities, but people need nature, in the opinion of the hotel couple. They believe that the developments that they have experienced through their activities in Iceland will soon reach Greenland. The couple believe that the extensive increase in tourism experienced by Iceland means that those who want to find solitude in nature will seek other destinations, such as the unspoiled Greenland.
Hotel Narsaq
hotelnarsaq.gl
Greenland Centre
greenlandcentre.gl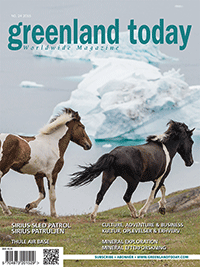 Read the storie on page 97