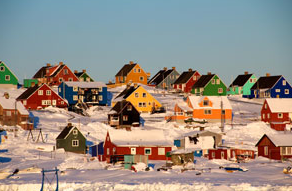 First Ever Greenland Week in NYC
By Galya Morrell, Greenland Today, New York
The award-winning feature film Inuk, Greenlandic music, dance, storytelling, craft workshops, games and kaffemiks will take center stage at Scandinavia House – The Nordic Center of America – in New York from February 29 through March 3rd.
– The children from Uummannaq Music/Uummannaq Children's Home are coming and that is the most important thing of all says Galya Morrell, a co-founder of Uummannaq Music, from – and currently back in – New York.
– It is so exciting! You can't even imagine how many e-mails and telephone calls we received this morning; now I am afraid that 160 seats at the Scandinavia House Theatre will be sold out by the end of the week.
– Uummannaq children are coming to NYC! All these kids are seasoned explorers on the sea ice, but reaching the summit of the Big Apple will be an expedition of a whole different nature!
About the event's
The Tale of Uummannaq
Thursday, March 1
Free admission
The Scandinavia House <See more>
Photos by Galya Morrell
The Tale of Uummannaq and Ajajajaja – Galya Morrell's short documentary and photo-exhibit convey the story of Uummannaq, an isolated village in Northern Greenland at risk of disappearing.
A unique project was started here three years ago as a collaboration between local hunters and international artists in order to bridge the island's geographical isolation and give this village a second chance.
Co-founders of Uummannaq Music, Joel Spiegelman, Galya Morrell, Ann Andreasen and Ole Jorgen Hammeken, get together to talk about the revival of Ajajajaja, a combination of music, storytelling, and unique Greenlandic historical values.
This program is presented in conjunction with a week of special Greenlandic programs.
See also: 
Wednesdays @ 7 pm & Fridays @ 6:30 pm
Each $10 ($7 ASF Members)

Saturday, March 3, 1 pm, 2012
$7 ($5 ASF Members), ages 4+