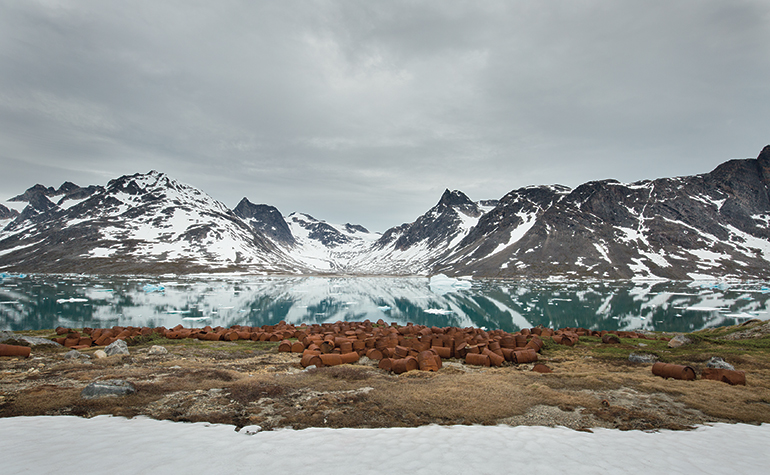 The American photographer Ken Bower got a surprise when he set out to do a different kind of photo project in Greenland
Text: Jesper Kunuk Egede, greenland today November 2016
The locals in East Greenland call the area around the former American Base Bluie East Two American Flowers, an ironic term used for the extensive contamination at the base which was vacated back in 1947. The American photographer Ken Bower is very interested in the Nordic and Arctic regions. He heard about the area a few years ago, when he was researching a project that would tell a story that could make a difference. He did not want to simply enthral people with his beautiful pictures.

Graphic elements in nature
He has a background in graphic design and advertising and he has been taking photographs for 25 years. He has taken incredibly beautiful photos that also tell a story. His work has been published in international magazines such as Stern, GEO and National Geographic Traveler, to name just a few.
Ken Bower's graphic background means he can use nature's own shapes as a form of canvass. He writes on his home page, that he sees landscapes in terms of shapes, scale, colours and contrasts and he tries to couple this with the emotions that he feels at the site.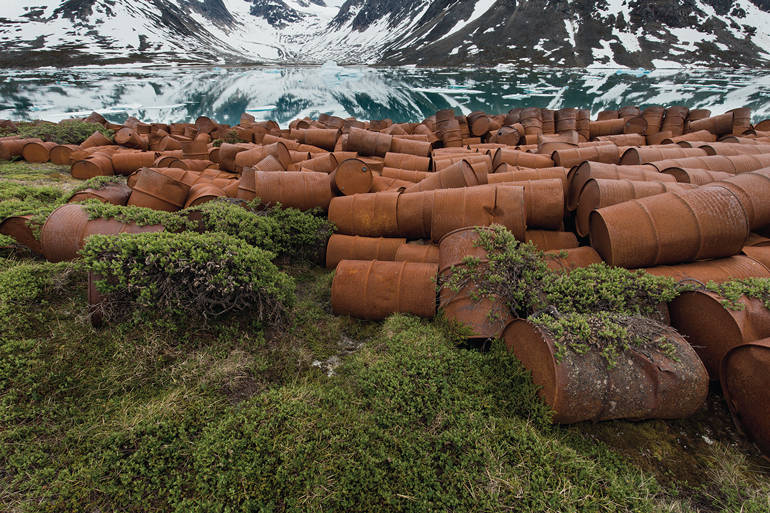 American Flowers
His most recent photo series, which we present here, is called American Flowers, just as it is in East Greenland.
– When you see the rusty drums in the far distance, they look like golden marigolds shining in the sun. But when you get closer, it becomes clear that they are thousands of rusty oil drums spread out over the landscape. Together with the considerable oil contamination, you also find that there is also a lot of asbestos that has been spread around the area with the wind, says Ken.
– I was quite shocked when I was there. You feel you are in an unusually remote and untouched region and suddenly you find this horrendous contamination that, of course, could have been avoided. Several years ago, the American military was in the area looking for an aircraft that was lost during WW2. In Kulusuk, my friends were astonished by this decision. »How can they afford to look for a plane that vanished, but cannot remove this incomprehensible source of pollution?« I really understand their astonishment, says Ken.
Long camping trip
It was Ken's plan to stay in a tent at the base for five days in order to take his pictures. In 2014 her was there to reconnoitre for a few days and in 2015 he came back early in the spring hoping to get photos with snow as a nice contrast to the many oil drums. Spring in East Greenland means sea ice, so just getting to the »flowers« was a battle that took three attempts over six days. When he finally got there, the five days in his small camp turned into eight, because picking him up was delayed due to the sea ice.
See more
ken-bower.com
   See the article on page 38-39
Perhaps as a consequence of this photo series, the American Air Force is collecting information about the situation at Bluie East Two.