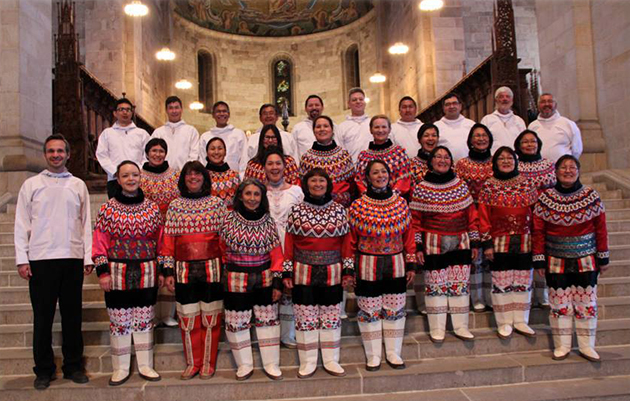 The Aavaat choir often perform in their national clothing's.
Traditional Greenlandic clothing and new design
By Karina Møller, greenland today
In Greenland, they have always used every part of what was caught. The meat is eaten and the skin is used to this day, for both everyday clothing, and for the beautiful traditional outfits.
Before contact with the outside world, they did not have access to fabric and beads, so all clothing was made ​​from skins.
Skins of seal, polar bear, reindeer, foxes, rabbits and dogs were used to keep warm in the harsh climate of the Arctic.
Today, they mix traditional materials with new, and create contemporary design with traditional Greenlandic symbols.
Woman with a amaat made ​​of sealskin. An Amaat is an anorak with a big hood, big enough to carry a small child in it.
Maligiaq Padilla, one of Greenland's most skilled kayakers, wearing a tuilik – a waterproof anorak..
North Greenlandic clothing
In North Greenland they use polar bear skins for pants, sealskin for the boots, reindeer for the anorak, and rabbit skins is used for the lining of the boots and anoraks.
The Arctic explorer Knud Rasmussen, seen here in caribou parka, polar bear pants and sealskin kamiks that most likely was lined with rabbit fur.
Women use high skin boots made ​​out of sealskin with polar bear skin for the edge. The anorak is made of fabric.
To this day they use polar bear pants and sealskin kamiks when going out on the ice by dogsled, as these natural materials still are the best protection against the cold, that easily reaches below minus 40 degrees Celsius.
West Greenlandic clothing
The West Greenlandic outfit for the women is very colorful. They use sealskin for the kamiks, as well as embroidery and dyed sealskin leather, cut into small pieces, called avittat.
| | | |
| --- | --- | --- |
| | | Avittat are pieces of dyed sealskin leather, cut into small strips and sewn together into beautiful designs. |
The pants are almost shorts and are also made ​​out of sealskin and avittat.
The anorak is made of fabric, and with a complicated but very beautiful pearl collar.
| | | |
| --- | --- | --- |
| | | Here is the Queen of Denmark Margrethe and Princess Mary in their national costumes. Note that Margrethe's kamiks are red and without as much detail. This color is used by grandmothers. Young girls and women use white skin boots. |
East Greenland clothing
The traditional clothing on East Greenland is much more simple than the West Greenlandic.
| | | |
| --- | --- | --- |
| Drum dancer Anna Kuitse in the simple, but beautiful East Greenlandic outfit, made out of sealskin and blue, red and white beads. | | |
Newer designs
| | | |
| --- | --- | --- |
| | | Young girls in the newer version of the East Greenlandic outfit. |
| | | |
| --- | --- | --- |
| The company Great Greenland makes jackets and coats in sealskin of extremely high quality. | | |
Isaksen Design is example of modern Greenlandic design where they mix old symbols with new design. Isaksen Design is established by the mother and daughter team, Rita and Nickie Isaksen.
Bibi Chemnitz create modern Nordic minimalism design combined with elements from Greenland.
To read an interview with
Bibi Chemnitz
Inuk Design by Lis Stender makes both household design and clothing inspired from Greenlandic culture.
Qiviut is processing yarn from the wool of the musk ox, and use it in various knitted products of their own design. They also use other materials combined with sealskin, among other things.
See more great photos on our facebook page:
or enjoy the beauty of the the traditional outfit
<here>