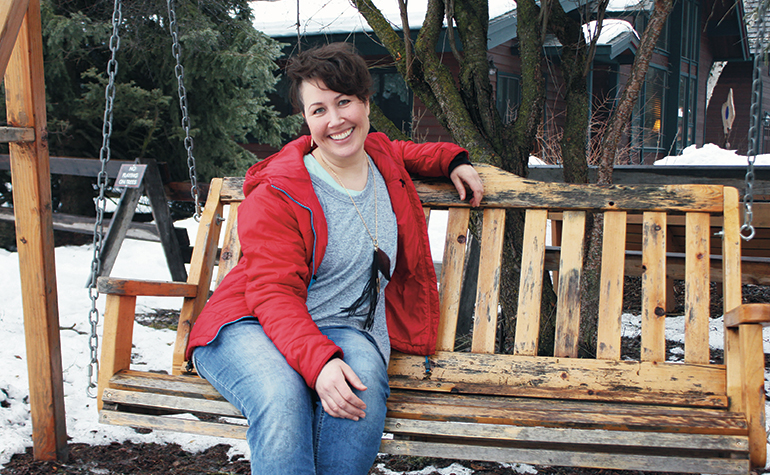 Copenhagen, Bangkok, Berlin, Saskatoon, the Canary Islands, Sisimiut, Koh Phangan, Vancouver, Phoenix, London, Seoul…. to name just some of the places 43-year old Ivalu Risager has visited for shorter or longer periods over the past 10 years. Now she has – perhaps – settled down in Whitefish, Montana, USA.
Text: Pia C. Bang, Photo: Private, greenland today March 2016
On a spring day in 2006 Ivalu sat working on a project in Sisimiut Museum when the telephone rang. It was her father and he told her, he had been diagnosed with cancer.
– After a few weeks, where I talked to him and my family in Denmark, I realised it probably was the end for him. So I went down to spend his final months with him. He died in April 2007, she says.
– It was both difficult and wonderful to be there for him and I learned a lot about us both. But the point is I found out that I could easily do my work via e-mail etc. I did not have to sit at my desk to do my work.
Wanderlust and work
As a child, Ivalu Risager lived in Copenhagen and Ilulissat, but mostly in Nuuk. She is a qualified graphic designer and she has been self-employed since 2004. The realisation that she did not necessarily need to be tied to a specific desk or office to do her work was a landmark for her and it opened the door to a life of travel, only a few can boast of.
She has always travelled a lot between Denmark and Greenland, but since the first »proper« trip abroad to the Canary Islands on an »escape-from-Christmas-holiday« Ivalu has travelled thousands of kilometres and she has had some fantastic experiences.
– I have often travelled alone. This is mainly because I am not a huge planner and not many others can travel the same way I do. I often need to spend a lot of time and energy finding Wi-Fi and the like and working, she explains.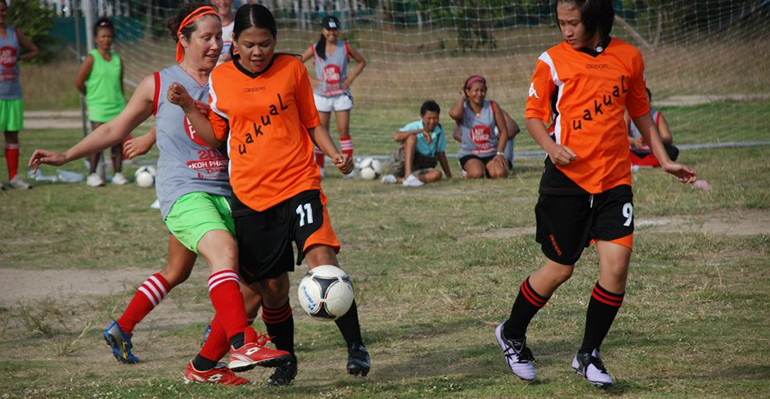 Football, bikini and jungle
One of her favourite and most often visited places has been the small Thai island of Koh Pahnang. She came here for the first time in 2010 to visit one of her father's friends and she fell in love with the island where she has found some really good friends. She has returned several times, sometimes with her niece. They played in a local women's football match after 14 days of intense training (and won). She returned later to celebrate her 40th birthday on the island where she took part in a bikini contest and swung round the jungle (but not at the same time).
Another spectacular travel experience was a trip to Scotland where she purchased an »adventure week« at a spa.
– There were 25 people on the team. When we started out, we were shy and inhibited, but we ended up playing together like children. It was great fun. What I learned was simple: Joy. This word kept turning up everywhere for me. I have tried to live in accordance with this ever since, says Ivalu.
Working anywhere, any time
She takes her work with her everywhere, so the travel has not so much been about holidays, but more about experiencing people and places – and, more or less involuntarily, learning to adapt to circumstances.
A lot of her work has been done at airports, ferry terminals and restaurants. Once on Koh Phangan, there were 12-hour power cuts that continued for weeks on end – and she had to work and send e-mails when the power was on, sometimes in the middle of the night.
In addition to taking her work with her, Ivalu has also had to work at keeping costs down.
– All this travel would not have been possible if I did not have good friends who generously let me use their apartments, rooms or sofas.
– I really appreciate knowing such lovely people and I have been very aware that it should be worthwhile for them to have me. I cook, wash dishes and clean – take them out to dinner, buy beer or whatever is necessary to show my appreciation, explains Ivalu Risager.
She has become good at travelling alone and talking to new people. Ivalu has used couchsurfing.com, which is another inexpensive way to travel. People offer either their sofa or their company, so you can be introduced to their town or area.
– It is a marvellous way to travel – especially if you travel alone. You have to be careful of course. I ended up enjoying staying at hostels and couchsurfing for company to show me round.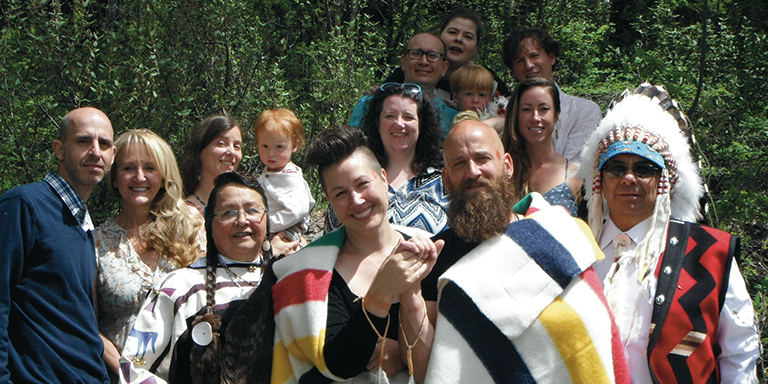 Married in an Indian ceremony
Ivalu was, of course, also travelling when she met the man who would finally get her to drop anchor. Some of her many trips had a business content and it was at a big international trade show for Adobe users that she got to talking with one of the other guests at the hotel: Johnny from the American city of Phoenix in Arizona.
After the show they parted company, but there was »something« and they met several times in the following months.
In the meantime, Ivalu visited a friend who lived in Whitefish, Montana and the Greenlandic graphic designer fell for the place. In her opinion, the people here are wonderful. Here, she can combine her love of horses and nature, which is very like that of Greenland. Before long, she and Johnny were a couple and she persuaded him to move with her to Whitefish, a place with fishing, hunting, skiing and cowboys.
Romance blossomed between them and Ivalu and Johnny were married in 2014 in a ceremony at Whitefish Lake performed by two Blackfoot Indians.
– It was only possible because I am half Greenlandic and therefore kin. It was a huge, very moving experience. »Robert Rides at Door« held an eagle wing and called to the four corners of the world and then they calmly talked us through the ceremony. They chanted a little in Indian and translated for us afterwards. The music came from an IPad – very simple and modern.
– We had friends who came from San Clemente, Phoenix, Copenhagen and Saskatoon, as well as local friends who had never experienced a Blackfoot ceremony. We held a Greenlandic »kaffemik« afterwards and all the Greenlanders ended up sitting together at the table with Indians, eating and chatting. It was an amusing experience, remembers Ivalu.
She and Johnny are thriving in Whitefish, where they have a year-round ski pass and where Ivalu volunteers at a local riding school. She still works as a graphic designer, primarily for Greenlandic customers and she dreams of visiting Greenland with Johnny at least once a year in future.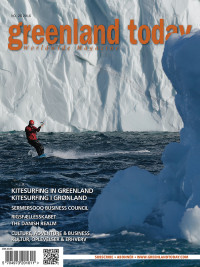 Read the article on page 36-37