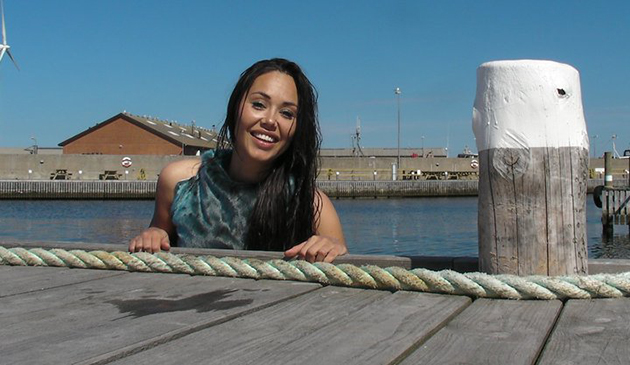 Tillie Chile Martinussen
32 years, Nuuk
For the past years I worked as an assistant to the Minister of Education. I now do volunteer work for different associations and I aspire to become a politician. I just haven't made ​​up my mind what I would like to do in the future. I am contemplating weather I should get a permanent job or do free lance work , or something completely different.
I have decided that I will spend the next couple of years doing something where I also have time to work out, immerse myself and do things I am passionate about. I want to do work that I really care about. Work should be something you enjoy doing, more than a duty. The world is wide open right now, and it's a bit exciting.
It is important for me to feel that I help make a difference and to bring joy to myself and others. I think it is optimal when you do something you love and at the same time serve a purpose. One must be the change you wish to see in the world. I will certainly find time to travel soon, in one way or another.
Are you following the Greenland Fashion Page? every day, often, rarely?
I check it out about once a week, and notice it when it pops up in my news feed.
Is there something you think the page is missing or can do better?
The layout could be done a bit more exiting? I think that the pictures are cool, but would be great with more colorful pictures too.
What does fashion mean to you?
Fashion is relaxation to me. Somehow it relaxes me when I see clothes and accessories, shapes and colors, design and compositions. It can be a little like going to an art museum, it sharpens the senses, puts the brain on a creative adventure and it is great when a person wears what suits them perfectly.
Clothing, fashion and accessories are somehow very socializing. It is a complete non-verbal expression of emotions by the designer, the wearer and the viewer.
– I think it's so cool when people express themselves through fashion, when people dare to be expressive; when they dare to let their inner diva or show-off side out of the closet because they feel comfortable with it. I think it's very sexy when people dare to let their light shine, and it is fantastic when women and men show who they are. Doesn't matter if it is a nerdy geologist with dust on his pants, a young woman with a low-cut dress and duck lips, a sporty girl or a handsome gentleman in suit. The world is big enough for all of us!
I think fashion can help person to express who they are, bring out their brightest, most creative, meticulous or untidy sides. Fashion is also a reflection of how you feel each day. Was there time for breakfast? Is it important for me today to dress practical, relaxed or to stand out? Am I a mother, father, outdoorsy, seductive, subtle or aloof today? Fashion is love, playfulness, fun, belligerence, shyness and carefreeness. Fashion sends social signals. And fashion is, with a little sense of humor always good …
Are you passionate about your clothes, shoes, handbags, jewelry, watches, glasses, etc…?
Not really. I've been thinking lately that maybe I should begin to care more about my look again. I recently purchased a neon-yellow handbag, it serves as a jumpstart for me to wake up the desire to play around with fashion again.
The first couple of days I got stressed just by looking at it. Every time I looked down at my arm, my brain screamed »Warning« or »School crossing guard« – Ha ha. But the bag serves its purpose very well.
It used to be like de-stress to me to combine clothes, shoes, bags, nail polish and makeup. Today I dress a little too practical.
– So I have decided to revive the playful and silly, the cool and colorful, the feminine and fabulous side of me. Actually I think there are many who wishes to do that, don't you?
What is most important for you to look good? (Hair, clothes, makeup, …)
It is with no doubt makeup. It is through my makeup you can tell if I am in a cheerful mood, I often use eyeliner or eye shadow to emphasize my mood with; fun colors or more subtle colors all depended on my mood.
– When it comes to other people, I look at the whole person and what they radiate. People can be really beautiful, but if it is only on the surface it becomes boring.
-I think it signals confidence if a man go all the way out, either by wearing something colorful or wear a suit, or wear something simple and cool but with a sparkle in his eye.
Do you have any favorite brands?
No. I love everything from H & M to quality and high fashion design.
If I do have to mention someone I would say www.sevenly.org. They are an internet based site that profile various designers that donate to a different cause every week. I like their concept and their positive message. I wish that something similar could be done in Greenland to support voluntary organizations causes. Sevenly's clothing is not super innovative, but it supports a good cause, and I like that.
Where do you shop the most?
I prefer to shop abroad. Otherwise I shop at all women's clothing stores in Nuuk. I like to buy something unique or something that brings a smile on my face.
Have you considered becoming a model?
I have been modeling for a number of years now. It's been fun.
What do you notice when you meet a man? woman?
I think honesty in its many forms is appealing. When people are true to themselves. Honesty is many things. It is to be harmonious, or to be completely fucked up, or stressed, or sad, as long as you honest, show it and express it.
Or when you're extremely happy and jump around like a rabbit. People might think that you are a bit crazy when you do it, but do it anyway! Kindness and empathy is also qualities I look for. And power!
Women and men with power are so beautiful. Not to be confused with poorly managed power! Power is when people are completely true to themselves, with scars / a few extra pounds / beauty / personality etc. Power is never condescending. Power gives – abusive power take.
Thoughts from Tillie Chile Martinussen
I think fashion can be misused to portray yourself as something you aren't. I get really annoyed if someone tries to live up to an »image« to feel special, or to please someone else. Please do not do that.
There should never be anyone you should try to please – no one but yourself.
I love to travel! My travels are a huge inspiration to me. I think it's important to see something else beside your own little world sometimes, and it is important to go somewhere where you feel anonymous, outside your own comfort zone and where you face something that is a completely different world from your own. I love it!
My next project is to do a road trip from the North to South or East to West of the United States. I want to make it happen one way or another. I still haven't figured out how, financially or when to do it.
Hot or Not:
Tatoo? Not. It really depends on the personality, but I often think they are poorly made​​. But I have seen a few that look really good on some people.
Piercings? Depends very much on who and where they have it. I have one myself.
Other body decoration, giant holes in the ear/nose? Okay, I am very conservative when it comes to big holes in the ears. It always makes me mentally throw my arms in the air and scream: WHY?
Hats? Yes
Strong colors? YEEES! Love it! You shouldn't be dressed in neon colors from head to toe, but I really think bright colors are fantastic. Especially when worn by Greenlandic men with brown eyes, darker skin and hair.