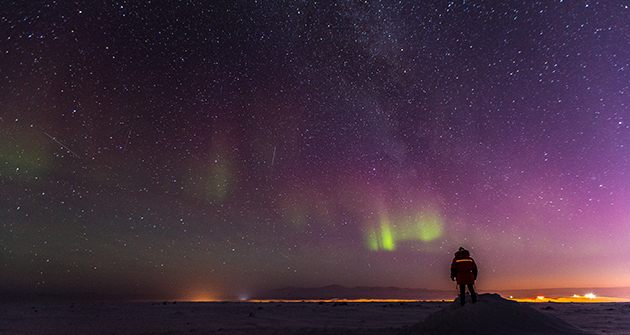 Thule – a huge experience
Text: Mads Nordlund, Photo: Jonas Beyer Petersen, greenland today March 2015
From 2012 to 2013, 26-year old Jonas Beyer Petersen worked as a fitness instructor and guide in the activities centre at Thule Air Base.
– I took the job mainly to experience Greenland, which I had dreamed of seeing for many years. I have seen many pictures of Greenland and I have always been fascinated by its wildlife and nature.
– I have taken photographs for many years, but in Thule I became really interested and I upgraded all my photographic equipment while I was there. Photographing animals is very intense – lying for hours waiting for the animals to get close enough.
Outdoors all year round
Spare time was spent outdoors, even though it was cold and dark. Jonas took it as a challenge to take photographs in the dark, since the polar night meant three months without sun.
Being out alone for many long nights also gave him a greater insight in himself.
– It was exciting to lay waiting in the dark. Occasionally I shone my torch around to see if there were any »guests«.
– Once, I followed a couple of polar bear tracks. In the end, I stopped and set up my tripod to take a photo of a mountain with the starry sky in the background.
– When I shone my torch, there was a pair of shining eyes ahead. I thought it was a polar bear and quickly packed away my camera and ran back to my car. It turned out to be a fox, but it scared the life out of me, he says with a smile.
– We once had a hungry polar bear on the base. Attempts were made to scare it off, because it was a danger to everyone who worked there. Unfortunately, it could not be scared off, so in the end the police were forced to put it down.
Rich wildlife
Jonas has photographed a great number of foxes and hares.
– The foxes were favourites because they were very inquisitive and interesting and they are not something you just go out and find, says Jonas.
– I usually looked for a burrow and waited for them to come out so I could photograph them in their natural habitat. In June, I got many photos of a litter of seven fox pups.
– I also found a Peregrine Falcon nest. They are very protective, so while I sat next to the nest the parents were busy ensuring I didn't get too close and this gave me an opportunity to take some close-ups. The chick's beak was quite blue and it was fun to watch the mother give it hours of flying lessons.
Unique nature experiences
Jonas found a great source of inspiration in his colleague Morten Hilmer.
– We often packed the car and took off on a photo trip in our spare time. Sometimes we borrowed a cabin in the fells, but we didn't get much sleep. We spent all night taking photos of the foxes that ran around outside the cabin both summer and winter.
Close to the base Jonas found a natural pocket in the fells where he went to spend some time alone and to enjoy nature and reflect on life.
– Nature is wonderful and it had a huge impact on me, explains Jonas.
– It was also exciting to sail out and see the huge icebergs in the water and herds of musk-oxen on land.
– In the winter, we went out on the sea ice and although we saw plenty of seals, they were too far away to photograph and they disappeared before we could get close enough.
More Greenland
– I would like to see more of Greenland. I am not finished with Greenland's magnificent and extreme nature.
– The wide open spaces are unique and the cold, fresh air is wonderful. There is a feeling of freedom when you see such magnificent nature stretching as far as the eye can see.
Jonas would like to see more of Greenland's nature after visiting Qaanaaq and the derelict settlement of Moriusaq.
– I have only seen the tip of the iceberg and I would really like to experience the rest of Greenland, ends Jonas Beyer Petersen.