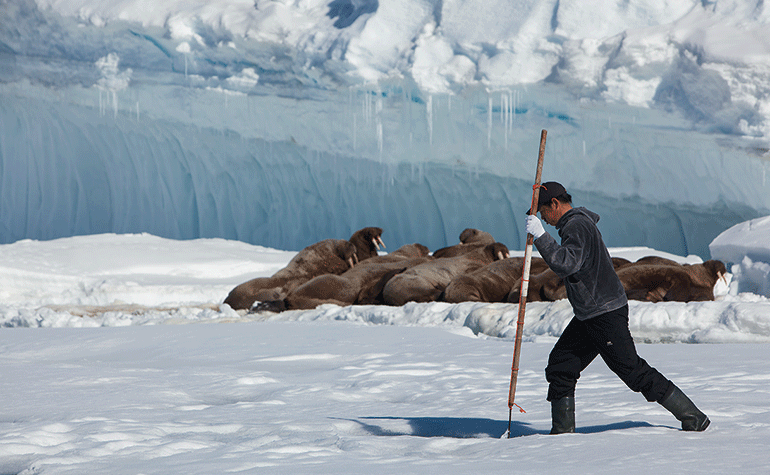 Professor and anthropologist Kirsten Hastrup, who works at the Institute for Anthropology at Copenhagen University, has written a very big book that in words and pictures provides a portrait of the Thule region and the people who live there.
Review by Mads Nordlund, greenland today November 2015
For eight years, she has paid regular visits to Thule and her conversations with the inhabitants together with historical accounts are the cornerstones of the book. In addition to this, the book contains very unique pictures that tell a story by themselves. They were all taken by Carsten Egevang, scientist and awardwinning photographer.
New times
The title of the book refers to the massive changes Thule is experiencing. The ice is melting and the permafrost is thawing; plant and animal life is changing and with this, society is changing. The hunters are finding it increasingly difficult to reach the large marine mammals that have been their livelihood for more than four thousand years and the animals are behaving differently.
There are not many alternatives to hunting in the High Arctic. The changes affecting nature are considered to be a significant threat to the hunters' way of life.
Narrative
The book is divided into eight chapters; the Thule region, the people, the ice, the hunting, the technology, the colony, the invasion and the time. There is also a foreword, a prologue and an epilogue as well as maps, notes and a good list of contents that makes it easy to look up things.
The many human-interest stories carry the reader through the book and they are interspersed with excerpts from the historical accounts of Knud Rasmussen, Nansen and Peary, to mention just a few.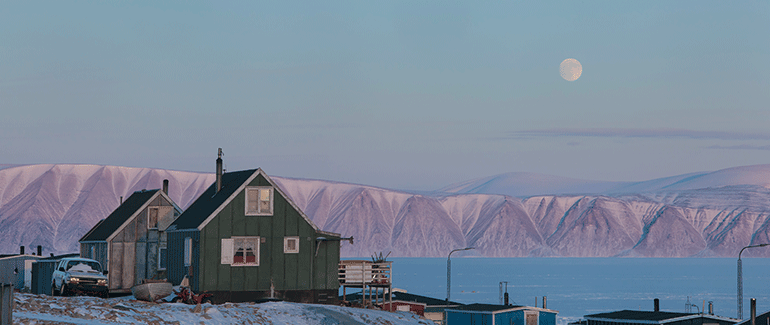 Solid work
This is not a book you read before bedtime, if only because of the weight of the 496 pages and the hard cover. You have to go to the bookstore to carry it home, but it is well worth the effort. It is not a dry book of facts, although it is very educational. Kirsten Hastrup is an excellent communicator and it is easy to see why she has previously received awards for her work.
If you are interested in history, Greenland, the Arctic, climate change or people and their way of life in a unique location on this planet, there are many fine evenings of armchair reading in this book. The pictures are also worth longer scrutiny in order to understand the scale of nature and to discover all the details.
   Read the article on page 18-19