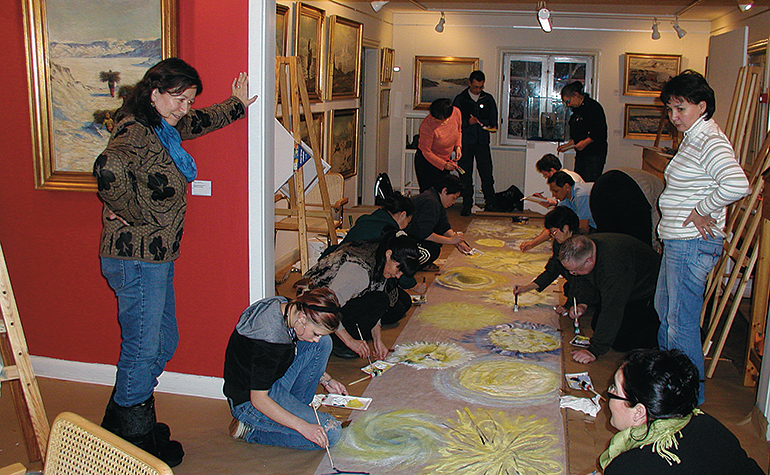 For almost 10 years, a small group of women have gathered to paint in Ilulissat

Text: Mads Norlund, Photo: Seqineq. greenland today July 2016
In 2007, artist Buuti Pedersen held an exhibition in the art museum in Ilulissat. In connection with this, she held a painting course for people from the town who were interested, where one of the exercises was to paint a sun. Those participating in the course thought this was such fun, that some of them subsequently formed the Seqineq (sun) painters group.
Since Ilulissat, with its location at 69 degrees northern latitude, does not see the sun in the winter months, it was natural that the painting group was formed in 2007 on January 13th, the day the sun returns.
Since then, the group has met a couple of times a week to paint.
– There have been many artists who have held courses for us over the years, they say.
– We are very grateful for this, because it has been interesting, fun and educational.
This summer, the painting group has an exhibition at Ilulissat Museum of Art. The members of the painting group have come and gone over the years, but the regular members, Hanne Holm Andersen, Elin Andersen and Thrine Gamst-Pedersen all have works on show at the summer exhibition together with Irene Thor Jeremiassen and others.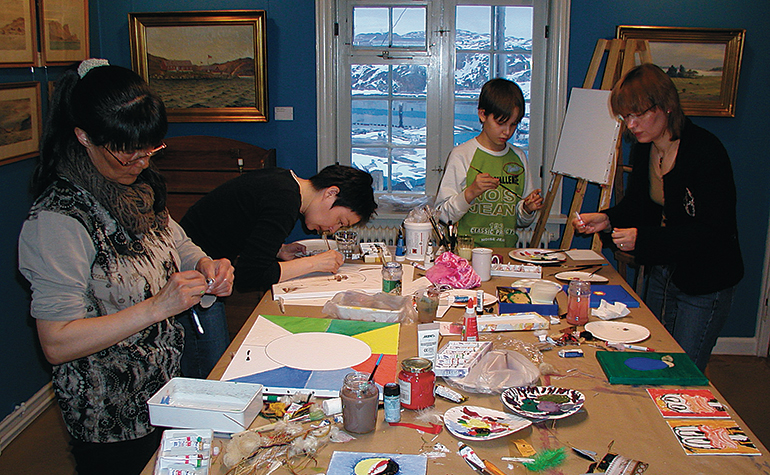 Creative development
By having themes in common, the painters in the group can inspire each other. For this reason, the group is not closed, but is instead open for all adults who are welcome to come and take part with their own materials. In this way, new ideas from the outside are brought into the group.
– You could say that Seqineq forms the framework around our creative development, they say.
– When you meet several 
times a week, it helps to keep you painting. Like anything else in life, it is important to work with things all the time, if you want to improve.
Creative interpretation of nature
Thrine Gamst-Pedersen has painted with the Seqineq painting group since the beginning in 2007.
– I am primarily inspired by nature and the birds and animals around us, she says.
– I had not painted before the group started. Now I cannot do without it. I paint mostly in acrylics, but I have also worked with water colours. I always go back to acrylics because they are easier to work with.
– In the coming exhibition I have interpreted the nature surrounding Ilulissat, where I spend a lot of time. There are marked trails around town which are good for walking or running. I am inspired every day out there.
– I have taken part in all Seqineq's exhibitions and I am looking forward to the exhibition this summer, ends Thrine.

Storyteller
Hanne Holm's work as an artist takes the form of storytelling.
– I translate legends, experiences and stories into symbols and colour structure, explains Hanne.
– I am a recreational artist and I have learned through a series of courses in drawing and painting at art schools in Denmark, Turkey, France, Italy, Spain and here in Ilulissat.
– I have developed my own painting style »Milalikpaint«, by being a member of the Seqineq group.
– Milalik is the Greenlandic word for something that has dark spots and this describes my painting style very well.
– I work with many types of materials, both with landscapes and towns. I am primarily inspired by the expressionists.
– My pictures for the summer exhibition are painted with acrylics. They are Greenlandic motifs showing, things like the ice cap seen from above accompanied by the music of the sled, ravens with the fells in the background, the Arctic flowers on the Greenlandic fells and crowberries with the four seasons as the background, ends Hanne.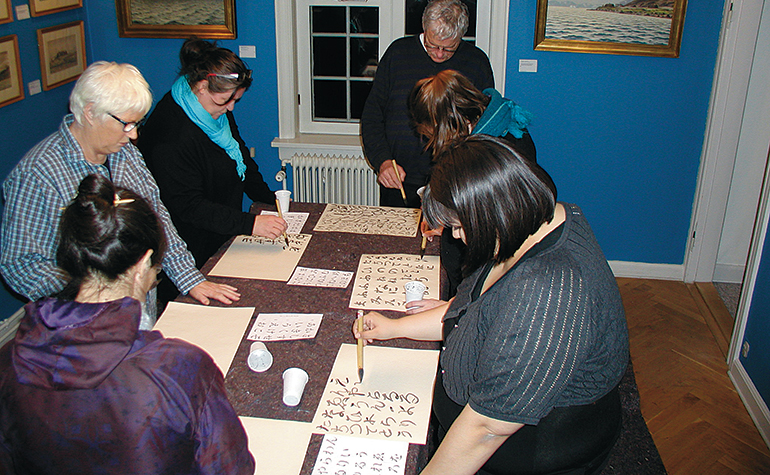 Exhibitions
By conveying their art to others, the Seqineq group wants to create interest for art. Almost every year, the group has had a Christmas exhibition on the first floor of Ilulissat Art Museum in December. They have also exhibited at Qeqertarssuaq Museum and Qaasuitsup Kommunea.
– This year, we have the great honour of exhibiting at the Ilulissat Art Museum's summer exhibition. We are very happy about this, conclude the ladies.
The exhibition at Ilulissat Art Museum can be seen in June, July and August 2016.
See more
Ilukunstmus.gl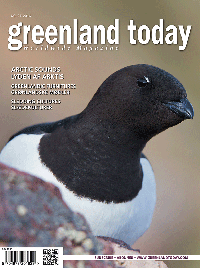 Read the article on page 12-13