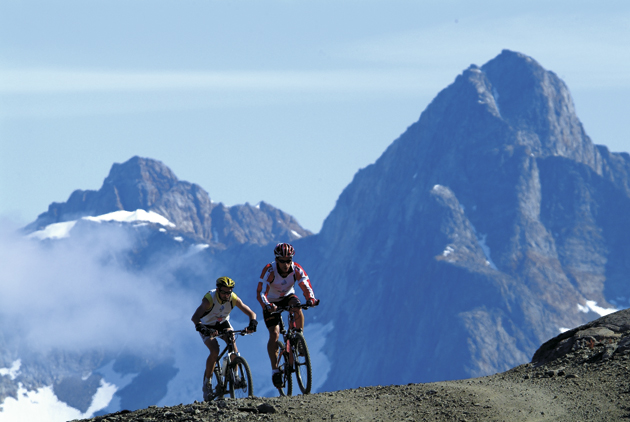 The most beautiful race in the world
The Siku Extreme Arctic Challenge on the island of Ammassalik in East Greenland has become an adventure race that is considered to be one of the best in the world.
Text: Jesper Kunuk Egede, greenland today november 2007
250 kilometers in five days
Siku Extreme Arctic Challange (SEAC), is an adventure race where teams of four people must endure all kinds of hardships before they after six days, hopefully cross the finishing line. The competitors must go through 250 kilometers of hilly terrain. In canoes, on bikes and running over rocks and glaciers they must fight their way forward.
Stage race
The 4th stage is over 120 kilometres long. The first three days are stage days starting in Tasiilaq and moving out into the terrain. On the last stage the race becomes an expedition race where competitors go all out until they reach the finishing line 1-2-3 days later.
The race at the end of the world
Tasiilaq is situated on Ammassalik Island on the east coast of Greenland. The location of the area means that the sea freezes in the winter and when the coming of spring melts the ice of the North Pole, the enormous masses of ice float down along the east coast and block shipping to Tasiilaq.
It is one of the world's most inaccessible, inhabited regions and this is possibly one of the main reasons why East Greenlanders are amongst the most hospitable and friendly people on the planet. For the competitors, the friendliness of Tasiilaq is a significant part of what defines the race.
The local connection
The entire organisation behind the race consists of a team of 15 people, each with his/her own field of responsibility. There are about 50 officials who take care of all the practical work, man the checkpoints (some officials camp for days on the glaciers so the competitors feel safe when they arrive), and sail in safety boats with the canoes when the teams are in the water amongst the enormous icebergs.
Victory for Team Guddi
A girl team, Team Guddi as the girls were called, crossed the finishing line with the worst time in the history of the race, and yet it still felt like a victory both for the girls and for all the rest. Even one of the winners Claus Stallknecht, said: »What they have done is so much more than our efforts. We have trained more and are generally much stronger. You can only have respect for them.«
Watch more from one of the races right here: