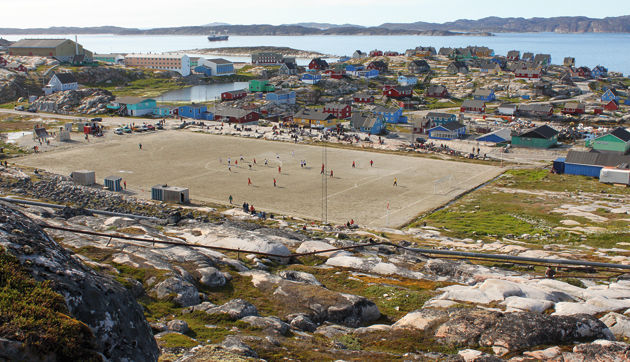 The good old boys
Physically, their bodies have seen better days, but enthusiasm is still high, when Greenland's old boys face each other in a tough match.
Text and photo: Jacob Bech Andersen, greenland today November 2011
Greenland loves football
Jenseeraq, like most of the people in Greenland, loves football. He feels therefore lucky this summer, where the local football club T-41 in Aasiaat is lending its gravel pitch out to an football tournament ranging from Champion-ships for Greenland's youngest players to Greenland Championships for senior women.
Worn out legs
16 teams from all over Greenland have signed up and even though most of the older players aged 33 to 65 come with partially and wholly worn out legs, middles that have definitely been a lot thinner and very low fitness ratings, the physical challenges are counteracted by the joy of the game, ball savvy and enthusiasm. The tackles are merciless and the roar of the crowd at each goal is more like something you would encounter at Champions League level.
No beer during training
Knud Jacobsen moved to Greenland from North Jutland a year and a half ago and he quickly started playing football in Sisimiut.
– I went to the football pitch in Sisimiut to take a look. Five minutes later I was a line keeper and the day after I was a player, says the man from North Jutland.
– I think many Greenlanders have a good technique. It is quite difficult to play on gravel, but they do really well. And people take it much more seriously here. There is no beer together with training and matches like in Denmark – at least in my club.
Ilulissat and Manchester United
Back on the field, the next match has started.
– I-69, I-69, roars ardent football fan Jenseeraq Larsen. Although he lives in Aasiaat, he grew up in Ilulissat, so he naturally supports his hometown.
– I support Manchester United and I-69 from Ilulissat, he says. In spite of his love for I-69, Jenseeraq is not afraid to praise the organisers of the Greenland Championship for Old Boys, T-41 from Aasiaat.
Blossoming football
The football club in Aasiaat has been dormant for some years, but is now blossoming again and this is very important for the town, believes Jenseeraq.
– We need happiness and you get that from football, regardless of whether it is children or old boys, who play.
Support to the sport
Charles Mølgaard, chairman of T-41 agrees with this statement.
Charles has played a lot of football in Greenland over the years and he is pleased that so many Greenlandic men have started to play old boys football.
– Even if you are not so young, you can still like the sport and that has been very apparent in this tournament.
Read the full article from the magazine here
The-good