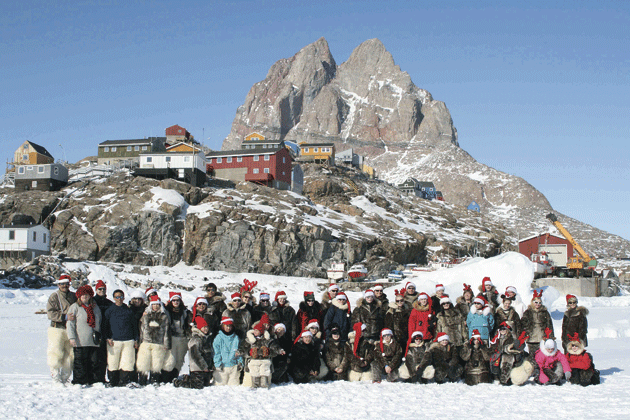 The children and staff together with teachers and children from the Faroe Islands, with Uummannaq's symbol – Heart Mountain – in the background.
A children's home – with the emphasis on home
The children's home in Uummannaq is one of the world's most northerly 
24-hour care centres for children and young people with social problems.
Text: Finn Jørn Jakobsen, Photo: Jean-Michel Huctin, greenland today March 2008
Greenland is a modern, western society. For better or worse. But it is also a country undergoing a process of strong readjustment. From hunting to industry. From settlement life to information society. From colony to self governance. From local villages with their own values to national, parliamentary democracy. Enormous development has taken place in just a few decades.
One of the places that takes care of the victims is the Children's Home in Uummannaq, which is beautifully situated in this North Greenland town – 500 km north of the Arctic Circle. It is the oldest 24-hour care centre in Greenland and also one of those that has the best results. This is due to its broadness and its focused pedagogy.
We work with social services, schools, psychologists and parents on the individual child's own prerequisites. Discuss how the child can take charge of its own life – also with regard to the demands society makes in connection with ethics, education and work etc. We strengthen the development of the child's mindset and ideology by, e.g. providing the opportunity for many different experiences in Greenland and abroad.
In all, approximately 30 people are employed at the children's home – all of them with wide professional experience and experience with people.
Children should not just be born. They should be carried into the world
It takes professional insight and patience to work with children who bear the weight of massive neglect and failure.
But first and foremost, you must like them. Be genuinely interested in giving these children a good life. I usually say that children should not just be born; they should be carried into the world. This is what we do. Carry children into the world, in all its diversity. At the heart of this are the employees with their solid, pedagogic training, but also other professional groups, each with their own field of work. I'm proud to say their efforts make a difference. In spite of the almost hopeless starting point, we manage to get results. And every time we see a person straighten up and re-establish their options, it's a great victory. Fortunately this happens often and these are the experiences that give us new energy,« smiles Ann warmly.
On a visit to New York the children from Uummannaq meet folk singer, Pete Seeger, creator of the world hit »Where Have all the Flowers Gone« and many other famous songs. »We can make peace here on earth with the aid of culture, art, music and sport« he told the children from Greenland and their American friends.
Intimacy – spending time together – and the wide, wide world
The Children's Home in Uummannaq does its utmost to resemble a real home. With rights and duties, with fellowship and individual interests. With a good balance between love and demands. Furthermore, we offer a wide range of projects based on experiences and fellow-ship: dog sledding trips, hunting, sailing, hiking, summer holidays in Denmark, trips abroad, music, handicraft projects, periods at independent boarding school, etc.
This kind of travel and experience is an important part of the home's activities, but of course the work centres around the firm boundaries in Uummannaq, where there is a constant, lively buzz. The young people and their friends run in and out, the rooms are filled with music, chatter and a single, small argument. Just like any other home. Everyone is polite, open and greets us with a smile.
»I want to be a teacher«
One of them is 19-year old Magdalene, who has lived at the children's home for 8 years with her younger siblings. Magdalene likes living in Uummannaq. »We do so much together and we learn a lot,« she says. »Of course it's hard to miss your parents, but when you can't live at home, it's great to be here where we feel safe. I have a better life like this,« she says quietly. »I like riding on the dog sleds most,« she adds with a big smile. »We can't do this in Nuuk, because it is south of the Arctic Circle where there aren't any sled dogs.«
Magdalene dreams of becoming a social worker or a teacher. »I want to help people who have problems,« she says. Last year I went to boarding school for seniors in Denmark to learn Danish. Now my sister is going to the same school and I've told her that she can look forward to it. I had a wonderful time when I, for example, slept in a forest!« ends Magdalene, thus confirming that not only cities, but also the things that are close to us make an impression.