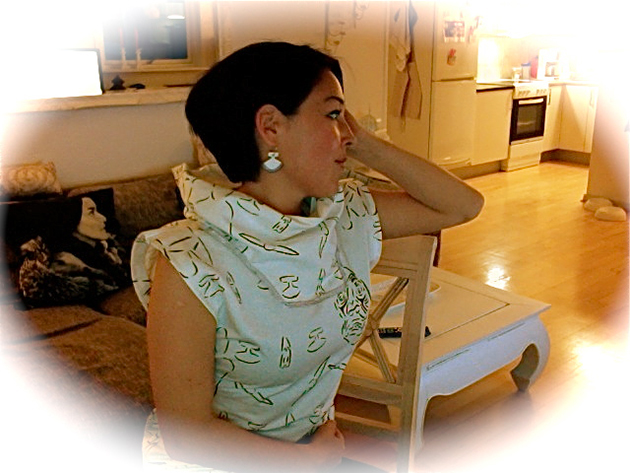 Thala Geraae-Nielsen
28 years old, Nanortalik
Background, interests, upbringing:
Thala was born and raised in Alluitsup Paa. She is married and has a 9 years old child.
Interests:
I love to run, and have this year so far ran 513 km. I spend a lot of time doing needlework.
Education:
Sales assistant.
Inspiration – when and how did you start?
I grew up watching my aunt make the (Greenlandic) national costume since I was a little girl. My aunt has passed away, and I use her creations to decorate with, to sort of keep her around. It inspires and motivates me.
Mission – What is your dream?
I would like to use my education in sales, to some day open my own boutique, where I can sell my own products.
Products – what do you create?
I spend a lot of time knitting hats and scarfs this past winter. Right now I sew clothes.
Signals / statements – is there any thing you want to express through your work?
I like Greenlandic symbols, so I work from these.
What does fashion mean to you?
It means a lot to me, I am following it through the internet and in magazines such as: Femina, Alt For Damerne, Kig Ind etc.
What are you passionate about: clothes? Shoes? Bags? something else?
I really care about my look, and I am always looking for something that fits my style. I am not that passionate about shoes or handbags. My work requires a lot of standing, so I tend to wear comfortable shoes.
Accessories – jewelry, necklaces, hair bands, rings, earrings, watches, glasses, etc. ..?
I really like Greenlandic jewelry, Duuden Design is my current favorite.
What is most important for you look good?
I think it's important that everything (from clothes, hair to make up) looks good.
Do you have any favorite brands?
No, I buy clothes that looks good on me, and I am not very interested in brands.
Where to shop the most?
I like to shop from various websites, and right now I'm actually waiting for something I ordered from www.lightinthebox.com
Where do you like to shop?
On the internet.
3 Quick questions:
Greenlandic design? yes
Ancient Greenlandic symbols used in modern design? yes
Your own favorite things or symbol? Greenlandic symbols