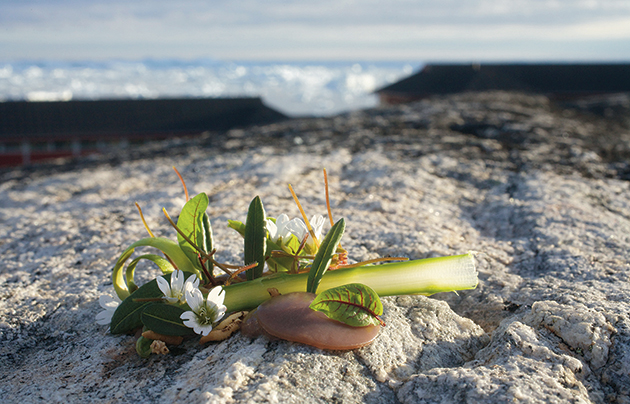 Suaasat
greenland today, July 2013
300g
(seal)
meat,
diced, 1 chopped onion,
20g round-grain rice,
80g diced potato,
10g Gellan pr. kg.
Place the meat in a saucepan with onion and plenty of cold water, bring to the boil constantly stirring and removing the scum. Simmer for 10 minutes and add the rice. Boil for five minutes and add the potatoes. Boil until tender. Season with salt and plenty of pepper. Sieve the solids from the soup.
Cool the soup, add Gellan10g/kg, blend together and bring to the boil. Quickly spread the jelly out on greased baking sheets. Blend the meat mass and cool.
Asparagus crudités
6 Green asparagus. Break off the ends of the asparagus and peel them. Place in ice water for a few hours.
Puffed rice
20g wild rice, 500 ml grapeseed oil.
Warm the oil in a saucepan until it is smoking hot! Add the rice and wait 30 seconds until it surfaces. Immediately pour the oil through a sieve to separate the rice from the oil. Spread the rice out on absorbent paper and sprinkle with salt.
Serving
Hotel Arctic uses stalks of red sorrel, knotweed etc. Alternatively use herbs that taste good, preferably some that a little acidic.
Pipe the meat mass onto the plate in small tops. Cut out the jelly into circles and place on top. Sprinkle puffed rice in between. Place the asparagus and herbs on top. Drizzle with a few drops of good olive oil.Recipe from Hotel Arctic
It is a huge gourmet experience to eat at Hotel Arctic in Ilulissat. The hotel's award-winning chef Jeppe E. Nielsen has written down recipe for Greenland Today. Usually, Hotel Arctic uses portion sizes, machines and ingredients that are not common in a private kitchen. For example, Jeppe uses the slightly salty seawater from the ice fjord instead of salt.

It is of course, impossible to cook at the same level as a professional cook like Jeppe, but we hope his unique ideas can inspire our readers. The recipe serve four.
Read the recipe from the magazine here Suaasat