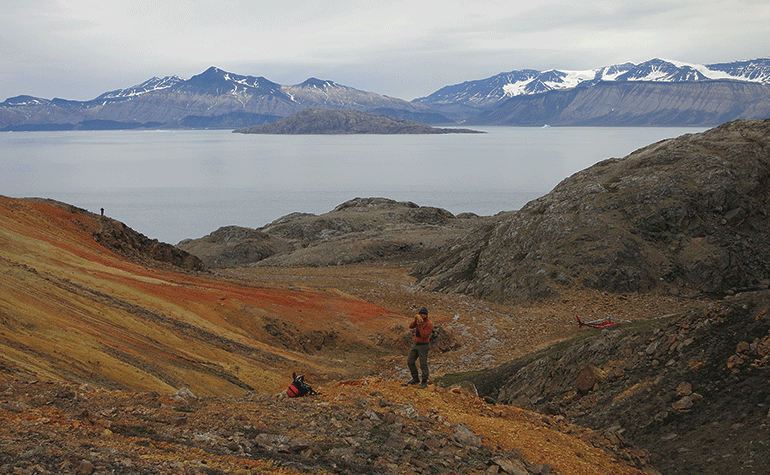 One of the companies carrying out mineral exploration in the Arctic is SRK Exploration. This internationally experienced company has established a branch with focus on Greenland.
Text: greenland today, July 2015
– During the global economic crisis, many mineral exploration projects were shelved or put on stand-by in countries all over the world, including Greenland, explains Jon Russill, who is Senior Exploration Geologist at SRK Exploration's Headquarter in Cardiff.
– We are in an industry that is often characterised as »high risk« with regard to investments, but the projects have a potential for a high return. Despite the crisis, we are still active and engaged in various projects, particularly 
those that have the potential for near-term cash returns.
Extensive experience
SRK Exploration is part of the SRK Group which has 1600 employees around the world. The Group has existed for 40 years and has acquired extensive experience and know how within mineral exploration and related work.
SRK Exploration focuses primarily on early-stage mineral exploration and has branches in the United Kingdom, Denmark and Russia. Through its Danish registered office in Copenhagen, the company started its work in Greenland in 2008 and today it has employees who concentrate primarily on Greenland. They all have experience from previous work in Greenland, e.g. as geologists or in Arctic logistics etc. This means that they have a thorough knowledge of all the most well-known deposits and often practical experience from the sites as well, because they have previously worked with them in other contexts.
– It gives us a huge advantage at the planning stage of a project that we already know the sites and in most cases can use people who have been there, explains Senior Geologist Casper Mejer Petersen, who is the leader of SRK's work in Greenland.
– SRK Exploration uses its extensive network to acquire the necessary expertise and it employs people to work with exploration, field work, project design, planning and analysis for projects around Greenland and the rest of the world.
– Furthermore, we are able to help exploration companies move their projects forward to more advanced stages by drawing on the rest of the SRK Group's expertise within all aspects of mining, to provide services that will mature and develop a find.

Mining country
– The industry is experiencing change and development these years. The global financial crisis has resulted in greater caution with regard to investments than earlier. At the moment, many industries are therefore using what they have in stock, but when metal prices increase again on the world market there is no doubt that the desire to invest will return within a few years.
– Although things are moving slowly now, there is still work in Greenland and SRK Exploration is working on several projects this year in East, South and West Greenland, although some of them are still waiting for approval.
– Greenland has outstanding mineral potential and, because of its immense size, there are still many unexplored areas.
– Greenland is very transparent and has a modern framework for exploration and mining, now the new mineral legislation is in place. Seen from a political viewpoint, the country is as stable as Europe, which is very important to investors.
– Furthermore, we have made many financial models that show there are several smaller but richly-mineralised projects which could be realised profitably, contrary to the common belief that it is primarily large scale projects that would be viable in Greenland. This opens up many possibilities and we will be in Greenland for the long term, says Jon Russill.
History
Geologically, Greenland's history goes back 3,800 million years. You can find some of the oldest rocks in the world and the mountains contain formations from almost all geological eras. This means that the part of Greenland that is free of ice is thought to host almost every imaginable mineral, element, precious metal and rare earth metal.
Small-scale coal mines have been in operation within the past 300 years and in recent times gold, rubies, graphite, cryolite, base metals and industrial minerals have been mined, to mention just a few of the earlier mining projects.
– There has been a lot of talk about large scale projects in Greenland, but the smaller mining projects could also prove to be profitable and they can often be started with less money and less risk, and have potential to provide near-term cash returns.
– The crisis has not stopped us. Market prices around the world may fluctuate, but Greenland's metals and minerals are still there, concludes Jon Russill from SRK Exploration.
See more
srkexploration.com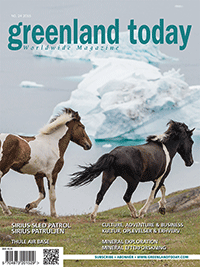 Read the story on page 51-52