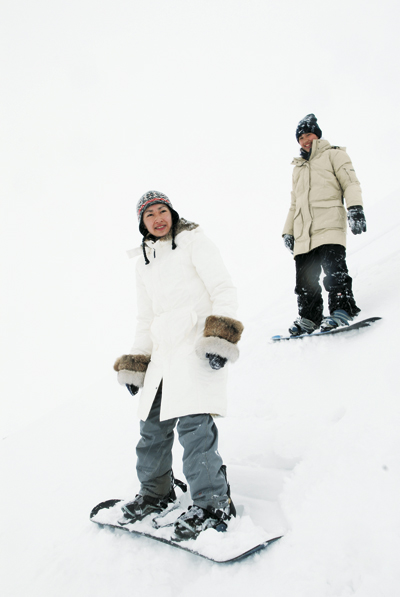 Sports in Greenland
A lot of outsiders think that a country with snow and ice must be one huge winter sports center. But Greenlanders have many ways to keep fit.
Text: Mads Nordlund,
Photo: Tiina Itkonen,
greenland today November 2007
Exercise
When you travel around Greenland, there is one area where the country resembles everywhere else in the world. Wherever you go, you meet people exercising, running, walking, or walking with. You see people on mountain bikes and skateboards in the summer, and snowboards in the winter. The expression »off-road« really comes to its right.
Indoor and Outdoor
Apart from skiing and cross country skiing, you would think that indoor sports attracted most participants. But some sports are both indoor and outdoor, like when the summer football moves indoors in the winter with handball and badminton, where tennis players also can be found.
Competitions abroad
Amongst the less widespread sports are the old Greenlandic games with different disciplines on the programme at Arctic Winter Games, which has participants from the entire Arctic region.
Self-defence is practiced and Taekwondo is the most widespread and has produced participants who have reached the top at World Championships.
Known worldwide
Greenland has developed several annual sporting events classified amongst the world's most beautiful, most exciting and hardest. The most well known are the ski race Arctic Circle Race which have received international recognition in sporting circles and attract competitors from all over the world.
Yearly events
Every year since 1996 is there Arctic Circle Race which is a ski race at the polar circle, in the town of Sisimiut on the west coast of Greenland, while in South Greenland is a called Greenland Adventure Race.
In addition there is Nuuk Marathon and the Polar Circle Marathon which takes place in the capital and at the polar circle, and the terrain and climate make both marathons something special.
You also see golf in Greenland mostly on gravel and sand, but also on grass or on simulators in the wintertime.
Past and the future
Greenland's championship in kayak and dog sledding are two of the old sports that have survived up to today. But with the swimming baths in Nuuk, there may one day be a swimmer from Greenland at the Olympics.
Links