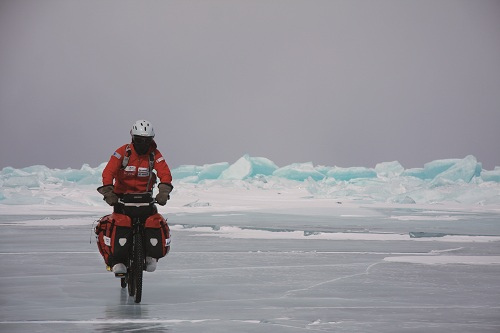 Spaniard to cycle Greenland snow cap
By greenland today
24 FEB 2012 
Juan Menendez Granados is known for his cycle expeditions on snow and ice, in high mountains and rainforests, and across deserts. This coming April and May he wants to cross the Greenland Ice Cap on his bicycle.
His plan is to start on April 20 from Kangerlussuaq and follow the horizontal route more or less along the Arctic Circle to Isortoq.
The planned trip across the ice. 
He would have liked to follow a new route, he says to ExplorersWeb, but that cost more money.
Greenland authorities will not allow him to go alone. »No, I cannot go completely alone. I will go with a TV crew, but »alone« – I'll be self-sufficient.«
There are some difficulties in doing such an expedition with a bicycle, he added. »Still I have some doubts about the best solution. I will keep you informed! Of course, I have to do some skiing in the most difficult parts and after big storms.«
His game plan is to do at least 30km per day, but he hopes to do more with good snow conditions. »Still I have to do some more real tests with all the equipment.«
»I would like to do it in 21 days maximum,« he says.
Between March and April 2008, Juan cycled the 2300 km from Helsinki to North Cape, the northernmost point in Europe. In 2009 his Arctic adventure in Canada took him on an 1800 kilometer journey over ice roads where he had to cope with temperatures as low as -30ºC.