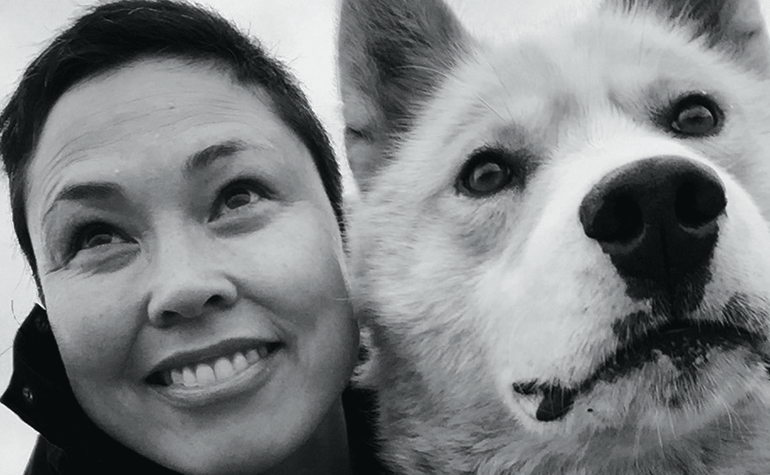 Pipaluk Lykke Løgstrup has never before made films. Now, she is busy with shooting »N A V A R A N A – The Dogsledder«, a film about pride, strength and dog-sledding.
Text: Pia C. Bang, Photo: private, greenland today March 2016
– Dog-sledding is a unique culture that we should be proud of, here in Greenland, says Pipaluk Lykke Løgstrup.
– We have lived with dog-sledding for generations, using it on winter hunts, ice hunting and fishing. In the earliest times it was the most important method of transport in the winter and it has taken us far in the Arctic. There are not many who can do what we do with our dog sleds and who have the relationship with, and knowledge of, dogs, ice, landscape, terrain and weather and wind conditions. This is what I wanted to show in my film.
39-year old Pipaluk Lykke Løgstrup from Sisimiut has thrown herself into the ambitious job of making a documentary about sled dogs, told through a candid and uncomplicated portrait of the dogsledder, Navarana Lennert.
Admiration for the main character
Navarana's family has always spent a lot of time in nature with camping trips, trips to the fells and fishing and hunting, so Navarana thrives outdoors and dearly loves life with the sled dogs. Ever since she went to kindergarten, she has ridden on the dog sled with her father, so it is in her blood. She has just become the mother of a son and she and her boyfriend will certainly want to take him dogsledding, just as she was taken as a child.
– She is a beautiful, strong woman who radiates calm and patience. I really admire that, explains Pipaluk Lykke Løgstrup regarding her choice of main character for the film.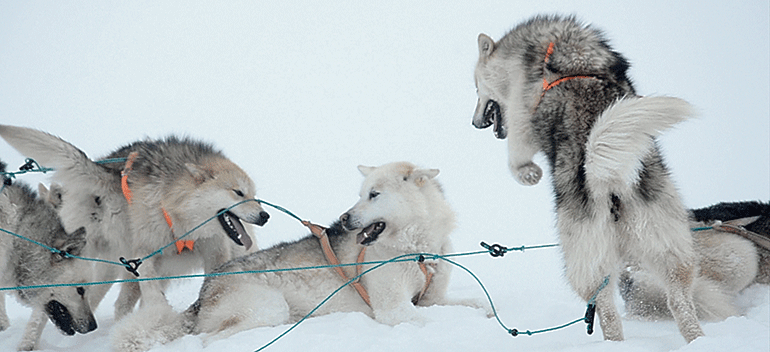 First film
Originally, the aim of the project was to make a film about the whole dog-sledding culture, with film of people from all Inuit cultures in Chukotka, Alaska, Canada and Greenland, but Pipaluk did not succeed in raising enough money for that plan. Instead, she chose to concentrate the story on Navarana.
– »N A V A R A N A – The Dogsledder« is my first film. The film media is powerful and can reach out across borders and cultures.
– I think we need to see some films made by us Greenlanders about Greenlanders. I wrote my theses at the Ilisimatusarfik University of Greenland on Danish documentaries with Greenland as the theme. This was probably instrumental in giving me the desire to make my own film, says Pipaluk, who trained as a teacher and then got an MA in culture and social history.
Pipaluk's own development
Filming started in 2015 and on the way, something happened to Pipaluk herself. She started to be a little nervous for the strong-willed, robust sled dogs, but now she has 
her own dogs and has become familiar with them, challenging her own abilities as dogsledder.
– I admire what Navarana is capable of and what she has learned from her father. In the beginning, I saw her as my opposite. I am not very patient and at first I was quite afraid of the sled dogs. It is different now, where I have started to drive my own dog sled.
– Driving in the landscape in Sisimiut can be extreme, so you have to be something of an adrenaline junkie, think fast, stay calm and have an overall view. Making a film of this is an obvious choice, she says.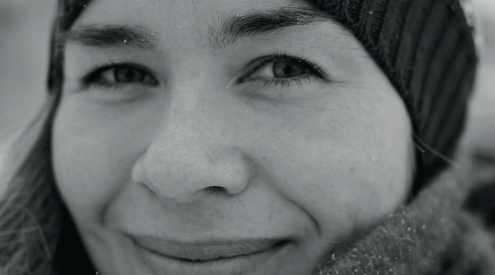 The dogsledder, Navarana Lennert.
With Sirius
Pipaluk joined Navarana and photographer Johannes Ujo Müller on a visit to the Sirius Dog Sled Patrol in 2015 to start shooting. At the time, they were not aware that they would have to give up their plan to film in the other Inuit areas. The footage was really good and Pipaluk has other plans with it now.
– The trip to the Sirius headquarters of Daneborg was a huge experience for the entire film crew. We were delighted that the Arctic Command was so open from the very beginning and that they invited Navarana inside, to a life not many people get to experience and which is mostly reserved for men. Navarana loved it and fit in from the first second. Navarana had dreamed of joining Sirius, because they work professionally and respectfully with the sled dogs, says Pipaluk.
– The best thing about the film is that it tells a story about something I love and admire very much. It shows the world that I am proud of our culture, before it disappears, she says.
The image of women
It is no coincidence that Pipaluk chose a female dogsledder as the main character.
– On the film's Facebook we can see that more than 60 per cent of the followers are women aged 25-34. I believe that many people have lacked a strong woman with whom to identify; someone who does not necessarily pose in selfies with a pouting mouth and cleavage.
– I am tired of the image of women that is shown in the media – that we should be slim, attractive sex objects showing off our bodies to get »Likes« and be appreciated.
– I feel that Navarana inspires respect, because she is herself. As Navarana says, we are used to seeing older men driving sleds, so a lot of people probably do not think women are capable, says Pipaluk.
In January 2016, Pipaluk was in North Norway to take part in the film event Below Zero. This is, among other things, a meeting place for documentary film people from all over the world who have an interest in the Arctic. Pipaluk Lykke Løgstrup's reason for taking part was to develop her film and to create a network for herself of more experienced film people.
Her participation in Below Zero was made possible through economic support from the Nordic Institute of Greenland, NAPA.
Pipaluk hopes to finish filming in 2019 and then the film must be edited and cut.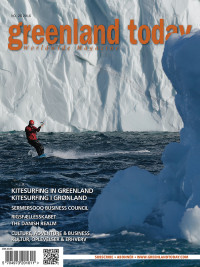 Read the article on page 11-12