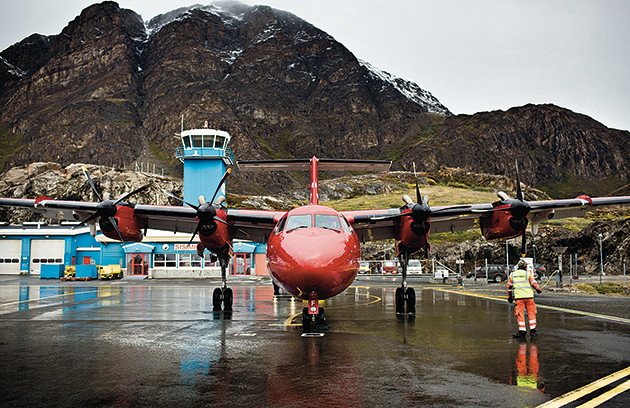 A day at Sisimiut Airport
Text: Lasse Bak Mejlvang & greenland today. Photo: Lasse Bak Mejlvang, greenland today November 2014
It is pouring with rain and it is very windy. The windows at the airport are covered by constantly running water. It obscures the view, but it doesn't prevent Air Greenland from making an early morning landing here at Sisimiut Airport.
– We ought to have wind-shield wipers up here, laughs Juaannguaq Broberg.
He works for Mittarfeqarfiit (Greenland Airports) as an AFIS operator in the control tower and he plays an important part in aircraft safety.
One work place – several functions
Sisimiut, with its 5,500 inhabitants, is Greenland's second largest town and although the airport is one of the smaller of its kind in Greenland, three aircraft on average take off and land here every day.
– Safety has to be top notch, explains operations manager Peter Lennert. Here at the airport we must be able to carry out several functions, otherwise things don't come together.
– It's our responsibility to ensure that everything on the ground is in order. We are responsible for safety, setting up equipment, baggage handling and fuelling the aircraft. For example, all the employees are trained in the use of smoke helmets and they also act as fire-fighters at the airport. There is hardly a task we cannot do.
Jack of all trades
The small departure hall is almost full and the next aircraft will arrive soon. Air Greenland's station leader, Karin Sinclair, is standing at the desk checking the last passengers in.
– You have to be a Jack of all trades to handle this job, she explains. I have the overall responsibility, but I also help to weigh in the bag-
gage, check in the passengers, and send the mail with the aircraft and much more. You need to be versatile to work at a small airport.
– The weather is unpredictable and the greatest challenge is when we are hit by bad weather. Sometimes flights are moved forward so passengers have to leave early. This means I have to contact 30 passengers by phone in a half an hour. That means we are a bit rushed, she smiles.
A good day
Today, all flights have departed on time despite the heavy rain and strong gusts of wind. It is late in the afternoon and the airport is empty. The employees have had a good day without delays or cancellations and most people can get off work on time.
Greenland Airports
Air Greenland
< Read the story in the magazine and see all the pictures. Page 64 – 65