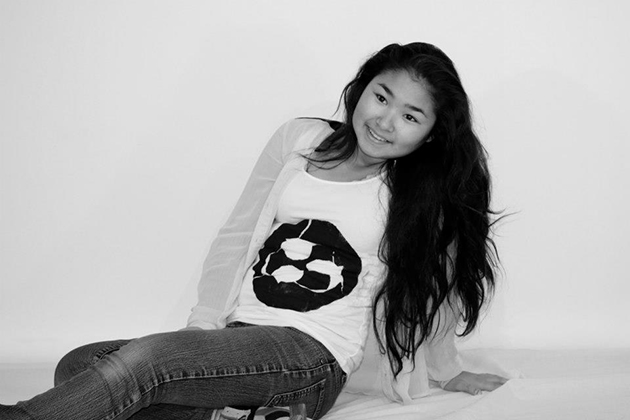 Sikkerninnguaq Olsen
16 years old from Tasiusaq, Upernavik. In her spare time she enjoys using her creativity on clothing design.
– I took design classes when I attended Klank School in Denmark. I have, since I was a child, had great interest in design, but it wasn't until the beginning of 2013, that I got more serious about it.
– I mostly design dresses, but I also enjoy using second hand clothing, even clothes I have myself, and create something unique with it. And I knit!
My dream job
– My dream is to become a designer, and open a business by myself or with someone else.
What does fashion mean to you?
– It means a lot to me, and I always check out the latest trends.
What are you passionate about, clothes? Shoes? Bags?
– I do not spend as much on shoes and bags, as I do on clothes. I like having many different clothing brands in my closet.
Accessories?
I love earrings, especially the ones my mom makes for me.
What is most important for you to look good?
– The most important thing for me is that my clothes, hair and make-up match. That makes me feel that I look good..
Do you have any favorite brands?
Bibi Chemnitz and Isaksen Design.
Where to shop the most?
– When I was in Denmark, it was H&M, Vero Moda, Gina Tricot and Vila. I could always find most fashionable clothes there.
– I am still working on my own design, but it is definitely my goal to wear more of something I have designed myself.
Do you have any »idols« when it comes to fashion?
– Bibi Chemnitz. Her design is innovative and unique.
Recycled Materials
– I use a lot of second hand materials, as it is easy and inexpensive.
Greenlandic designs and symbols?
– I have made a dress with the Greenland flag, and often use sealskin. With time, I would love to experiment with writing Greenlandic word on clothing.