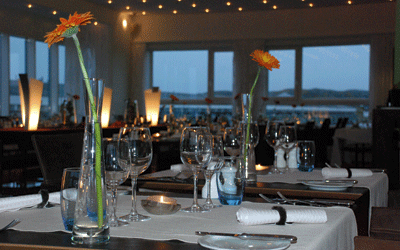 Safarlik – the place for new trends
The Swedish chef, Mikael Hansson, reigns in the kitchen and he is the man behind the tight concept that is characteristic of the food at the Safarlik restaurant.
– The ingredients should preferably come from Greenland and we try to base the menu on what can be caught locally. The main ingredients such as musk-ox, fish and reindeer are used in dishes that are inspired by the global cuisine, so you won't find the traditional Greenlandic cuisine at this restaurant, says Mikael Hansson, although he admits that it can be difficult to conform to the concept under the special conditions that prevail in Greenland.
– Out aim is to stay local, but sometimes we get other supplies than those we ordered, so we have to work a little magic in the kitchen. This is made up for by the easy access to the very fresh produce which we can buy, e.g. at the market (Brædtet).
This is one of the places where we buy ingredients for both the international and the local menus the restaurant offers its guests. Both are changed four times a year so we use ingredients that are in season and in this way Safarlik follows nature's trends in an attempt to influence Greenlandic eating habits.