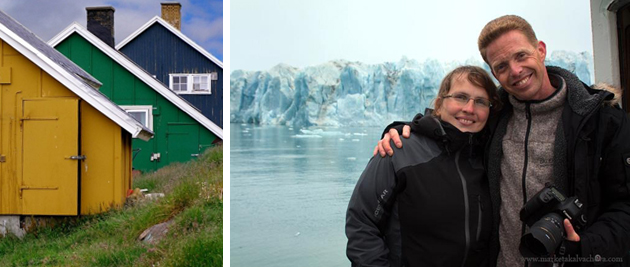 Photo Safari to East Greenland with instructors
By greenland today, Photos Marketa Kalvachova and Tim Vollmer
27 MAY 2012
The couple Marketa Kalvachova and Tim Vollmer accompany private photographers as well as professionals, on
tours to East Greenland
as photography instructors.
Both live in Iceland and lives of their photography. From there it was fairly close to the Greenland coast, which now has become one of their regular photo safari trip destinations.
Tim Vollmer was born in Germany and has been interested in photography for over 20 years. He has been specializing in all aspects of photography – landscapes, architecture, portraits, nature (particularly birds), and travel.
– When I was a child I have seen documentary movies about Greenland and I was immediately fascinated by country, Tim Vollmer explains.
Marketa Kalvachova is from the Czech republic, and her photography is mainly focused on landscape and nature.
– I guess we both felt immediately in love with Greenland, first time we was there, Marketa Kalvachova says.
– When we showed people our work from Greenland, they were so impressed by the pictures that we arranged a new photo tour in summer 2011.
– Now the interest grows so much that we have requests from photographers, who want to hold there workshops or photo tours with us in Greenland, they say.
– This fall there are still a few spaces left, for our september
tours to Greenland
. This tour is special because we include visiting and dining at Inuts families.
– We think it is very important to talk to locals and hear theirs stories to understand their way of living, Marketa adds.
– We already have serious groups for next year, in coorperation with international photographers, Tim says.
See more