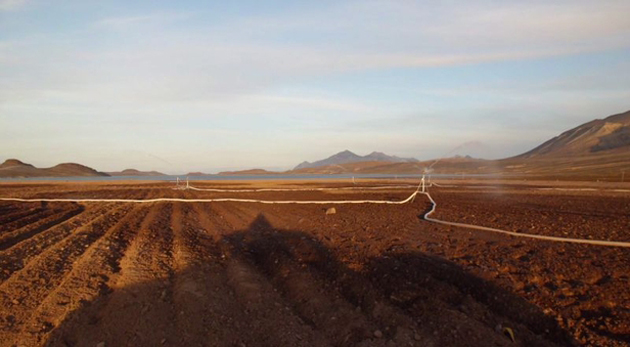 To break down the oil takes five times as long in Greenland as in Europe or the U.S. Photo: MT Hojgaard  
The Danish Military Forces started on oil cleanup in East Greenland
28 AUG 2012
Last week Danish Military Forces started cleaning up after oil spills at »Mestersvig« using microbiology.
Mestersvig is one of the manned military stations on the east coast of Greenland, with an recorded pollution from both oil spills and various types of waste.
»Country Farm«
It is new with biological treatment of pollution in Greenland, where a 14,000 m2 »country farm« will serve as treatment under Arctic conditions and with the permafrost only about one meter below ground level.
It is comparable to a farm. The bacteria in the soil are stimulated with slow-acting nutrients, oxygen and water. But the bacteria that attack the oil has only living conditions when there is sun and heat, and goes dormant in winter.
Short season
On site there are only two months a year when it is not freezing. Therefore, the process takes several years, and even further north at Station Nord – only 933 km from the North Pole – there is a maximum of four weeks per year with temperatures above freezing level.
To make it faster to clean up pollution elsewhere in Greenland, the Dansih Military Forces work on the construction of a mobile site, where contaminated soil can be burned instead.
Project manager and geologist at NIRAS, Peter Henriksen taking samples at Station Nord. Photo: Danish Military Forces, 2011.
Clear overview
In 2008 NIRAS mapped the total contaminated areas and assessing its impact. There are a total of more than 600 different contaminanted areas.
Greenland got its own environmental law January 1st, 2012 and requires purification of the pollution left from both American and Danish Military Forces over the years.
Besides the current cleanup, the Danish Military Forces also work preventively with renovation projects to prevent future contamination.
Source Ing.dk, Danish Military Forces, MT Hojgaard, NIRAS