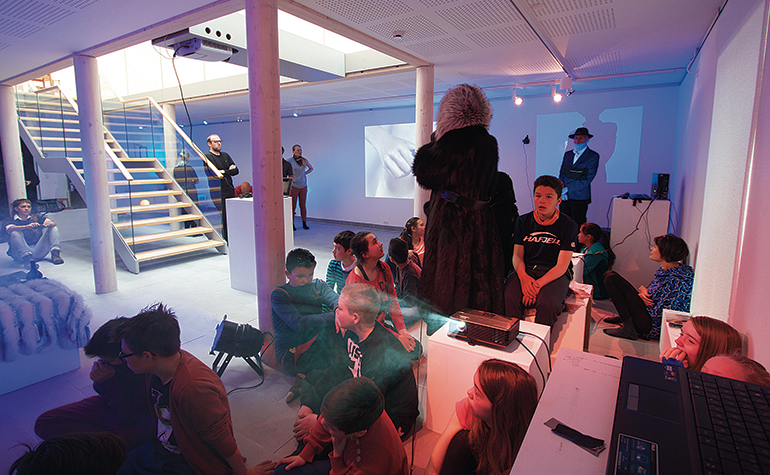 Bright, friendly rooms lure both the light and the visitors into Nuuk Art Museum. Children and young people also come here to learn to use art as more than just passive viewers
Text: Mads Nordlund, Photo: greenland today & Nuuk Art Museum, greenland today July 2016
A happy and smiling curator of Nuuk Art Museum, Nivi Christensen, bids welcome at the entrance and acts as guide up through the interesting rooms that host changing exhibitions, to a small, cosy office with sloping ceiling under the roof of the old building. On the way, she stops and discusses with a museum employee the hanging of a piece that is being given a more prominent position.
– That's the nice thing about working here, explains Nivi Christensen.
– It is very varied work, with the day to day jobs, hanging pieces and sending applications to the big foundations and showing people round. The work in a small institution is extremely diversified.
– Some of the pieces have been moved several times before we are pleased with their location. This helps to create variation in the permanent exhibition, where we unfortunately do not have space to have all the works the museum owns on show all the time.
Huge collection
The building was previously an Adventist church so there is still a small steeple on the building. The 650 m2 of the art museum consist of an old part and a new extension which gives a good combination of old art in the permanent exhibition and changing exhibitions with new, modern artists.
In the new permanent collection there is an extensive selection of older art, with works by such artists as Emanuel A. Petersen. Furthermore, there are works of Harald Moltke, I.E.C. Rasmussen and Christine Deichmann. The museum also has newer works of artists like Miki Jacobsen, Frederik »Kunngi« Kristensen, Buuti Pedersen, Anne-Birthe Hove, Maria Panínguak` Kjærulff and Lisbeth Karline Poulsen.
In all, the collection at Nuuk Art Museum consists of more than 300 water colours, drawings, graphic works and paintings as well as 400 figurines by Greenlandic artists in soapstone, bone, wood and ivory.
Fantastic gift
Nuuk Art Museum is run by Sermersooq municipality and today it is Greenland's largest art museum. The building and most of the works were donated by the Danish-Greenlandic couple Svend and Helene Junge.
Ever since Svend's arrival in Greenland in 1940s, the couple had bought Greenlandic art, literature, postage stamps and the like.
After a long working life, they thought their collection should benefit more people and they donated the museum in 2005 as a gift to Greenland in general and to Nuuk in particular.
Portraits of Svend and Helene Junge, painted by the artist Christian Rosing »Nuunu« in 2000, decorate therefore the entrance to Nuuk Art Museum.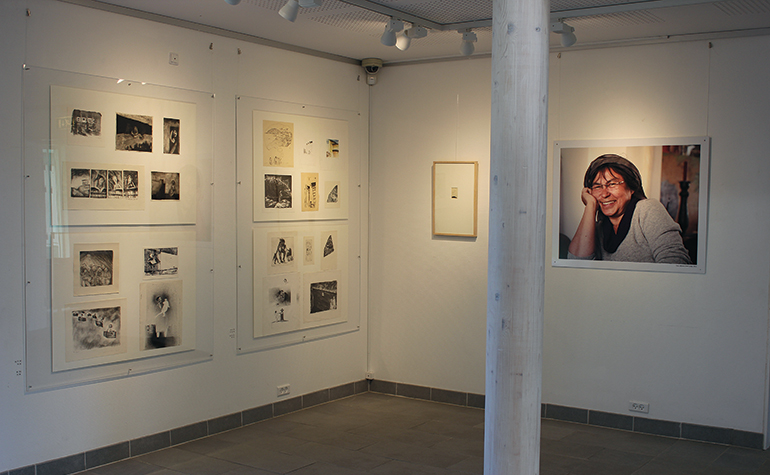 Three leaf clover
In addition to the museum, there are two other attractions connected to Nuuk Art Museum.
Niels Lynge's House, which contains the estate of Niels Lynge, a famous Greenlandic vicar, poet and artist who also was the father of »painter of light« Hans Lynge. The interior of the house is in the style of 1960s houses in Greenland and it also has several paintings painted directly onto the wall.
The newest branch of the museum is Nuuk's town museum which will open in the summer of 2016 in the old ship building yard in the old colonial harbour. The museum will exhibit artefacts, photos and paintings that tell the story of the town of Nuuk.
One year on the job
The just 29-year old museum curator is positively surprised about how she was received and at people's reaction when she came to the museum.
– I was obviously a little hesitant at first, about whether Nuuk was ready to have a cultural institution which did not only have old things, but also new things and more, says Nivi Christensen.
She is not an artist herself, but she has been interested in art since she was a child and her mother is an artist with many artist friends, so Nivi knows many of the Greenlandic artists privately.
– I have always talked about art with my parents. My father was museum curator in Tasiilaq and they have always taken me to museums when we were on holiday.
Nivi Christensen had no ambition to become an artist, but exploited her interest for art by studying to be an art historian at Copenhagen University.
– I really thought I would be a high school teacher with art as my main subject.
– I was allowed to work with the art at the Greenlander's House in Copenhagen. Here, I worked with exhibitions and the artistic process of being curator for exhibitions and making exhibition posters, etc.
– Right now I have plenty to do, but I have a dream of writing a PhD on Greenlandic art sometime, says Nivi.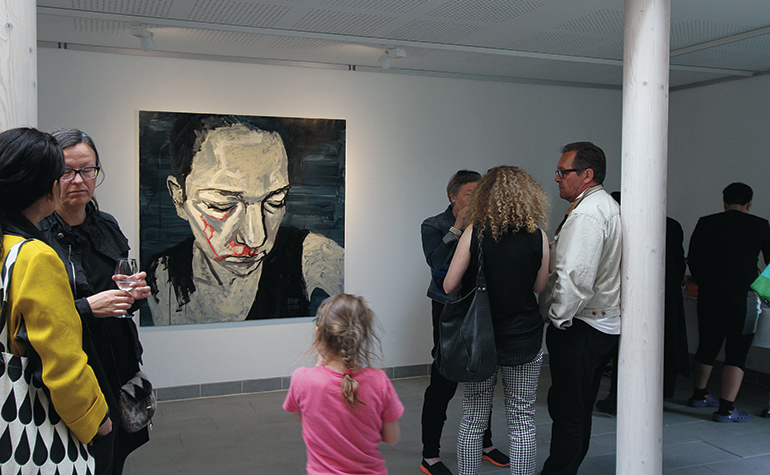 The art museum of the future
– We have more ideas than we have resources to carry out. We have, e.g. a retreat with two small rooms where artists can come to live while they exhibit here. The other room is for Nordic artists who work while they are here, when their »production« has a connection to Nuuk.
– For 10 years, the museum was just as Svend Junge left it. Now, we are allowed to expand the concept and do more. Our vision is to make changes with respect for the original gift from Helene and Svend Junge. It is necessary to make changes, to get people to keep coming back to the museum and it is nice to see that it is working.
– This means, among other things, that we try to do eight new exhibitions each year. I was so pleased to get the present exhibition with Anne-Birthe Hove to Nuuk, says Nivi Christensen.
– We work together with Katuaq and have previously had joint exhibitions, with some of the exhibits in Katuaq and some at the Nuuk Art Museum.
– Everyone comes and uses the museum; children, young people, old people and everyone in between. It is much more fun to do something when there is a reaction – for the artist as well. It is more fun to create a museum that is in dialog with the public. We also had a lot of support on Culture Night with more than 500 visitors. In addition, there are several art institutions in Denmark that have approached us.
– There is no tradition for museums to have any influence on people in Greenland. By involving the children, we hope to start a kind of »upbringing« so they learn that art museums are interesting. Visits to art museums are not, for example, part of the school curriculum. Formerly, there could be perhaps an unplanned visit during a free period. Now, the schools come in and work here with subjects via art, which has already resulted in a fantastic reaction from the schools. The art school and the high school's art students come here to do different courses, she explains.
– It is wonderful that we can influence someone to develop their relationship to art. Both with regard to works that are nice to look at, but also works of art that make a contemporary statement .
– We want people to relate to handicrafts contra the visual arts. Where does the line go? When is something art?
– The most exciting thing is to see people's reactions to what the museum is doing. I am sure that Nuuk Art Museum is looking at an exciting future, ends a super enthusiastic Nivi Christensen.
See more
nuukkunstmuseum.com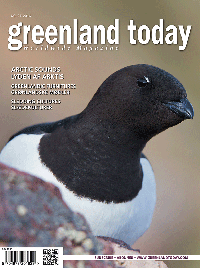 Read the article on page 19-21