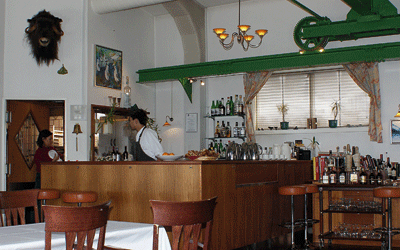 Nipisa, the lumpfish restaurant
One of Greenland's leading cooks stands at the stove of gourmet restaurant Nipisa in Nuuk. Rune Collin was born in 1973 in Nuuk and is of Norwegian and Danish extraction. After growing up in Nuuk he lived in Denmark for 10 years where he was apprenticed as a cook at Slotskroen in Hillerød, Denmark.
Back in Nuuk he and Gitte Nestel started their own restaurant called Nipisa, which means Lumpfish. He explains that he wanted a Greenlandic name that could be pronounced in all languages and at the same time signalled that the food had its origins in different, seasonal ingredients, e.g. lumpfish.
After having different partners, Rune Collin now runs the Nipisa restaurant alone. This in itself is a challenge, with many hours of preparation, cooking and clearing away every day. But Rune Collin isn't a man to complain.
– The biggest challenge to being a cook in Greenland is the constant search for fresh ingredients, says Rune Collin. That, and large parties who book at the last minute … but there are challenges everywhere in the world, he smiles.
Lumpfish
Latin: Cyclopterus lumpus
Season in Nuuk: March – May