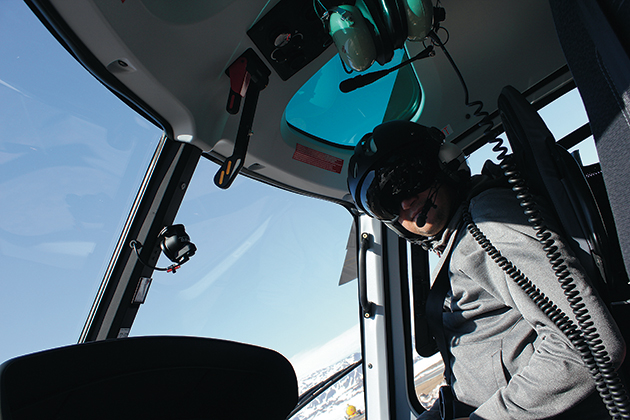 New helicopter company in Greenland
Security is the highest priority for Tim Nicolaisen, who has started GreenlandCopter in Tasiilaq.
From greenland today magazine, July 2014
Hard work and lots of energy are not enough to start a helicopter company. It also requires a lot of knowledge to become a helicopter pilot and then afterwards to read all the regulations and pass the test required to get your own business license within aviation – a so-called AOC – Aircraft Operator Certificate.
Tim Nicolaisen has a lot to be proud of. It isn't every day that one of the town's own children comes home to Tasiilaq with a helicopter, a pilot's license and permission to run his own helicopter business.
Tim was born in1969 and his parents are the former owners of Hotel Angmassalik and the trawler MTR Tasiilaq.
Background
At age 16 Tim started to sail on the trawler where he worked his way up, ending as captain after three years as first mate. After the trawler was sold in 1998, Tim trained as a pilot and flew for companies such as Sun Air. But he missed the east coast of Greenland and wanted to go back. So he decided to take a shot at training to be a helicopter pilot, studying theory in Karup and doing the practical part in Sweden – Jonkøping. He paid more than a half a million kroner for the training.
– It was probably an advantage that I was already a fixed-wing pilot when I started training on helicopters, he explains.
Afterwards, he supplemented his qualifications by specializing in mountain flying with Swiss Helicopter in Switzerland. He carried out a total of 231 landings between 2,000 and 3,400 metres.
– It was important for me to learn mountain flying in all wind conditions, even during a »white out« in a snow storm, so I could fly safely at home. I had to learn how to hold the helicopter hovering over a fixed point on a mountain top in strong winds.
Safety first
– Our flights have to be thoroughly tested and 100% safe, he continues and underlines that there won't be any »cowboy flying« or risk-taking.
– The problem with taking chances is that it becomes a habit and in the end, something goes wrong. The rules we follow when we fly were made for our own safety and they must not be bent. Safety, safety, safety – that is of paramount importance to me, he says and points at a shelf full of safety procedure manuals.
– The next big job this summer is when we change the set of regulations from the present(JAR OPS) to (EASA-OPS), which includes implementation of a Safety Management System and new Risk Assessments.
Many tasks
GreenlandCopter's AOC is a concession permitting daylight flying (VFR) all over Greenland. But Tim has no present plans to fly anywhere else than in the Tasiilaq region.
The concession alone has taken a year and a half to attain, with a lot of help from the company's Quality Manager, the Icelandic consultant Ogmundur Gislasson, who has also made the new WOW Air's 7,000-page concession application. In comparison, GreenlandCopter's AOC has 300 pages.
In addition to being the pilot, Tim is also Flight Operation Manager, and he has trained so he can carry out the daily check on the helicopter, the so-called P-check.
– Here, you have to be able to handle different jobs yourself, while the rest of the statutory maintenance is undertaken by Icelanders who send mechanics to Tasiilaq when it is necessary.
– My responsibility here is to comply with all the regulations, explains Tim. Our Quality Manager ensures that I actually follow all the regulations and procedures, the Technical Manager takes care of maintenance and major service of the helicopter and our Training Manager, Walter Ehrat, who is captain and flies a Super Puma with Iceland's Coast Guard, makes sure that I carry out all the training for emergency procedures correctly, e.g. autorotation, etc.
GreenlandCopter focuses primarily on sightseeing flights with tourists and charter work for prospecting companies. Among many e-mails, there is also the first inquiry from a prospecting team.
A workhorse
The helicopter is fitted with all sorts of extra equipment, for instance a permanent iridium satellite telephone. It can fly for almost four hours at a cruising speed of 120 knots per hour. The type of helicopter was chosen because it is high performance and can handle many tasks, e.g. sling operations and heliskiing, and still have plenty of power in reserve which makes it very safe to fly.
It has taken about 1 year to get delivery of the aircraft, because of the extra equipment with which the helicopter has been upgraded.
– The first big challenge was to get it up here, explains Tim. I flew alone from northern Iceland to Kulusuk in just under three hours without any trouble. It was exciting, but all the calculations held true.
Private
In the summer of 2014, Tim was getting married to Alma with whom he has a daughter, Emia who is three.
– Alma has been a great help and she has coped with a lot during the long periods I was away training.
– Yes, Alma has been an invaluable help, ends Tim and sends his wife a fond glance.
Facts
Helicopter type: AirBus 350B3e
Approx. hourly rate, according to type of work: DKK 13,500 + airport taxes
Read the full article from the magazine hereGreenlandCopter_UK