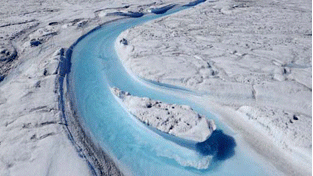 Two »scientist« in Greenland to see if they can save the worlds glaciers…
If everyone who looks at climate change, save the world's glaciers, and all who live in a tent outside a Greenlandic town is on the expedition, the world is forced to invent new words to describe the old concepts.
By Mads Nordlund, greenland today
15 MAY 2012
In a time where TV is the most widely used media, and all have at least one profile on facebook or a private or blog of their time on earth, many climate scientists – perhaps for the same reason – has a trend of great self-fashioning. This film is no exception.
For example, in the beginning of the movie where the speaker says: »A glaciologist and a physicist traveled to Greenland to see how they can save the world's glaciers.« Yes, How? It's a good question. Do they throw lifebuoys out to the glaciers? Could'nt they just look at the effects of climate change?
Great pictures
See this movie anyway. Simply because of the unique pictures from the ice cap. And out of respect for people hanging from ropes above a glacier outflow. Even though they have chosen to climb there themselves….