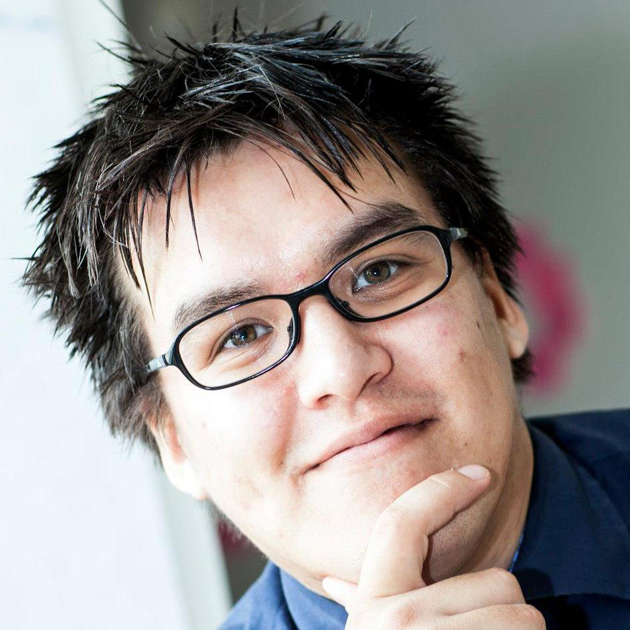 Pierre Minik Lynge, 28 år, Nuuk.
More production of own food and a more independent community
By Jens-Jakob Lennert-Sandgreen, greenland today
28 FEB 2013
Pierre Minik Lynge have a mission to reduce the expensive CO2 heavy import of vegetables to Greenland by letting Greenland grow their own vegetables inside customized containers.
Without soil
– The project is so far called hy.gl. »Hy« comes from hydroponic which is an indication of growing plants without using soil.
– The final name of the project is open. Perhaps, a reader have a good suggestion for the name of the project, says Pierre.
More independent
– I think a lot about how we as a society can become more independent. Outside raw materials and oil deposits, we must also be able to stand more on our own feet.
– Food is a group we import much of and first I thought about the amount of meat we import.
Large amount of spills
– At one point it hit me that we also import a large quantities of fruits and vegetables.
– So I started to explore opportunities and challenges for a little over a year ago.
– What I found out was that we throw away a large quantities of fruits and vegetables out before it reaches the consumer – the products do not survive the long journey.
– The result is large spill of fruits and vegetables.
Local fruits and vegetables
– By growing it locally we can reduce the waste while we get healthier and more fresh fruits and vegetables.
– It is especially beneficial for the environment that we reduce energy consumption by reducing the long transport time.
– With global warming affecting the Arctic with the largest temperature increases, we should be pioneers in all the areas we can.
Green project
– The concept can be made throughout the world and when using green energy it is environmentally friendly.
– In other parts of the world there are lower-start costs; using other methods, but the basic idea can be used worldwide.
Urban farming
– The thoughts are also inspired by something called Urban Farming, moving the production of fruit and vegetables closer to the people who will eat it.
– It is known much from the United States, for instance in New York where they have greenhouses on the roofs.
– Hydroponic cultivation is also used especially in Holland, the world's largest exporter of fresh fruits and vegetables.
What is the current status of your project?
– It's a big project, but I fully trust it can succeed and that it will be a success. There is a long way to go. Right now we are working with project planning and we are in dialogue with various organizations and individuals.
– In a few weeks time, we will have a mini-test plant home so we can showcase the production method. In May we should have fresh strawberries, proving the method validity.
– Until then, we happily accept all the praise and criticism, and other support we can get. All are welcome to contact us via Facebook or otherwise.