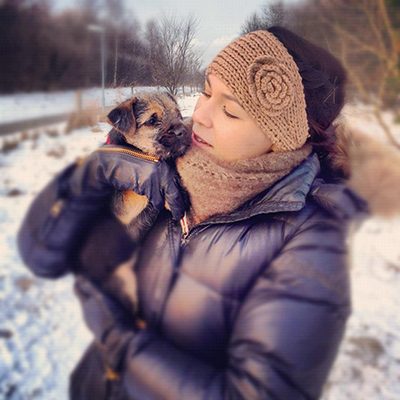 Maliina Boassen
27, student and negotiator
I am studying at the University of Aalborg, working towards getting my Masters in Social Science, and I am doing the negotiations for Avalak Executive Committee in my spare time.
Are you following Greenland Fashion on Facebook?
Definitely from time to time. My friends talk about the page, and it evokes my interest for it.
Is there anything you think the page is missing or can do to get better?
I think making video clips would make the page even more exciting.
What does fashion mean to you?
Everyone has their own taste when it comes to fashion, and I find it extremely interesting. Fashion to me means that you have to feel 100% as yourself, and it is what makes me feel the most comfortable.
What are you passionate about? Clothes, shoes, handbags, jewelry, watches, glasses, etc. ..?
I would say that it is important to me, that what I wear matches, but sometimes I think that it is great to wear black from head to toe and have a little »oomph effect« through large earrings or raw stylish stilettos in bright orange or something a little crazy like that.
What is the most important for you to look good?
The most important thing for me is to look naturally beautiful. This means first and foremost to drink a lot of water to get glowing healthy skin, so you do not need to use too much foundation or powder. If the face is bright and you have a nice smile, you can make almost any clothes look good…
Do you have any favorite brands?
I do have some, like all other lovely »fashionistas« out there, but I must say that I am a big fan of Malene Birger. Her clothes are simply, high quality, stylish, youthful, daring but yet SO comfortable to wear. It's perfect design.
Where do you shop the most?
It varies. One day I might buy a nice Malene Birger dress, and another day be lucky and find a cool vintage bag, in a second-hand store.
Have you considered becoming a model?
Sure. All my life. But the geek in me has taken over my life, – and I am fine with that.
Is this something you would give a try? Why / why not?
Sure. You only live once! I am ready to try almost anything, as long as I feel comfortable in a situation.
What do you notice first when you meet a man? a woman?
The eyes. No doubt, the eyes are what catches my attention first, then everything else afterwards.
Do you have any »idols« when it comes to style?
Like so many others I would say Audrey Hepburn. She is the definition of natural beauty, which I so much infatuated by.
Hot or Not:
Tatoo? Hot, I have three.
Piercings? Hot, would like to get one, but I don't have the courage to get one. Perhaps I should take a shot or two of tequila and get it over with.
Other body decoration, giant holes in the ear / nose? Hot. Seeing one spices up the scene on the streets.
Hats? Hot, I wish they looked good on my head.
Strong colors? HOT!