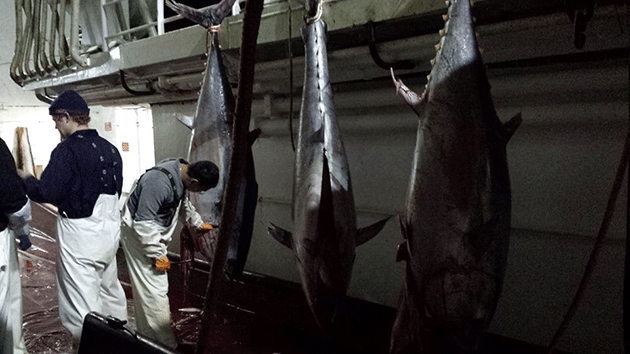 The largest of the tuna caught in Greenland weighed 260 kg. Tuna can weigh up to 800-900 kg but the normal is up to a weight about 200 kg. Foto: Ove Keilmann
Mackerel & Tuna in Greenland
By greenland today
30 AUG 2014
From June to end August, Greenland fishing vessels caught 65,149 tonnes of mackerel in the seas off East Greenland. It is the largest catch of mackerel ever in Greenland waters.
Mackerel (Scomber scombrus). Source Wikipedia.                       Tuna (Thunnus).
Experimental fishing
Fishing for mackerel is an experiment with a total quota of 100,000 tonnes.
In 2013 there was a quota of 65,000 tonnes. There were fished 53,000 tonnes in total.
Photo: Claus Jørn Schmidt, M/tr Tuugaalik Qaleralik a/s.
Tuna
Fishing Vessels have also caught some 21 tuna.
The tuna are found in all oceans, but mainly in the Mediterranean and Atlantic.
Tuna feed on schooling fish such as mackerel.
With many mackerel, it is therefore natural to see the tuna also pop up on the coast of Greenland.
Fishermen have also caught a huge opah fish, also known as moonfish or kingfish. They are relatively rare, but is often seen where there is tuna. Photo: Silas Knudsen.
The Atlantic Ocean is the second-largest ocean, covering approximately 20% of the earth's surface. To the north, the Atlantic Ocean extends up to a part of the East Greenland coast. Photo: Claus Jørn Schmidt, M/tr Tuugaalik Qaleralik a/s. Graphic: Wikipedia.