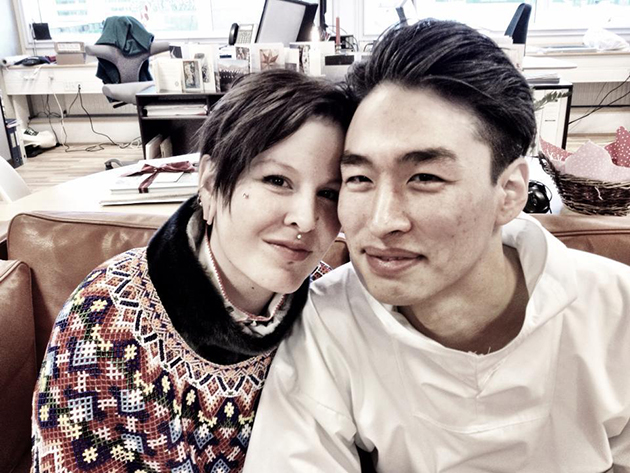 Maaliaaraq Berti Engell
21 years old, Nuuk
Background, interests, upbringing
I was born and raised in Nuuk, my mother is Danish and my father is Greenlandic. My Danish genes are obviously dominant, but I f definitely feel as a Greenlander.
I have lived in Denmark for 6 years, where I spend a lot of time at the youth center. My focus has changed since then. I've got a little family now, and my main focus is my husband Aqqalu and our 9 months old son, Storm Inuk.
Inspiration – when and how did you start?
I had, for a long time, very specific, and in my eyes brilliant ideas, and I was surprised they hadn't been created yet.
I assumed that someone else would manifest those, as I had never used a sewing machine before. One day it dawned upon me to try on my own! And actually that in fact was one of my best ideas, because it felt so natural once I tried.
What is your mission?
I would like to improve on my sewing skills. I hope, that I one day will be able to have my designs in boutiques/stores, but I am aware that I need to take one step at a time. But I've set it as a goal to be achieved.
Products – what are you working on?
I make Greenlandic inspired clothes. I steer away from the ulu (the traditional knife for women) and the Greenland flag, cause it's been overdone. Don't get me wrong, I think it is beautiful, but in my eyes it's time move on.
My inspiration is for example, the traditional anorak, but I aim to give it a more contemporary look.
Preferred materials
I experience with many materials, it is a fun process!
Signals / statements – is there a message you want to express through your work?
I just want to do something new and youthful, which is not necessarily Bibi Chemnitz, that I greatly admire. I would to remind people, that Greenlanders made amazing clothing, that was not only practical but also very beautiful.
It is, in my mind, very fascinating, that they bothered to make clothes, that wasn't only practical, but indeed with a lot of artistic beauty.
What does fashion mean to you?
I have spent many years being an involuntary (and later a voluntary) outsider, and I feel, that is to my advantage now. I can offer something original, and for the first time, fashion is my friend..
Do you care about your own look? your clothes? Shoes? Bags?
I enjoy expressing myself, and feel confident about it.
What is the most important for you look good?
The main thing is to show my figure, that I'm confident about.
Do you have any favorite brands?
I am very versatile when it comes to brands.
Do you have any »idols« when it comes to style?
The beautiful Audrey Hepburn is definitely a great inspiration to me. So I »secretly« make designs for her, with a Greenlandic flair.
5 quick questions
Strong colors? Yes, if done properly.
Recycled materials? YES! It is unattractive to be focused on using only NEW materials.
Greenlandic design? Yes, as long as it isn't too monotonous.
Ancient Greenland symbols used in modern design? Yes, in moderation. Simple subtle details, no giant ulu-pockets.
Your own favorite things or symbols? The East Greenlandic sense of detail, especially in their national costumes, which I find especially beautiful.