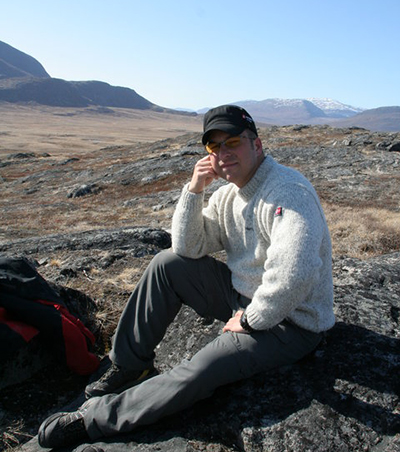 Lars Balslev
Is 34 years old, he is working in Greenland and do research studies abroad
What do you do for a living?
I work for Air Greenland, in the marketing department, I work on marketing campaigns. I also work for CBS, the Department of Business Economics and Productions, where I examine ownership, corporate governance and financial management in development economics.
Are you following Greenland Fashion? Every day, often, rarely?
Unfortunately, rarely.
Do you care about fashion?
I don't follow the latest trends, and probably mostly wear practical clothes, but I like to be properly dressed.
What are you passionate about: your clothes, shoes, watches, glasses, etc. ..?
I am conscious of what I wear, and I do like certain brands, that gives a specific look. I do have a small passion for eyewear and watches.
What is most important for you to look good?
I like to be properly dressed, but most importantly to have a unique hairstyle (Mohawk).
Do you have any favorite brands?
Solomon, Diesel, Peak Performance, Arcteryx, North Face, etc.
Where do you shop the most?
I shop online, in malls in the cities I travel to, and in Greenland primarily at Ittu Sports.
What do you notice first on when you meet a man? woman?
I look at what brands they are wearing, whether it's something I can recognize. I suppose there is a trend, a fashion stereotype when you grow up in Greenland, where the shopping options aren't the greatest, and you end up wearing the same style.
Do you have any »idols« when it comes to fashion?
I can't really think of any, but a lot of people in Greenland have a great sense of style.
Hot or Not:
Tatoos? Hot
Piercings? Not
Other body decoration, giant holes in the ear / nose? Not
Hats? Not
Strong colors? Hot