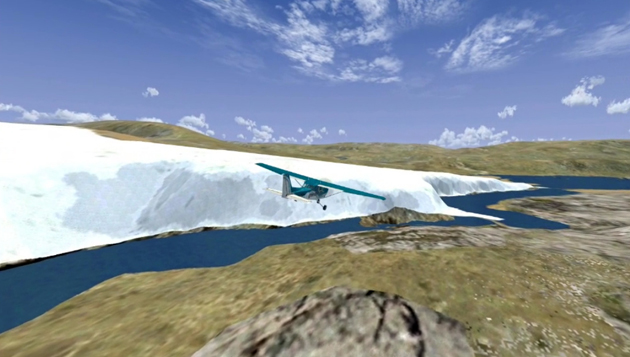 Now you can fly around Kangerlussuaq, thanks to new graphics from flightsim.gl
By greenland today
26 MAY 2012 
Ulrik Motzfeldt and his Team from Flightsim.gl has since 2011 worked to create graphics for Microsoft Flight Simulator of the Kangerlussuaq area, the most used airport in Greenland.
The new program package, alows users worldwide to fly to Kangerlussuaq.
Want to show Greenland
– For us it is a good tool to show our beautiful country for people throughout the world, says Ulrik Motzfeldt, who work as IT Manager at Sisimiut Municipality.
– This is purely a private hobby for me. Our own little virtual world of flying, where I and four others are doing various things for Microsoft Flight Simulator, and shows Greenland in 3D with landscape and buildings.
Great demand
– We have contact with real pilots from other countries. Many of them ask for contact information on the places where they now want to fly in Greenland, after seeing them in Flight Simulator.
– Especially after we had published Narsarsuaq X (Atlantic airport in southern Greenland) that opened the eyes of our part of the world for many.
– Back in October / November last year, we got so many inquiries about Kangerlussuaq, that we decided to make the graphics for this area.
A flight in Kangerlussuaq area with new graphics from flightsim.gl to Microsoft
Test Fight
For people who do not have the program, Ulrik Motzfeldt and his Team from Flightsim.gl made the film seen above as an example.
Fasten your seatbelt and enjoy the ride of Kangerlussuaq airport, the fjord and flying along the ice edge.
Interested parties can buy Kangerlussuaq X for Microsoft Flight Simulator via simMarket 
<here>
See also this helicopter tour of Kangerlussuaq airport
Kangerlussuaq Airport Scenery from Flightsim.gl