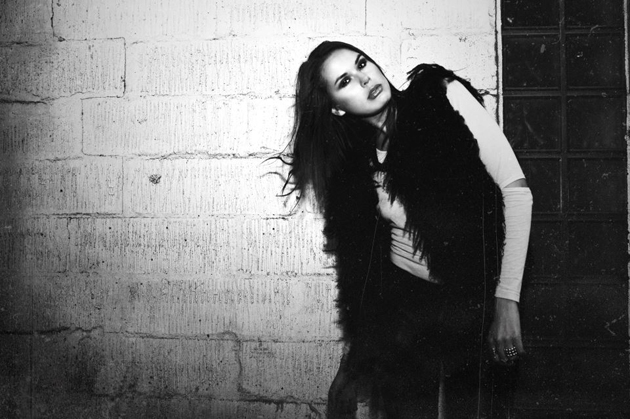 Ivalu Sørensen
25 years old, student and model
What do you do everyday?
I am studying Public Health at the University of Aarhus and is undergraduate this summer. In addition, I have my student job as a model for »Le management«. 
Are you keeping track with the Greenland Fashion page?
I must admit that I did not know the site before, but I think it's a really good action!
Some things you think the page is missing or can do better?
No, not really. I think it's really cool that all may be allowed to express their relation to fashion by uploading images and text.
This is precisely what makes fashion common property, as many of the major fashion magazines often forget.
What is fashion for you?
Fashion means a lot to me! Of course, because it's my livelihood, but also because people through fashion can express their personality.
It's a lifestyle for me to be interested in fashion, and of course I spend a lot of time shopping.
Often I am inspired by the trends, but by no means follows what fashion dictates – I think it's boring.
Are you very interested in your clothes, shoes, handbags, jewelry, watches, glasses, etc…?
Yes very much. I like to spend time to put an outfit together and here it is especially the little details that count.
I also correct many shoes, bags and jewelry, not to mention the clothes in general so there are enough opportunities to combine and be creative.
What is the most important for you to look good?
I'm not so much into make-up and hair, yet it must all play together.
Generally, my clothes have the highest priority.
Do you have any favorite brands?
Hmm .. I like high street brands, but also slightly more expensive brands such as Humanoid, Won hundred, Patrizia Pepe, Lundgren, Windinge and more…
However, I also use a lot of time in various recycling shops where I just go for fun items rather than brands.
I'm also a really big fan of
Bibi Chemnitz
Design! I think what she does is super cool and I love that she uses her Greenlandic background as inspiration.
Where do you shop the most?
Clearly most of the high street stores like H & M and Weekday, but just as much in smaller stores and recycling shops.
How is it to work as a model?
I started as a model when I was five years old, and currently works at Le management.
I work as a model because it's really good money, but having said that, it's also a really fun job.
Constantly meeting new people and being challenged in many ways.
What do you look at first, when you meet a man? woman?
I think I see what clothes they are wearing, but equally their personal power.
Hot or Not 
Tatoos? Mega hot
Piercings? They may be beautiful, but like some tattoos too bad.
Other body decoration, dermals, huge holes in the ear/nose? I do not like stretching.
Hats? Hats are super nice, if you use them correctly.
Strong colors? Yes definitely, if you use them in moderation.
Notice
Are you interested in fashion in Greenland? Would you like to be interviewed, or do you have a tip, question or a good story? Then write to
fashion@greenlandtoday.com