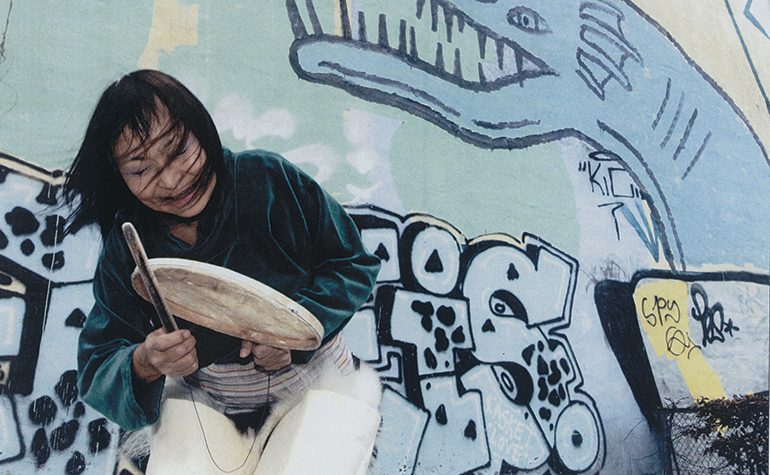 Inngerneq means drum song. The drum song played an important part in society where it was used both as entertainment and to resolve disputes. The tradition has been preserved in North and East Greenland where drum songs are still performed, thus ensuring that the art of drum singing is passed on to the younger generations.
Text: Manumina Lund Jensen, Illustration: Aviaq N. Mørch, greenland today March 2016
The tradition had not been practiced in West Greenland for a long time, so the art of drum singing was lost here.
However, thanks to the efforts of individuals and active drum dancers to bring the drum song back to West Greenland, there is now focus on re-establishing the tradition. For example, there is a drum dancing society in Nuuk. North Greenlander David Manumina is an important member and an active culture bearer who performs in Nuuk.
Gaz Zaa Lung explains
Gaz Zaa Lung Qaavigaq was born in 1953 in the former village of Uummannaq, Dundas. She grew up in Kangerluarsuk and Qaanaaq and when she was seven years old she started school at Avanersuup Atuarfia.
Today, Gaz Zaa Lung lives in Copenhagen where she performs with drum singing, story-telling and acting. She plays the tunes and songs she knows, but she also composes her own songs and melodies on the guitar.
When Gaz Zaa Lung lived in Qaanaaq in the 1980s, she arranged a drum dance evening for the elderly who lived in Qaanaaq.
– After drum singer Tautsiannguaq Qaerngaaq had sung, he said: »You can sing too. You just do this and this,« as he drummed and sang. But it was easier said than done. He also said that you are allowed to sing your own lyrics to someone else's song, if you can. He sang other people's drum songs and there were many of them. He also had a song which he had composed when he was five years old, says Gaz Zaa Lung.
Childhood showed the way
As a child, Gaz Zaa Lung always listened to drum songs, but she did not see herself as a performer of drum singing and dancing. When she was a child, there was no radio or television, but there was singing and playing drum songs and story-telling.
– I grew up surrounded by people who performed drum songs and dancing, but I did not try it myself when I was a child, says Gaz Zaa Lung.
– My mother performed drum singing, as did my aunt and grandfather. My grandfather was named Navsaapaluk, I called him aataarraara. When I was a child, he always played the drum; after a hunt, when he relaxed in the evening and when he stretched and leaned back he sang drum songs. He knew many drum songs.
– My mother told me that in winter, when the water froze over and it was possible to go visiting using the dog sleds, Pualorruaq would come. He would come to sing drum songs with my grandfather.
– I began drum dancing when I started at the Tuukkaq Theatre in Jutland in 1978. I never thought I would become a drum singer.
– In1984, I began performing in Denmark. I never dreamed of becoming a drum dancer, but I became one by chance because there was a need for it in Europe.

Piseq
Piseq means melody or song. You can have your own piseq. You can get a piseq in different ways.
– Sometimes the songs come to you. Pualorruaq told my mother that during a dog sled trip he heard a sound like a drum song. He stopped his dog sled and heard the sound come from a piece of seal bone.
– Another story tells how Tiguaq found a piseq during a dog sled ride on uneven ice. He had a harpoon on his sled and by accident it speared his stomach. Wounded as he was, he thought of his kidneys and started to sing: my kidneys, my kidneys. He survived, for otherwise his song would never have been heard, recounts Gaz Zaa Lung.
– As a third example, I can tell the story of Sequssuna Miteq. When he was young, he was on a hunt for hares. He saw two hares fighting each other and when he was about to shoot one, they started to sing a drum song, so he refrained from shooting. Later, when he talked about it, he said that he lost the opportunity to become an Angakkoq (Shaman/ed.), because he told the story to others.
Passed on to younger generations
It was in 2013, during a trip to the Faroe Islands, that Gaz Zaa Lung observed a 10th grade class from the Greenlandic school »Avanersuup Atuarfia« taking part in a musical collaboration on the Faroe Islands. Gaz Zaa Lung saw that the students were descendents of skilled drum singers and dancers from her childhood with names like Qaerngaaq, Masautsiaq, Navsaapaluk and Sakiunnguaq. The students were all great grandchildren of these people and just like their ancestors, they performed 
drum dance and drum songs and carried on the tradition.
Gaz Zaa Lung's daughter Alika loved drum dance and song as a child. She used a plastic plate and a plastic spoon to drum. When she and her friend Jakobine played together, they sometimes stopped in the middle of a game to play and sing a drum song and then they went back to their game.
Alika has also written words for her great grandmother Torninguaq's song, making it a fourth generation song. Alika's children, Gaz Zaa Lung's grandchildren on the Faroe Islands, learn drum dance and song from Gaz Zaa Lung when they meet. She has also made drums for her grandchildren.
– I am no longer afraid that drum song and dance will vanish, because the art of the drum song will be passed on to the children by the older performers, ends Gaz Zaa Lung.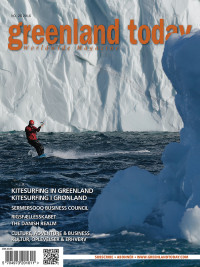 Read the story one page 8-9