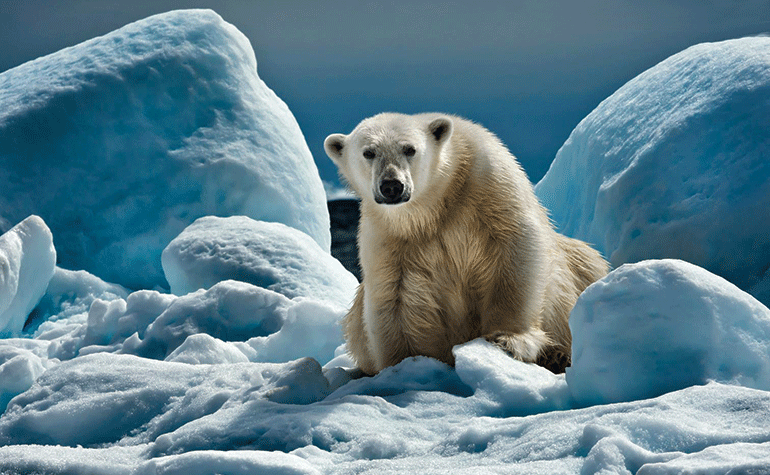 And this was what Robert Peroni wanted when he arrived in Tasiilaq in East Greenland. He has now lived there for 20 years. He has written the story of his life's journey in the book »Cold, Wind and Liberty«, on which the following is based.
Text: Sabine Barth, Photo: Moreno Bartoletti
The first time I met Robert Peroni was in Sisimiut in 1984. He was an adventurous man; no mountain was too high, no desert too hot and no storm too violent. He had been travelling in the northwest part of Greenland with a group of friends after arriving there the year before following a 90 day walk across the ice sheet. In 1983, three Austrians from South Tyrol set out on this spectacular expedition. Equipped only with sleds which they pulled behind them, they travelled more than 1,400 km.
I had read about it and I remember the pictures in the world's major newspapers. As I stood there, this man seemed to be somewhat unassuming, despite his tall stature, nicely tanned skin and long, dark hair.
This meeting formed the foundation of a long friendship. In the 80s, I experienced Robert Peroni as a person with a huge commitment. He travelled thou-sands of kilometres around Europe to find sponsors for more trips and he was invited to various seminars. In those days, coaching seminars for extreme sportsmen and globetrotters were very modern. He would then return to Greenland for weeks at a time.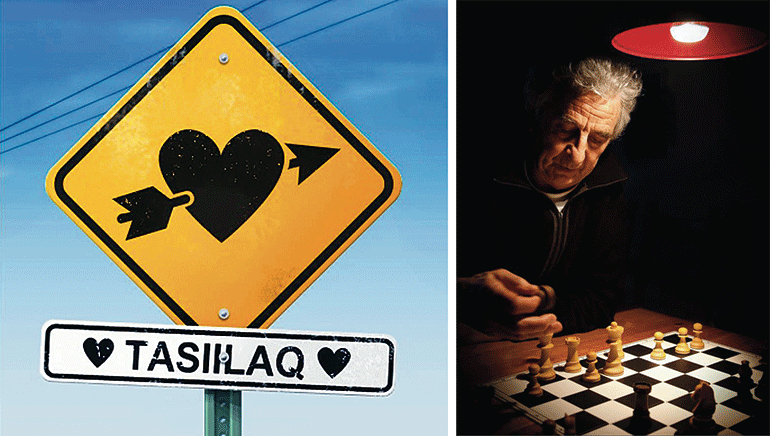 Tasiilaq
It was obvious that he sought exhilaration. He found meaning with his life in Tasiilaq and the sub-title of his book is: »How the Inuit taught me the meaning of life«.
Even today, 70 year old Peroni describes this meeting in a very poetic manner: »I was fascinated by these people. I only understood them with difficulty, but they touched me deep in my soul with their gentleness.« It was this gentleness and their free lifestyle that fascinated him so deeply.
At the same time, he also describes the problems in the country, particularly on the East Coast. He often mentions the European influence on the Inuit people, a world-wide problem: »The white man's sometimes brutal eradication of the natives' living space«, as he puts it. In Greenland, it was especially the missionaries and later the Danish traders who, at the beginning of the 18th century, caused massive changes in the Greenlanders' way of life. In the east, this took place 150 years later. The first infringement on Greenland was industrialization with fish factories established by Denmark in the 50s and 60s. Many settlements were abandoned and the inhabitants sometimes forcefully relocated to more populated locations.
The next social changes happened in the 1970s and 1980s with campaigns from WWF and Greenpeace against seal hunting. The campaigns were motivated by the brutal methods used in seal hunt-ing in Canada. These campaigns had a serious impact on the Inuit people's earnings which can still be felt today. Sealskin prices fell drastically and the situation was further exacerbated by EU's ban on sealskin imports, although Greenland is an exception.
Since then, hunters in East Greenland (and North Greenland) have been fighting for their survival, he writes in the book.
Unemployment on the East Coast is higher than the country average and families here often live on social security.
Around 3,500 people live in East Greenland and 2,000 of these live in Tasiilaq, which is the main town in the region. There is a school, a hospital, council offices and the necessary shops, but to find further education, the young people must move away from their families. This presents an additional problem, because people here speak their own language.
Alcoholism is a widespread problem in the municipality and there are many cases of neglected and abused children. Another formidable figure is the number of frequent suicides, especially among the young. Robert Peroni is still very concerned about these problems and to help, he bought »Det Røde Hus« (The Red House).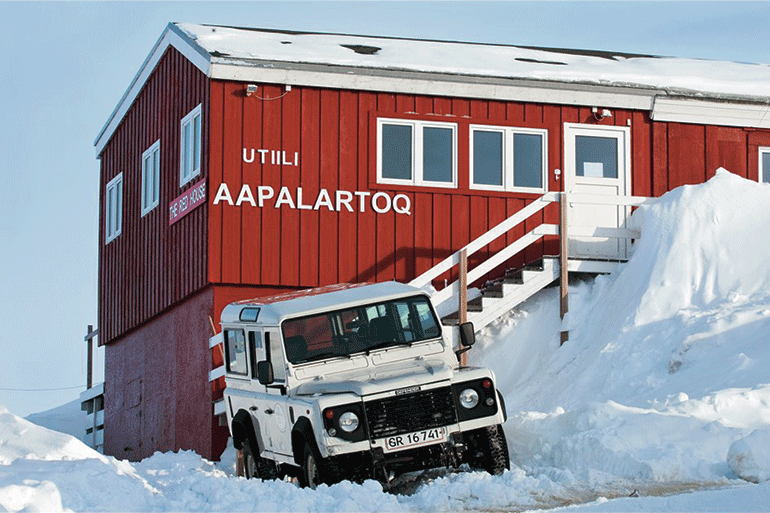 Meeting place for the adventurous
Over the years, this little house and meeting place for the people has become a hostel where many of the inhabitants of the surrounding settlements and Tasiilaq have found employment. Peroni has created tourism with intimacy for people who want to see and experience the beauty of East Greenland and at the same time have a chance to get to know the Inuit.
For many years, Robert Peroni has offered exciting trips together with hunters from the municipality. His goal is to create sustainable tourism with and for the people. The Red House is not only a cosy place to spend the night for travellers, it is above all a place to meet. Many people have spent the night here, when things were not quiet at home and in exchange, worked in the kitchen or did some cleaning. Robert also has a large collection of kamiks. He purchased them to help people when times were bad. People now come to him to borrow them for festive occasions.
Many employees are Inuit and any communication difficulties are soon eradicated right after the first boat trip or hunting trip together. Here, information is given about life on the East Coast and you can take all kinds of excursions, from mountain climbing to trips to the ice cap. The Red House is one of the world's 12 »No Limits« centres, offering extreme trips with professional guides.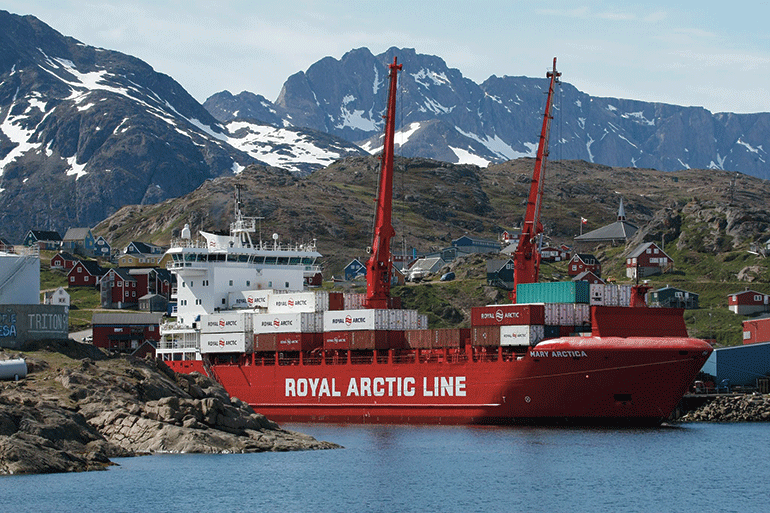 Personal book
Robert Peroni is not only acquainted with Greenland's nature as something captivating, but also as something hostile and formidable. The freezing winter storms can turn any short walk into a challenge. He experienced this on his most recent scheduled expedition, a walk on the winter ice, which he describes as a painful failure.
The reader experiences all this in a very personal book. It is a work that can easily be described as a life confession. There is the fascination for shamanism, the belief that man and nature can only exist in harmony with each other and that animals should not be killed on a whim, but only killed to provide food.
Robert Peroni has integrated this frugality and this reduction to the essentials, the realization that everything has a soul, into his life. On his path to this realization, he has been followed by the Inuit people and he even learned their language. He feels very connected to the East Greenlanders and he identifies with them. Just like them, in the 1980s he felt: »sometimes lost while we wander through a deep valley«. This identification also leads to a very negative judgment of modern living and the ways of life in Greenland and an idealization of the simple life.
As long as Peroni sticks to his own person and his own views, this is a fantastic book with interesting thoughts. However, it is difficult to follow his views of the Inuit people and their future. He interprets them in a slightly old-fashioned, paternal, protectionist manner that doesn't present them as equals.
With the designation »Inuit People« he sometimes seems to tar everyone with the same brush. I have to disagree with him here. Especially the young people I have met on countless occasions are very enthusiastic, optimistic, open and focused with regard to working for the country's future.

An invitation
Greenlanders confront changes without forgetting their roots. Peroni says that the traditional drum dance is only performed for tourists. This may often be the case, but the dance is still taught, not just in East Greenland but also in Nordic and Western countries. And the music lives on in the country's rock and pop music and stories are still told, now often in printed form.
Robert Peroni concludes his reflections, his life's journey, with an extremely pessimistic view of the Inuit people: »I believe the end is close, because these people will die out. This is the end.« This is, of course, his personal opinion.
There is a positive and more realistic view. »For a thousand years, the Inuit people have adapted to circumstances and they will continue to do so«, said Aqqaluk Lynge, former president of the ICC.
Let us perceive the book as an invitation to travel to East Greenland and get to know the people. To be travellers with open minds that leave prejudices about seal hunting and Greenlanders behind. This is how we can help the »Inuit people« – Greenlanders – from disappearing.
See more
www.the-red-house.com
   Read the article on page 72-74