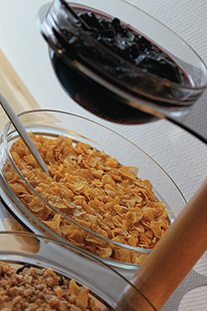 A functional hostel

 

just a few minutes' walk from the airport
Text & Photo: greenland today, July 2013
For those who want to spend the night in Kangerlussuaq, either in transit or on a few days' holiday, Polar Lodge is a cheaper alternative. The red-painted hostel is located in renovated barracks and it can be seen from the airport.
Cosy hostel
Inside there is a sofa group, a table with free magazines, books, WiFi and a small writing desk.
There are 16 rooms with six shared bathrooms and toilets of a good standard.
Food
Everyone has access to the small shared kitchen, where those who are spending more time here can cook a meal for themselves or just make a cup of tea. Breakfast is taken in the dining room made by the personnel.
Opportunities
The office is also a souvenir shop. This is where you find Lone Lyberth greeting people. She sells different excursions in the area; an excursion to the inland ice, a trip up to Russell Glacier or a tour of the town, are just some of the excursions on the programme. Also you can rent equipment, clothing and mountain bikes.
If you want more peaceful surroundings, Old Camp lies about two kilometres out with a view of the fjord itself. But Polar Lodge can definitely be recommended to those who prioritize spending money on experiences rather than on more luxurious accommodation.
See more