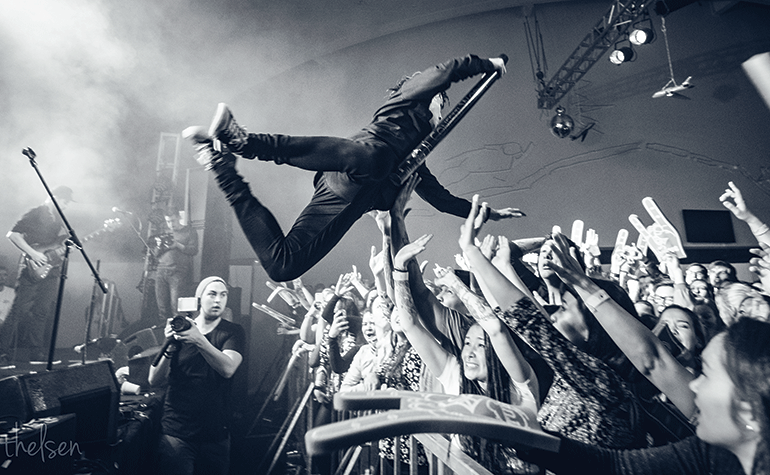 With concerts, poetry slam, street art, art exhibitions, street entertainment, theatre, dance, culture workshops, hip hop battle, a huge music festival and most recently, Nuuk Nordisk Kulturfestival with more than 100 events, Nuuk is manifesting itself as a Nordic city of culture.
Text: Mads Nordlund, greenland today November 2015
Greenland's capital, Nuuk, is becoming a cultural Mecca of experiences and impressions. This is especially due to Greenland's own creative abundance, but also due to a wide range of sponsors among businesses, funds and cultural institutions such as NAPA, which is a cultural institution under the Nordic Council of Ministers where the name (Nunani Avannearlerni Piorsarsimassutsikkut Attaveqaat) means the link between cultures in the Nordic countries. Therefore NAPA is the Nordic bridge to the culture of Greenland and it is the bridge for Greenland's cultural operators to the Nordic countries.
NAPA develops, supports and stimulates culture in Greenland and the Nordic countries with particular focus on young people. It works with art and culture projects, especially in joint efforts and networks between the Nordic countries and Greenland. In addition to NAPA's own cultural funding, they also provide advice regarding the other Nordic cultural foundations.

Culture festival
One of NAPA's initiatives was the Nuuk Nordisk Kulturfestival (Nuuk Nordic Culture Festival) which took place in October. It was a new event in Nuuk, with Nordic and Greenlandic performances, exhibitions and activities with music, dancing and art.
There were more than 100 different events on various scenes and venues in the capital. The culture festival was a huge success judging by the size of the audiences and their reactions as well as the many new contacts that were made between the Nordic countries. This is something that bodes well for an exciting new cultural collaboration both in Nuuk and in the Nordic countries.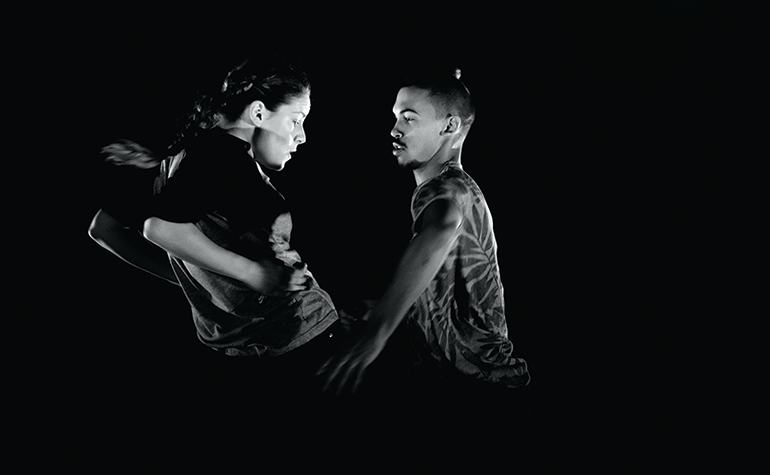 Music festival
Where else in the world can a country bring almost 10% of the population together for a festive event? It is the same as if 30 million people came to a music festival in the USA. Nevertheless, this is what arrangers of the Akisuanerit Festival, Atlantic Music, managed to pull through the doors in just four days. There were 100-metre long queues outside the Greenland Culture Centre »Katuaq«, and a super atmosphere that made the aurora-shaped facade flutter like the real aurora outside, when 1,200 members of the audience sang along with Dr Alban's »It's my life« and the Greenlandic hits from e.g. Pilu, Zikaza and Mariina.
It is not possible to single out any one band in particular. All of them gave brilliant performances. It was as if the audience's enthusiasm brought out the best in them. There was dancing, whistling, clapping and singing along. And several hun-dred girls screamed when one of the newest stars on the Greenlandic music scene, Rikka, came on stage with his modest nature, great charm and impressive voice and singing.
This could be something of a dilemma, because the young electrician spends his working days in the same town, but he was in every way down to earth and exhibited an energy and joie de vivre from the scene which bodes well for the future of music in Greenland.
Band after band poured it on and showed the wide variation of the present Greenlandic music scene, which goes from classic hip-hop to modern funk and indie rock. The Danish rock band Dizzy Miss Lizzy closed Saturday with a bang. With 60 concerts this year alone, it was clear from the first electric guitar chords that this was a test of how much concentrated rock the walls of the culture centre could withstand. Sunday was a little quieter, with performances in the culture centre's large hall. It was the perfect conclusion to four days where a string of artists each made a contribution to a festival which overall must be said to have been the greatest musical event in Greenland in modern times.
Dissing
At the same time as the music festival, 3 x Dissing and Las played at Hotel Hans Egede.
It was extraordinary to see sons Jonas and Rasmus travel round and play with their 77-year old father, Poul Dissing, for the 27th year in a row. The fourth member of the quartet is their friend Las Nissen and together the three youngest also form the trio »Dissing & Las«. They have released several CDs with their own songs and also with some very successful interpretations of Bob Dylan's songs.
Poul Dissing is a great friend of Greenland. He is not sure quite how many visits he had made, but he has been in Greenland more than 25 times. Together with Benny Andersen and with other musicians he has travelled along the coast of Greenland, where he is very popular and people greet him in the street. For »the boys« as he calls them, it is their fourth visit to Greenland.
– We have been in places like Qaqortoq and Tasiilaq. Experiencing the midnight sun in East Greenland was very special. The sun moves towards the mountain tops and then starts to rise again while it paints everything in exceptional red colours.
– It is difficult not to fall in love with Greenland. For me, it is both the people and the country, adds Las.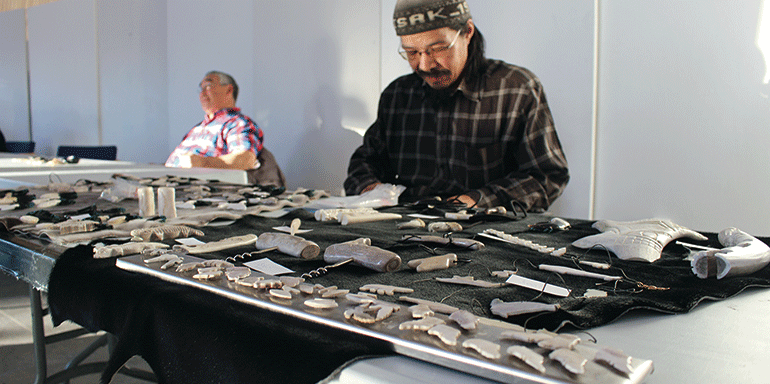 Nordic Nuuk
It is impossible to do justice to everyone in just one article about culture in Nuuk. The capital also contains plenty of handicrafts and design that are on the border between artistic and commercial. Trending now, a mature painter like Greenland's own Kunngi has exhibited together with Mike Kristiansen, and Roar Christiansen created a fine collection of works by Greenland painter Emanuel A. Petersen which also travelled in Nordic countries. In the cultural underground, the graffiti artists live a cold life and yet they have been noticed and NAPA has brought them in from the cold, in recognition of the fact that today's aspiring artists are tomorrow's masters.
There is no doubt that, culturally speaking, it has »sprinkled« heavily on Nuuk in 2015. And if the organizers of the multitude of activities have anything to say, the culture fest will continue in the future. Some people may think that Nuuk is not a place you just travel to, but with more flights via Copenhagen and Iceland next year and new inter-Nordic exchange initiatives Nuuk has, culturally speaking, moved closer to the other Nordic countries.
   Read the article on page 32-35