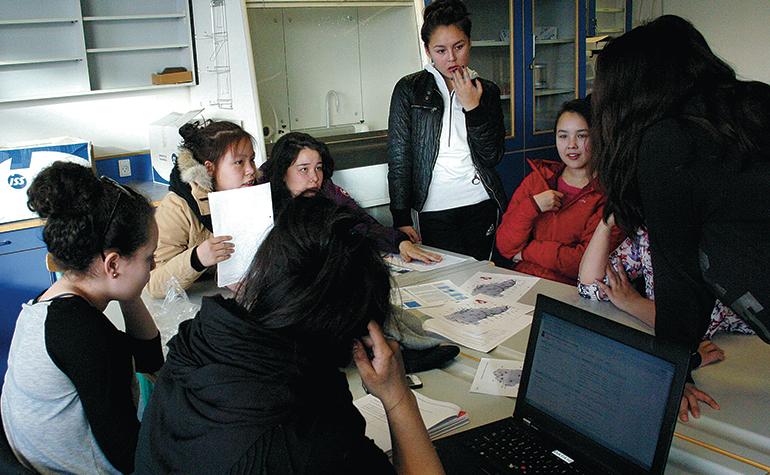 Last autumn, the Society for Children in Greenland sent school children from Ilulissat to see what it is like to be high school students in Aasiaat, so they would be able to make an informed decision about education and opportunities for the future
Text: greenland today, Photo: Foreningen Grønlandske Børn, greenland today October 2015
In October, a group of school children travelled from Ilulissat to Aasiaat, to see what student life and living in a dorm was like at GUX Aasiaat.
There were high expectations to the three days where pupils were to follow classes, live in a dorm and take meals in the canteen together with the high school students. They were getting a taste of what being a high school student was like.
The study trip was all about insight and clarification with the intention of giving the students the best possible basis for making the right choices for their future.
Many opinions
There was plenty to talk about when the students joined each other for dinner in the canteen.
– Cultural subjects were hard to follow, but it was very interesting, says 15-year old Rita Mørch. She has previously lived in Aasiaat and would like to go back to get a high school diploma because she wants to be a nurse. But not everything is rosy.
– The dorms are dreary and scary. My room does not have much space and there is no colour, says Rita Mørch. On the bright side, she is looking forward to the parties and making a lot of new friends.
15-year old Laura Fly has different dreams for the future. She would love to get a high school diploma, but from Sisimiut instead of Aasiaat.
– There are more opportunities in Sisimiut than in Aasiaat, so I will apply there. But I am going to the USA for a year before I start high school, says Laura. She is not worried so much about the academic standard, but more about how to tackle being homesick.
– I think I will miss my family a lot, says Laura.
14-year old Paninnguaq Jensen has no doubt what she wants to be.
– I want to be a stewardess. I came to Aasiaat to see and experience the lifestyle her, she says with certainty, and says she is going to boarding school in Denmark for a year before she goes to high school.
– I want to learn advanced Danish and then go to high school to improve my languages, says Paninnguaq.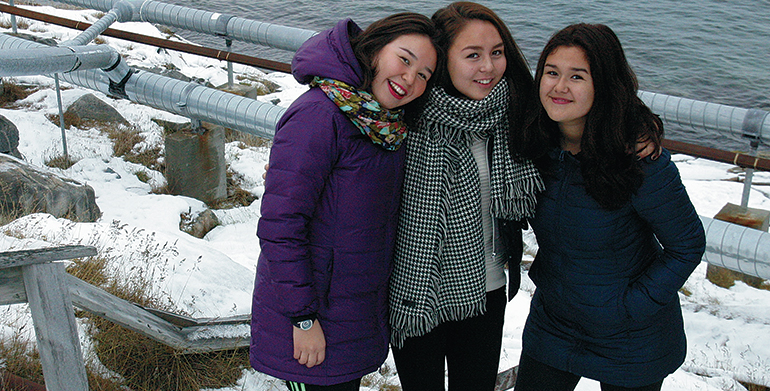 From left to right; Paninnguaq Jensen, Rita Mørch and Laura Fly.
The Sapiik Project
The Society for Children in Greenland has run the Sapiik Project since 2008 and they organised the trip to Aasiaat. The project is a leisure offer to pupils in 10th grade, to strengthen the children's self-worth, to show them what their future options are and to prepare the individual pupil for life after school.
– We held a meeting for parents before we left, where all the parents turned up and were very enthusiastic. This really pleased me, because I know how important it is for the students and for their ability to make the right choices and to finish what they choose, says Gunver Justesen, project leader for Sapiik at the Society for Children in Greenland. She believes that Sapiik makes a difference with its focus on education.
– 84% of 10th grade students in Ilulissat applied for youth education programmes this summer, which is higher than the country average of about 50%, she explains.
– The study trips provide the young people with important insight, so they can make the right choices and have a better chance of completing the education they chose, ends Gunver Justesen.
  Read the article on page 45-46