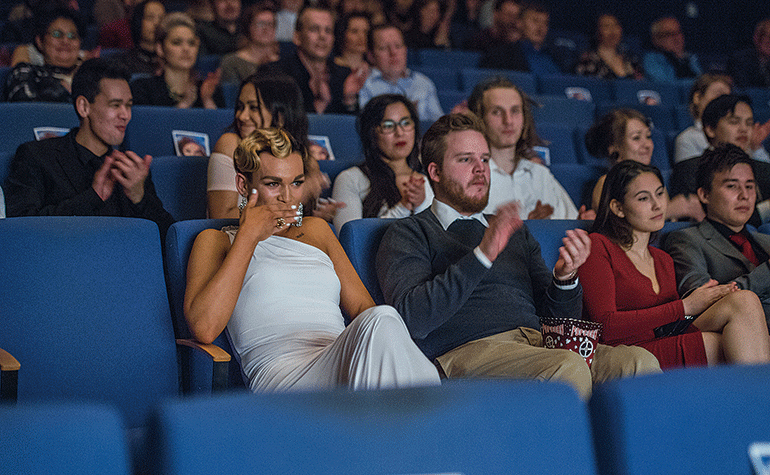 Nuka Bisgaard is known as a model, a film maker, a diva, an arranger of Gay Pride and as a committed and interesting person.
Text: Toke Brødsgaard & greenland today, Photo: Leiff Josefsen and Toke Brødsgaard 
It takes courage to stand out from the crowd – particularly if you do so with flamboyance. This is what you meet with 24 year old Nuka Bisgaard – also known under the moniker Nuka Tha Diva.
Nuka has a Danish mother and a Greenlandic father. Nuka was born as a boy, but she feels like a woman and therefore will be spoken of as such in the rest of this article. She became aware that she was not like everyone else at an early age. Nuka did not feel at home in her own body and was not attracted to girls.
After trying to find inner peace for a long time, she realised that she felt more like a woman. When you meet Nuka today, she is therefore dressed in women's clothing.
Nuka is often seen on the red carpet in beautiful dresses and in full make-up. Most recently, Nuka was seen at the Future Greenland trade conference where she showed beautiful designs from Nuuk Couture.

Nuka the filmmaker
In many ways, Nuka represents »The New Greenland«. A generation that breaks with convention and pushes boundaries. During her battle, she has met a lot of resistance from people with conservative attitudes.
This summer, Nuka is in the news with the film »Eskimo Diva«, a documentary film about Nuka's life. It shows Nuka's battle, in part with herself but also with society, to achieve acceptance of who she is. It has taken six years to make the film and, therefore it provides a broad picture of the development that Nuke has undergone during this period.
It has been a turbulent time of her life, filled with big events. Nuka is best known for initiating and arranging the Gay Pride – an annual event in Nuuk that has brought many people to the streets in support of homosexuals. She has fought against cancer and run for election as a candidate for the Democrats.
Historical documentary
Following the premier of the film, Nuka toured in Greenland. In connection with the showing of the film, people were invited to take part in a debate about homosexuality. There has been great interest all over Greenland for the film and there have been good and positive debates with excellent questions and constructive discussions. Nuka takes this as a broad acceptance of her as a person, but it also shows that Greenland has reached a wider acceptance of people who stand out from the crowd and who have the courage to stand by this, despite criticism.
The film is a piece of contemporary history and it documents not only Nuka Bisgaard's life, but it is also a snapshot of Greenland's constant progress. The film »Eskimo Diva« is warmly recommended.