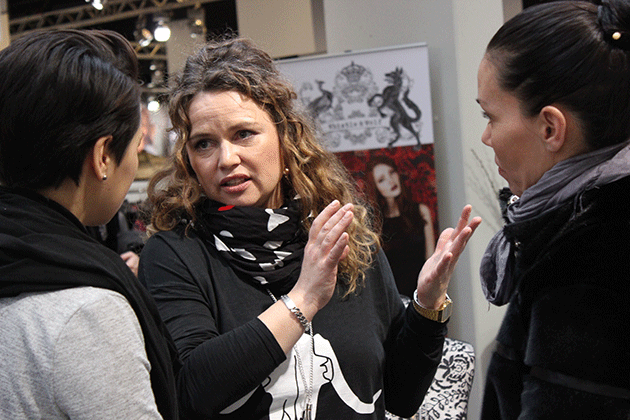 Text & photos by greenland today, Fashion Team, CPH
02 FEB 2014
Several of Greenland's best designers have received considerable attention at Copenhagen Fashion Week.
Some of the trendy new designs from Isaksen Design.
Isaksen Design
– In 2010 and 2011 we noticed that the crisis affected the fashion industry, but luckily it has turned again, says Nickie Isaksen from Isaksen Design.
– We have been selling well in Greenland and Denmark. Our next big step is to get further out into the world, and fortunately we notice a lot of interest, she says.
Elegant furs, along with stylish bags and other accessories on display at Great Greenland's showroom.
Great Greenland
– We are seeing growing interest in our products, including from Russia, says Great Greenland's Sales Manager Bente Nørkjær Knap.
– There are a lot of positive response to our latest collection, combining fabric with for example an edge or sleeves of fur, she explained.
From the catwalk by Bibi Chemnitz fashion show. Read about the fashion show and see more pictures 

her

e.
Bibi Chemnitz
Designer Bibi Chemnitz had a trendy fashion show at the City Hall, where hundreds came to see her latest collection, that featured many exciting new designs.
Ursula Reiding from Brother & Sister in a creation from the Nuuk-based Inuk Design. In her hand she has one of the exciting boots from Ethnoboot.
Brother & Sister
– Copenhagen Fashion Week is noticeably better this year, says Ursula Reiding from the boutique Brother & Sister in Nuuk, who is there to shop for new trends.
– The CIFF Fair at the Bella Center is much better than previous years, notes Ursula.
Anita and Mia Hoegh from Qiviut. One of Qiviut's own news is a smart hat in sealskin that can be used with or without a tassel, as it is attached with a push button and can easily be put on and taken off.
Qiviut
Anita and Mia Hoegh from Qiviut boutique in Sisimiut and Nuuk, who primarily sell their own designs and products, such as musk ox wool.
– We are actually in the middle of the busy period of being musk ox skins in Greenland, but we were invited to the fair by the Icelandic brand Cintamani that we carry at our Boutiques, says Anita Hoegh.
– We are of course also shopping for other products from natural materials that fit into our concept, says Anita, and sat that they have found several interesting things.
– It is also important for us to see the coming trends and confirm that we are on the same path with our own designs, says Mia Hoegh.