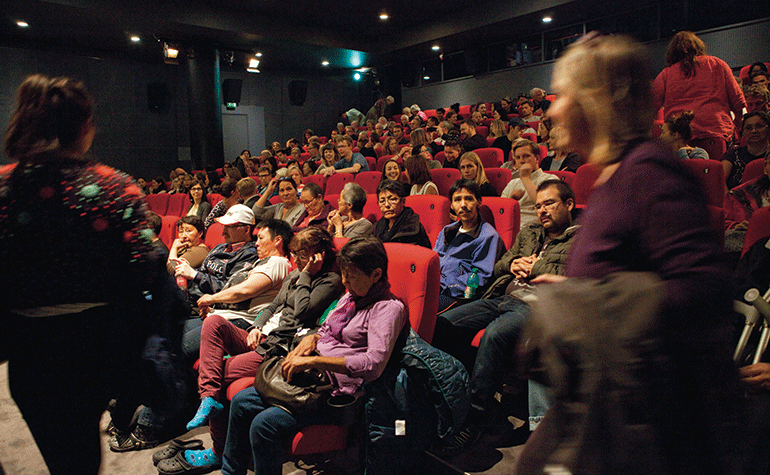 Greenland Eyes is a film festival with Greenlandic focus. It takes place in nine different locations in the Nordic countries as well as in Germany and the USA. The result is a fantastic piece of cultural and awareness-raising work, promoting tourism in Greenland.
Text: Mads Nordlund, Photo: Greenland Eyes
Greenland Eyes film festival shows films from and about Greenland. After the showings there were panels with the directors and actors, giving the public a unique opportunity to clarify any questions about Greenland.
The Innovator
Behind Greenland Eyes is Ivalo Frank, a filmmaker who lives in Berlin.
– Greenland is special to me, because I was born there. I have a strong sense of belonging to the country, to its nature and to the many people I love there, she explains.
– Greenland will always be in my heart and this is why I want to promote Greenlandic culture and films with a festival.
– In 2012 the festival took place in Berlin, as one of the Danish EU Presidency's culture projects. Since then, it has grown bigger and we have built a really good team of employees. In 2014 the festival was therefore able to tour from August to December in nine different locations in the Nordic countries: Nuuk, Copenhagen, Torshavn, Runavik, Reykjavik, Stockholm, Rovaniemi, Inari and Oslo. There were 149 showings and panels with film makers, 18 concerts with Greenlandic and Nordic bands, eight art exhibitions and many performances, symposiums and events.
Organization and network
Greenland Eyes arranged the festival in close collaboration with local institutions. In each country, before the festival started, the Greenland Eyes team visited the site to prepare the festival and to meet with the press.
– We worked together with artists, experts and professionals from all the Nordic countries and it was very inspiring.
In addition, we invited Greenlandic and Nordic artists to join the tour which resulted in personal exchanges, networking and making contacts. Many new friendships were made and it provided a greater understanding for our common Nordic history. Musicians played together across nationalities and there was a good discussion in connection with each film, says Ivalo.
– One of the greatest challenges was organizing so many different countries, but the cooperation of the Nordic institutions was fantastic. Here, I would like to mention especially Katuaq in Greenland, Greenland House in Copenhagen, Nordic House in Torshavn and Filmens Hus in Oslo as well as all those involved who supported the project.
– Words cannot describe the friendliness and kindness we have experienced. There is a huge potential in trans-Nordic projects and an enormous desire to get to know each other better and to collaborate more.
– We had a lot going on and it required a great deal of work discipline. In return, we feel that a broad section of Greenlandic culture has been presented in depth.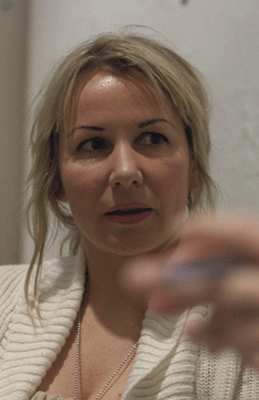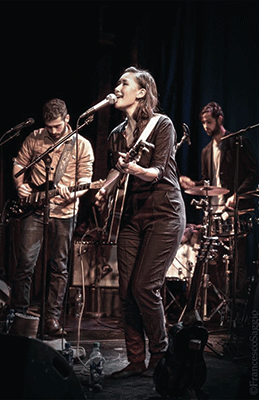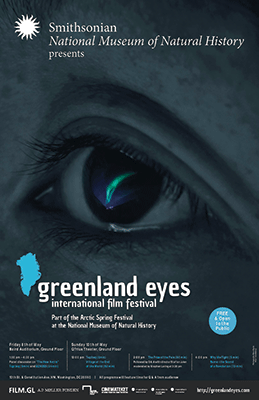 Ivalo Frank.
Greenland closer to the Nordic countries
– We have received overwhelming feedback, not least from the involved artists and the public, who felt that the festival had spread awareness of Greenland.
– There are many people in the Nordic countries who now have a broader insight into what Greenland is today and into the history of the country. A film like the Greenlandic/Swedish »Prize of the Pole« has provoked thoughts about the USA's influence in Greenland and about racial politics, past and present.
– Many Nordic guests said that they felt »closer« to Greenland and that they had a greater understanding of Greenlandic problems.
– In Greenland, many guests said that the festival gave them self-confidence and a belief in a future for Greenland. In Denmark, many Danes expressed surprise at the quality of the Greenlandic productions as well as the quantity. Furthermore, many of the participating artists said that the festival had given them faith in their ability to succeed internationally.
The purpose of Greenland Eyes
– We created the festival in 2012, because there was a strong focus on Greenland in the international media, but a lack of true insight into the country. There was a lack of information about what Greenlanders thought about their own country, how they saw the future, with or without oil, with or without the Chinese, etc. So we invited film makers to Berlin in order to start a dialog with an international public. It was an enormous success with huge press coverage.
– In 2014 the situation was different and Greenland had changed, both internally and in the eyes of the international press. To a higher extent, Greenland had become a country like other countries and not »just« an exotic place in the Arctic. For this reason, we probed deeply into Greenland from a Nordic perspective. What does Greenland mean to Norway, once a »joint-colonial ruler« over Greenland? What about the Sami and the Inuit – is there any relationship?
– In May 2015 Greenland Eyes was invited to Washington to exhibit and show films at the biggest museum in 
the world; The Smithsonian National Museum, which is neighbour to the White House. This took place in connection with the USA taking over the presidency of the Arctic Council. Here, Greenland Eyes' focus was on having as much influence as possible on the decisions that will be taken concerning the Arctic in coming years, by using the films to give Greenland and the Arctic a human face. It was full house at the Smithsonian National Museum and there were 5,000 visitors to the film shows at the Greenland Representation/Danish Embassy in Washington.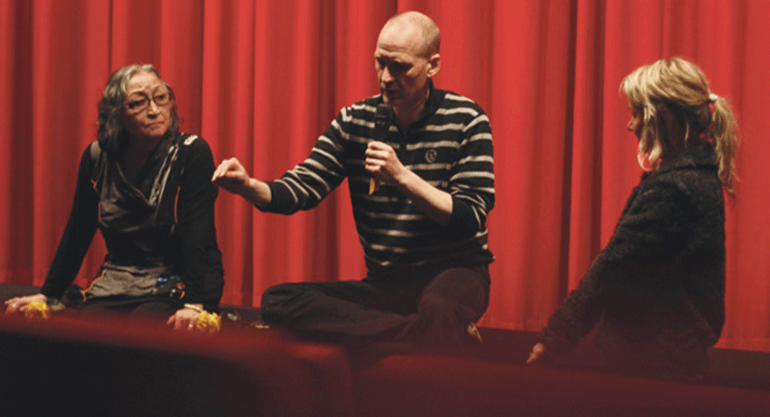 Actor Makka Kleist, Film director Otto Rosing and film festival organizer Ivalo Frank.
What film can do
– Film is a form of communication. It is a way to show aspects of life that are not in focus or which require renewed focus, believes Ivalo.
– I work with film because it is the form of expression through which I communicate best. Film can provide an emotional insight into certain situations, that it is not possible to do, even with many words.
– In connection with Greenland Eyes 2012, the focus was on the people behind the big headlines about oil discoveries etc. The focus was back on people and the essential questions: How will we live as people? What is important?
– In 2014 some taboos became less restrictive. Colonial times were discussed – reconciliation or not reconciliation – at the festival's symposium »Thoughts on reconciliation« at Copenhagen University. It resulted in an exciting discussion about knowledge and ignorance compared to each other and our common history, past and present.
– In many places in the Nordic countries we experienced almost relief on the part of the public, like the closure that comes when a taboo finally becomes less strict.
– All in all, we have no doubt that Greenland Eyes has made a difference, ends Ivalo Frank.