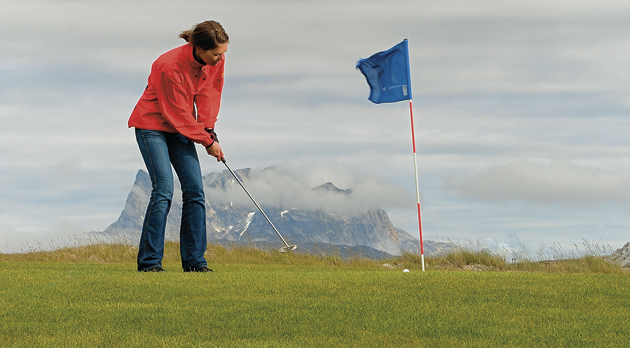 Golf amidst birds and crowberries on the world's only Arctic grass golf course
For many years, a group of passionate golfers in Nuuk worked to create a proper golf course. The course has existed since 2000, but plans are not stopping at the ninth hole.
Text: greenland today, greenland today November 2008
In Greenland's capital, Nuuk, there is a beautiful nine-hole golf course of 2,109 metres (yellow tee) and 1,790 meters (red tee) respectively. This is a par 33 course, with one par 5 hole, four par 4 holes and four par 3 holes.
The next nine holes have already been planned. The holes are expected to be established in 2012 at the latest and the plan is that all 18 holes can be played from 2014.
International Championships
– With an 18 hole course we hope to be able to hold more international championships, states the chairman of Nuuk Golf Club, Jesper Kreiner.
Since the course was established in 2000 there have been inquiries from abroad because it is important for many people to have played on the world's only Arctic grass golf course.
Arctic grass
– We have developed a grass mixture which is really good for the conditions here. By sowing our own grass we hope to reduce the enormous costs involved in expanding the course. When we established the first nine holes we bought grass turf from Iceland and it was very expensive, says Jesper Kreiner.
Golf Simulation
Plans for the course up to the year 2014 reflect that grass does not grow so fast at this latitude. In the winter, the club moves indoors and practices with two super-modern golf simulators the size of a squash court, so golf can be played all year round in Greenland's capital.