– with sweet potato cream, green foam, purple carrot chips, crowberries and lamb's lettuce
Recipe and photo by Anne Nivíka Grødem, greenland today March 2016
Creamed sweet potato
2 large/4 small sweet potatoes
2 cloves of garlic
500 ml vegetable stock
50 g cream cheese, plain
Salt and pepper
Boil the potatoes with the garlic in the stock until tender. Blend them with the cream cheese and season with salt and pepper.
Green foam
1 tbsp butter
1 shallot
1 bunch parsley
1 tbsp Labrador tea, or similar herb, or a little more parsley
200 ml white wine
500 ml fish stock
100 ml cream
Salt and pepper
Sauté the onion, Labrador tea and parsley in a pan with the butter. Add the white wine and stock and reduce to half. Strain the liquid and add cream. Simmer until reduced to half. Season to taste with salt and pepper. Just before serving, whisk to foam.
Fried Greenland halibut
2 Greenland halibut fillets
Crowberries
Dried Labrador tea
1 purple carrot
Oil
Cut the carrot into thin slices and fry them crispy in the oil. Season the fish fillets with salt and pepper and fry them on a pan with oil.
Arrange the fish, green foam, creamed potato, fresh crowberries and carrot ships on a plate and sprinkle with crushed Labrador tea.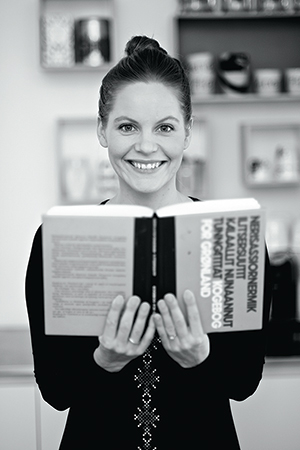 Facts about Greenlandic Food Lover
Anne Nivíka Grødem is the woman behind Greenlandic Food Lover. She shares recipes for healthy and simple home-style cooking with local ingredients on her blog.
Get inspiration and ideas for how to live a healthier life style with delicious food at: www.greenlandicfoodlover.gl
See also Anne Nivíka Grødem's Recipe on Macaroons with salmon mousse here >>>