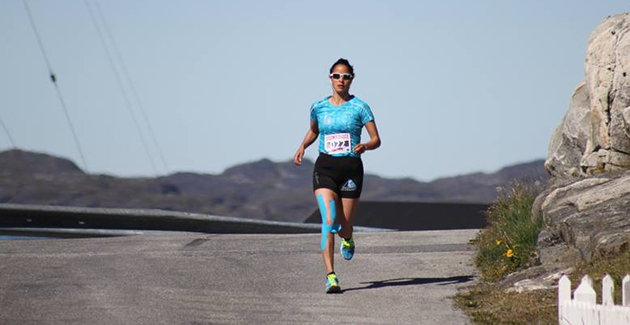 She would like to be the first Greenlandic woman who successfully complete an Ironman
24 AUG 2013
Katti Frederiksen has in the past six years been one of the best female runners in Greenland.
Today she ran a half marathon in Reykjavik, Iceland in time 1:36, as part of a plan to make her ready for Ironman Copenhagen 2014.
Background
– I love running and I love being active, says Katti, who is 31, originally coming from an active sheep farming family in Narsaq, but now lives in Nuuk.
Among other things, she has participated and won Greenland Championships in half and helmaraton, KangNu Race, Island Games and several local running competitions.
Top Form
– This year I improved once again my personal marathon record at Nuuk Marathon with the time 3 hours 17 minutes, says Katti.
– I did not feel challenged enough, and would like to push myself more physically and mentally.
Important with dreams
– I want to be a role model for all – children, youth, women and men – and show that the most important thing in life is to live out their dreams, because that's the way we are most comfortable with ourselves, says Katti.
– If people feel good about themselves, they also have better health. My philosophy is that if you can dream it, you can do it if you work until you achieve it!
– My dream is to get the historic title »The first Greenlandic woman to complete an Ironman« at 3.8 km swim, 180 km cycling and 42.2 km run!
Selected
There is approx. one year to the next Ironman Copenhagen, and Malik Lynge Reiding who was the first Greenlandic Ironman has selected a group of women who have the potential to become Iron(wo)man.
Katti is one of the elect, but even though she has the physical ability, she also needs a lot of money.
Seeking sponsors
– To achieve my goal, it is important that I get sponsors to train optimally for Ironman Copenhagen 18 August 2014, says Katti, who have to spend about 60,000 DKK.
Katti will continue her running career and aims among other things to get medals at the Island Games in 2015 in Jersey.
So there are many good reasons to support the talented Greenlandic triathlete.
»If you can dream it, You can do it«
Walt Disney